2017 SEC College Basketball Predictions with Conference Odds and Betting Picks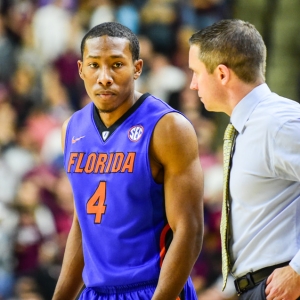 For the past two seasons SEC brass have been touting their schools' coaching hires and pushing the narrative that the league is on the rise. The results have been mixed. Last season the SEC finished the year as the No. 5-rated league in the country just one season after finishing No. 6. The SEC hasn't been in the Top 4 since 2012, with a low point in 2013 when they finished the year rated No. 7, behind the Pac-12 and the Mountain West.
But this season could be the year that the SEC reasserts itself on the national stage. As many as 10 teams enter the season with realistic goals of making it to the NCAA Tournament. And while at least two of those teams will play themselves out of contention, there is a chance that the SEC could send a league-record seven teams dancing this season.
Further, the SEC boasts two preseason Top 10 teams (Kentucky and Florida), a defending Final Four participant (South Carolina) and the No. 1 recruit in the nation and potential No. 1 overall pick in next summer's NBA draft (Michael Porter).
Here are Doc's Sports 2017 SEC basketball predictions (with projected odds to win the conference title in parentheses):
The Favorite: Kentucky (-300)
The Wildcats have won or shared three straight SEC titles and are the clear favorites to do it again this year. John Calipari is sticking to his script, restocking the roster with a seven-man freshman class that is chock full of Top 100 recruits. Calipari will try to blend this crop of newcomers into a finely-tuned machine. Talent is not a question. And the system is proven. But you can't manufacture chemistry or experience. And late in the season that can be the difference between an early exit or a Final Four. The rest of the SEC is catching up with the Wildcats. Sure, no one can match their raw size and athleticism. But the days of the Wildcats stepping on the court and overwhelming league opponents are becoming fewer and further between.
The Challenger: Florida (+1200)
The Gators were a pleasant surprise last season, keeping Kentucky honest all year as the SEC's No. 2 squad. This season they will lean on three-year starters KeVaughn Allen, one of the more explosive scorers in the league, and John Egbunu, one of the league's top post defenders. Mix in transfers Jalen Hudson and Egor Koulechov and a bunch of large, athletic freshmen and sophomores, and the Gators have enough pieces for coach Mike White to play with. That said, I think Florida's Top 10 preseason ranking is beyond generous. This Gators club did lose three starters and four key pieces from last year's rotation. This team will be fine. But I don't think they are the second-best team in the SEC and they will be overvalued early.
The Dark Horse: Texas A&M (+400)
The Aggies suffered through a tough, transitional season last winter. But now they should be able to reap the benefits with a talented, well-seasoned roster. Power post players Tyler Davis, Robert Williams and Tonny Trocha-Morelos are the foundation. And guards Admon Gilder and D.J. Hogg are viable perimeter options, though they need to improve their consistency. The key for this team will be finding a point guard, something they sorely lacked last year. Grad transfer Duane Wilson isn't flashy at all. But he's a steady hand with a load of experience and is likely to start the season running the show. I think the Aggies are the best team in the league entering the season. Whether they play like it and whether they can put their experience advantage to good use remains to be seen.
The X-Factor: Missouri (+800)
The Tigers completely overhauled their program after suffering through their worst season in 50 years. Cuonzo Martin was a surprise hire. But that wasn't the biggest surprise of the offseason for Mizzou, as the No. 1 recruit in the country, Michael Porter, and his brother Jontay both committed to the Tigers. Porter is a one-man gang. But Missouri isn't completely devoid of talent. Point guard Terrence Phillips is a three-year starter and a veteran backcourt presence. Three other starters and transfer Kassius Robertson are here to lend support as well. If Missouri gets any consistent perimeter play then they will be good. But just how good? And just how consistent can a freshmen-led team be in a stocked division?
The Disappointment: South Carolina (+650)
When you reach the mountaintop, the only way to go is down. South Carolina was a surprise Final Four team last March, marrying a favorable bracket with a load of momentum to make the best run in school history. But three starters, including their two best players, are gone from that team, and I expect the Gamecocks to come back down to earth quickly. Frank Martin will still field a solid defensive team. But this team is going to struggle to score points all season and will have a target on their backs after their Final Four run. This is not the season that you want to be rebuilding in the SEC.
The Rest:
Vanderbilt (+2000) - Few teams let it fly from three-point range as freely as the Commodores. And with Matt Fisher-Davis, Riley LaChance and Joe Toye they will be chucking early and often again this year. Vandy lost center Luke Kornet, whose size and ability in the post allowed their guards all that freedom on the perimeter. He is irreplaceable. And I expect the Commodores to struggle against the rising athleticism they'll face in league play.
Mississippi (+1500)- Andy Kennedy just keeps churning out competitive teams down in Oxford. However, he's only made the NCAA Tournament twice in the last 11 years, and I don't think that this year's squad has the juice to make The Dance. Deandre Burnett might be the best guard in the league, and that's saying something. He and Terence Davis will be tough to top, and transfer Markel Crawford gives the Rebels a third double-digit scoring guard. Kennedy's system is predicated on post play. And the Rebs are a little light down low. But they won't be a pushover and should muster Kennedy's 10 th 20-win season.
Mississippi State (+3000) - Four starters are back from what was a middling Bulldogs group in 2016. The key this season will be freshman Nick Weatherspoon, the younger brother of Mississippi State's best player, Quinndary. MSU desperately needs a point guard. So they need Nick to step in and produce. This team doesn't have a senior that plays, so they might be a year away.
LSU (+5000) - Anthony Grant's failure at Alabama didn't dissuade the Tigers from trying another VCU-to-SEC coaching transition. Will Wade will try to reinvigorate LSU with his version of VCU's pressing, trapping "Havoc". Wade has minimal talent to work with, despite the four returning starters. But he does have some top recruits and transfers, so this team should be much more competitive than last season's 2-16 SEC debacle.
Georgia (+300) - I mentioned in my Big Ten preview that Iowa's Peter Jok was the Best Player No One Heard Of last season. This year that honor likely goes to Georgia's Yante Maten. The 6-foot-8 forward averaged 18.2 points and 6.8 rebounds last year and will be asked to do even more this tour. Mark Fox has a veteran team and will need someone to develop to replace lead guard J.J. Frazier.
Auburn (+1500) - There's never any shortage of drama surrounding Bruce Pearl. One of the programs targeted in the FBI's probe into college athletics, the Tigers will have to deal with a bit of a distraction this winter. But if they stay focused this could be a very fun team to watch. Bursting with athleticism, Pearl finally has a team of his own recruits rather than short-term transfer fixes. All five starters are back, led by Mustapha Heron and Daniel Purifoy. Pearl teams are always maddeningly inconsistent, though, so caveat emptor with this group.
Tennessee (+2000) - This Vols team could be a good "buy low" option. They enter the season with four returning starters, two high-scoring transfers, several intriguing freshmen and zero expectations. Rick Barnes has never had a problem collecting talent. It's the execution that's a little spotty. Tennessee has been more of a defensive-oriented squad the past two seasons. If they can find some consistent scoring then I think this is a team that will cause all kinds of problems for opponents this year.
Alabama (+2000) - Avery John has built himself a nice little squad, and the Crimson Tide should be knocking on the door of the NCAA Tournament this March. Alabama has four of five starters back, including standout sophomores Braxton Key and Dazon Ingram. The Tide also added Top 10 recruit Collin Sexton to run the point and as the linchpin for an outstanding freshman class. Alabama is young. But they are oozing with talent and athleticism. This is one of the most exciting teams that Tuscaloosa has seen in a while.
Arkansas (+10000) - Mike Anderson has his updated "40 Minutes Of Hell" humming along in Fayetteville. Anderson has a steady stream of talent into his program, so the Razorbacks can withstand the loss of guard Dusty Hannahs and center Moses Kingsley. Jaylen Barford and Daryl Macon return and will be buttressed by a host of lengthy athletes. Freshman center Daniel Gafford needs to come along quickly and the Razorbacks upperclassmen need to stay healthy. But this should be another extremely competitive squad.
Projected SEC Standings:
1. Kentucky
2. Texas A&M
3. Alabama
4. Florida
5. Missouri
6. Auburn
7. Georgia
8. Arkansas
9. Tennessee
10. Mississippi State
11. Mississippi
12. Vanderbilt
13. South Carolina
14. LSU
Robert Ferringo is a member of the Basketball Writer's Association of America and a professional sports handicapper for Doc's Sports. He is considered one of the best college basketball handicappers in the country and has an unrivaled run of 10 of 11 winning nonconference seasons and 10 of 11 winning regular seasons. Robert's $100-per-Unit clients have banked $22,330 in profit with his sides and totals the last four years alone and he has raked in a remarkable $60,200 in the last 11 years with his nonconference picks (November and December) alone. There is no better moneymaker in the nation and Robert is looking forward to another amazing season. You can sign up for his college basketball picks and get more information here.
Read more articles by Robert Ferringo
---
Most Recent College Basketball Handicapping