2018 Big 12 Basketball Tournament Odds and Expert Predictions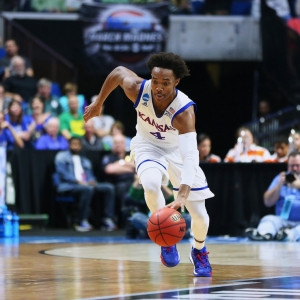 Kansas vs. The Field has been a sucker bet in regards to the Big 12 regular-season championship. The Jayhawks have won (or shared) an astonishing 14 straight regular season titles and have dominated one of the best leagues in college basketball.
But the Jayhawks came as close as ever to having their streak snapped, needed a late-year collapse by Texas Tech to earn the top seed in this week's tournament. Does that mean that this year's Kansas team is vulnerable to be taken out in Kansas City? We will find out. But the Jayhawks have won only one title in the last four years (Iowa State has won the other three), and they know they will take everyone's best shot.
The 2018 Big 12 Tournament begins on Wednesday, March 7, and will be held at the Sprint Center in Kansas City, MO. Here is Doc's Sports Big 12 Tournament preview and predictions:
The Favorite: Kansas (+200)
I will admit that I'm not a huge fan of this Kansas team, and I don't think that they are set up for a big March. They deserve every plaudit they have received to this point. And they deserve a ton of credit for the fortitude to come from behind to win another Big 12 title. Devonte Graham has been one of the most valuable players in the country. Svi Mykhailiuk and Malik Newman are potent shooters, Legerald Vick just makes winning plays, and Udoka Azibuike has been outstanding in the post over the last month. But Kansas has only seven guys. That's it. They have only one player taller than 6-8, and they have been blown out by teams like Arizona State, Baylor and Oklahoma State. I do not think that this team is a real national title threat, and I think that their lack of depth and size is either going to come back to haunt them this weekend or next with a premature exit.
The Contender: West Virginia (+350)
At this point we kind of know everything we need to about Bob Huggins' West Virginia program, don't we? They are good. But they are never good enough. They've made it to the last two Big 12 title games and lost. They've been to the Sweet 16 two of the last three years and lost. There's just nothing to get excited about with this team because as the season goes on their press becomes a less and less effective way of generating offense. And they aren't the same team when they play outside of Morgantown. I love point guard Jevon Carter. Everyone does. But he's not good enough to carry this team anywhere, and they don't shoot the ball well enough (No. 239 in field goal offense) or have enough high-end players to really be anything more than a nuisance.
The Sleeper: Texas Tech (+450)
Texas Tech choked away a chance to deny Kansas the regular-season title. The Red Raiders lost four of their last five games and have been dealing with a slew of injury issues. If this team is healthy they are talented enough and experienced enough to win this tournament. But are they healthy? Keenan Evans has a toe injury, Justin Gray has a concussion, and Zach Smith has an ankle injury. Having a few days to rest will be a boon for this senior-laden team. The Red Raiders are outstanding on both ends of the floor. But they haven't been great on the road and they haven't proven that they have that next gear to beat high-level opponents.
The Spoiler: TCU (+1400)
Jamie Dixon's team started the year 12-0 before hitting an early wall in league play and then losing starting point guard Jaylen Fisher. But they have been able to course correct and enter the postseason as winners of four of their last five games. The Horned Frogs have one of the best players in the league in Kenrich Williams, a legit center in Vlad Brodziansky, and enough size and experience to really cause some people some problems. TCU is in the Top 20 in the country in scoring, shooting and 3-point shooting. Can they get enough stops to make a run in this tournament? And can they win on the road? The Horned Frogs split with first-round opponent Kansas State and had a near miss at Kansas. If anyone is going to rock the boat at the top of the bracket then this could be it.
Bubble Team To Watch: Texas (+2000)
Baylor and Texas are both teams to watch this week. But I'll tab Texas for this space because there's more going on here. The Longhorns lost their leading scorer to illness in December, guard Eric Davis is suspended, and star forward Mo Bamba sat out his last game with an injury. The Longhorns are coming off an overtime win over West Virginia - their seventh OT game of the year! - and this team just can't avoid the drama. The Longhorns are facing a beat-up Iowa State team in the first round. And then they would have a rubber match with in-state rival Texas Tech. I think the Longhorns have to win two games to play into the NCAA Tournament field.
Early-Round Matchup To Watch:
No. 8 Oklahoma State (-4) vs. No. 9 Oklahoma (7 p.m., Wednesday, March 7)
Oklahoma State buried Kansas over the weekend, and they have played their way into some low-level NCAA Tournament discussions. They have won three of four and will see if they can carry that momentum into a huge game with their Bedlam rivals. Oklahoma has been one of the worst high-major teams in the country over the last month. They are just 2-7 in their last nine games and are just 4-10 in their last 14 games. Yes, freshman Trae Young has put up some monster numbers. But this Sooners team has negative chemistry and just never looks comfortable playing together. Oklahoma State is all heart, and they play well together despite a talent deficit. And the Cowboys will try to take advantage of Oklahoma's horrible defense. If OU loses I don't see how they can make the NCAA Tournament field. If Oklahoma State wins will it be enough? Throw in the fact that this is one of the league's best rivalries and the very first game of the tournament, and this is a must-watch. The intensity - and the stakes - of this game should set the tone for a great tournament.
2018 Big 12 Conference Tournament Predictions: This is a really tough one to call. I think that Kansas is either going to flop in this tournament or they are going to flop in the NCAA Tournament. And with their draw it is looking a bit like the latter. The OU-OSU winner should be exhausted. And the deeper Kansas makes it in this tournament the less likely they are to lose. I think the only team that is really built to beat them is Texas Tech. But the Red Raiders have never won at this level, and they still have plenty to prove. If Kansas had been the No. 2 seed I would be betting against them cutting down the nets. But I think that their draw is set up well for them to cut down the nets on another tournament title.
Robert Ferringo is a member of the Basketball Writer's Association of America and a professional sports handicapper for Doc's Sports. He is considered one of the best college basketball handicappers in the country and has posted 10 of 11 winning seasons. He is looking for a monster March run and will have an 8-Unit Conference Tournament Game of the Year next week. You can sign up for his college basketball picks and get more information here .
Read more articles by Robert Ferringo