2018 MAAC Basketball Tournament Odds and Expert Predictions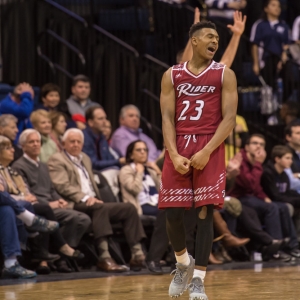 The 2018 MAAC Tournament will be held from Thursday, March 1, to Monday, March 5, with the winner securing the league's automatic bid to the NCAA Tournament. The tournament will be played on Siena's home court, the Times-Union Center, in Albany, New York.
The Metro Atlantic has been ripe for upsets in the league tournament. The No. 1 seed hasn't cut down the nets since Siena did so back in 2010. In fact, the No. 4 seed has earned almost as many titles (two) this decade as the No. 2 seed (three) has. And last year's title game featured the No. 3 seed (Iona) taking down the No. 4 seed (Siena) in an epic 87-86 duel.
Parity has been a trademark of this league, and this season is no exception. In fact, two teams, Canisius and Rider, tied for the top spot in the regular season, and the team with the fourth-highest RPI, Monmouth, is actually the No. 8 seed. And with so little daylight between this year's crop I would expect another upset-filled tourney.
Here is Doc's Sports 2018 Metro Atlantic Athletic Conference preview and predictions, with my own projected odds:
The Favorite: Rider (+110)
The Broncs were the biggest surprise in the Metro this year, and they have rounded into what I believe is the most balanced team in the league. This team has five double-digit scorers and can beat teams a variety of ways. Rider is also coming off a 110-point outburst over Iona in their home finale and are 11-1 in their last 12 games. Nonconference wins over Penn State, Wagner, UC-Irvine and GW - as well as a near-miss against Providence - prove that this team is legit. If there is a weakness on this team it's that they really only play seven guys. It could be tough to win three games in three nights with such a short rotation.
The Contender: Canisius (+200)
Former Buffalo coach Reggie Witherspoon has the Golden Griffs playing excellent basketball right now, and they are 17-3 in their last 20 games. This team has an excellent blend of skill, experience and size. And the inside-out duo of Jermaine Crumpton and Isaiah Reese are tough to handle. They also have the easier semifinal matchup of the top two seeds as resurgent Niagara could be without leading scorer Matt Scott.
The Dark Horse: Iona (+350)
The Gaels are the two-time defending league champions and they have made it to the title game five straight years. Until someone knocks them out, this is the team to beat. It has been clear all season that this Iona team is not up to snuff with the ones from the past five years. And they hit the wall after a 6-1 league start, going 5-6 the rest of the way. But they have a lot of firepower and pedigree. Add in momentum and they could cut it down a third straight time.
Early-Round Matchup To Watch:
No. 4 Iona (-5) vs. No. 5 Manhattan (4 p.m., Saturday, March 3)
These two teams have won the tournament championship each of the last five seasons. And they squared off in the title game three straight years from 2013-2015. However, Iona has won six straight in this series since Manhattan's upset in the 2015 title game. This Saturday's contest is going to have title-game intensity from the opening tip and is a rematch from a game just last Friday. Iona won both regular-season meetings by double-digits, and Manhattan's pressing, running style plays into Iona's strengths.
Metro Atlantic Athletic Conference Tournament Predictions: I have backed Rider consistently throughout the year, and I feel like they are the best team in the conference. However, their lack of depth and their lack of experience - along with the curse of No. 1 seeds in this tournament - will come back to bite them. If Scott were healthy for Niagara then I would love the Purple Eagles to make a surprise run to the title game. But without him I think that Canisius will make it through and face the winner of the Iona-Rider semifinal. Rider is better, Iona has history at their back, but I will go with the Griffs by virtue of their draw.
Robert Ferringo is a member of the Basketball Writer's Association of America and a professional sports handicapper for Doc's Sports. He is considered one of the best college basketball handicappers in the country and has posted 10 of 11 winning seasons. He is looking for a monster March run and will have an 8-Unit Conference Tournament Game of the Year next week. You can sign up for his college basketball picks and get more information here .
Read more articles by Robert Ferringo