2018 Missouri Valley Conference Basketball Tournament Odds and Expert Predictions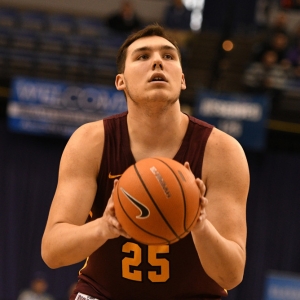 Creighton is gone. Wichita State is gone. The Missouri Valley's shifting roster has created a power vacuum. And without Creighton and Wichita State in their way you can feel the hopefulness that the current crop of Valley programs have since their odds of winning the league's automatic bid have shot up.
Arch Madness, also known as the Missouri Valley Conference Tournament, will take place from March 1-4 at the Scottrade Center in St. Louis, Mo. The Shockers were last year's champion, meaning that there will be a new team cutting down the nets in St. Louis for the fifth time in seven years.
Here is Doc's Sports 2018 Missouri Valley Conference preview and predictions, with my own projected odds:
The Favorite: Loyola Chicago (+110)
Porter Moser and the Ramblers have surged in the post-Milton Doyle era. It took a minute for Loyola to adjust to The Valley (this is just their fifth season in the MVC), and then they've had an up-and-down few seasons. But Loyola has been on point since the season opener. They scored a huge upset at Florida in December, and then they overcame a 1-2 league start to dominate their way to the No. 1 seed. Loyola is 14-1 in their last 15 games, and nine of those wins were by double-digits. Loyola is the No. 2 shooting team in the country and boasts five double-digit scorers. They have a lot of guys that can knock down 3-point shots and are outstanding from the free throw line. The Ramblers are also No. 7 in points allowed and can dig in on defense. I think they are clearly the best team and expect them to flex their muscles this week.
The Contender: Southern Illinois (+200)
Everything was going great for the Salukis in what has been a major bounce-back season for this once-dominant Valley contender. But the wheels have fallen off over the last week, with SIU losing 75-56 at home in a matchup with Loyola and then going on the road and losing 75-44 at Evansville. OK. I'm not sure what to make of that from a team whose last two wins have come in OT. These guys might be paper tigers as the No. 2 seed. But on the other hand they haven't lost three games in a row all year and have been one of the league's more consistent teams. I just don't know if they have the extra gear that they'd need to survive St. Louis.
The Dark Horse: Bradley (+350)
The fact that Bradley is favored over Drake in their 4-5 quarterfinal matchup tells you everything you need to know about who the books think are the better team. Bradley lost to Drake twice this year. I would be very surprised if they lose to them a third time. Bradley has some solid road and neutral-court wins this year and has proven that they don't need to be on their own court to play good ball. Bradley can smother teams defensively. And if they can get hot from 3-point range then this is definitely a team that can rattle off three straight wins.
The Spoiler: Missouri State (+350)
Only one team in the history of the 10-team Missouri Valley format has played in the opening-round play-in game and survived to make it to the semifinals. That doesn't bode well for potential spoilers Northern Iowa or Missouri State. However, Missouri State has one of the best players in the league, Alize Johnson, and one of the most experienced teams in the field. In fact, this team was among the favorites to win the league before a disastrous 2-9 close to the regular season. The Bears would face No. 2-seed Southern Illinois in the quarterfinals if the Bears can hold off Valparaiso. Missouri State lost to SIU in both regular-season meetings by a combined three points, including an 81-80 OT heartbreaker on Feb. 14. If Missouri State can pull that upset then they would have the wind at their backs.
Early-Round Matchup To Watch:
No. 3 Illinois State (-5) vs. No. 6 Indiana State (4 p.m., Saturday, March 3)
Illinois State has had personnel issues all season long. But they seem to be getting healthy at the right time. Forward Phil Fayne and guard Keyshawn Evans have returned from injury, and the Redhawks have won six of their last nine. Indiana State has one of the best players in the league, Brenton Scott, and they were good enough to upset Indiana early in the season and beat Loyola on the road in league play, so its clear they can play. But the Sycamores are crazy inconsistent and rely almost solely on the 3-point shot. Indiana State blasted ISU in the last meeting (84-54) and lost in OT on the road in the first meeting. I wouldn't be surprised to see this game meet one of those extremes - blowouts or extra time - again this time.
Missouri Valley Conference Tournament Predictions: I will be surprised if Loyola-Chicago doesn't dominate this week in St. Louis. They have clearly been the best and most consistent team in The Valley all season, and their litany of blowouts are on par with anything that former Valley dominators Creighton and Wichita State were able to manage. I think there will be several upsets in the early rounds. And Missouri State is definitely a team to watch. But if Loyola can survive that always-tricky early morning quarterfinal game then I don't see anyone slowing them down. Take the Ramblers to the bank.
Robert Ferringo is a member of the Basketball Writer's Association of America and a professional sports handicapper for Doc's Sports. He is considered one of the best college basketball handicappers in the country and has posted 10 of 11 winning seasons. He is looking for a monster March run and will have an 8-Unit Conference Tournament Game of the Year next week. You can sign up for his college basketball picks and get more information here .
Read more articles by Robert Ferringo