2018 Mountain West Basketball Tournament Odds and Expert Predictions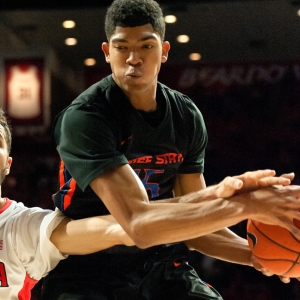 The Mountain West might not be as tough as it once was - in 2013 it was the No. 4-rated league in the country and sent five of its nine teams to the NCAA Tournament. But what the league lacks in top-end talent it makes up for with intensity and experience.
This year's field includes a dominant Nevada team that went 15-3 in league play and worked its way into the Top 25. But beyond the Wolf Pack there are six more teams that also host realistic hopes of knocking off the top seed and stealing another bid for this proud league.
If not, Nevada would become the fourth repeat champion in the last 12 years. And that would likely ensure that The Mountain sends just one team to the NCAA Tournament field for the second straight year - and just the second time in league history.
The Mountain West Conference Tournament will take place form Wednesday to Saturday and is once again being held in the Thomas & Mack Center in Las Vegas. Here is Doc's Sports 2018 Mountain West preview and predictions, with my own projected odds:
The Favorite: Nevada (+120)
This Nevada team is absolutely legit. They easily beat a very good Rhode Island team, and they lost to Texas Tech and TCU by a combined 10 points (the Tech game went to OT) on the road this year. N.C. State transfers Caleb and Cody Martin combine with Jordan Caroline, Kendall Stephens and Josh Hall to give Nevada five guys that are all 6-7, that can all guard multiple positions, and that can all score a variety of ways on the offensive end. This team can match up with anyone while being a matchup nightmare themselves.
The Contender: Boise State (+200)
The Broncos are really the only potential bubble team in the Mountain West this year. Wins over Loyola and Oregon are keeping them in the discussion. But their only hope may be to win this weekend's tournament. Boise State leans on one of the league's best players, Chandler Hutchison, and he leads the team in points, assists, rebounds and steals. He is a one-man gang. This team plays only seven guys. And beyond Hutchison there are a bunch of other dangerous shooters. For the Broncos to make their move this week they will need one or two guys to get hot and take some of the pressure off their star.
The Dark Horse: San Diego State (+350)
Despite a load of athleticism, experience and preseason expectations, the Aztecs basically slept their way through the first three months of the season. After a 25-point loss at Nevada on Feb. 10 they were 13-10 straight up and going nowhere. But since then the Aztecs have won six straight, including sweeping Boise State and Nevada just last weekend. SDSU is playing their best basketball of the season and will make one final push to salvage their disappointing year. SDSU has some decent metrics - they are in the Top 80 in scoring and points allowed, for example. But their issue is a lack of focus and chemistry. Can they get hot and win three in a row?
The Spoiler: UNLV (+2000)
UNLV is not a good team. They are young. They have lost five straight games. They don't do anything particularly well. However, they do have the benefit of playing at home this week. The Rebels have already beaten Nevada once this year, pulling a shocking upset in Reno on Feb. 7. And they have revenge for a humiliating 26-point loss against Nevada in the second matchup just last week. The Rebels are in the Top 20 in the league in scoring and field goal percentage, so they can get hot. And if they do they could steal a game or two.
Early Round Matchup To Watch:
No. 3 New Mexico (-3.5) vs. No. 6 Wyoming (11:30 p.m., Thursday, March 8)
Paul Weir's first season in Albuquerque went off the rails early, with the Lobos bumbling to a 3-8 start. But something clicked in conference play, and the Lobos closed the year winning nine of 12 and five straight. Seniors Antino Jackson and Sam Logwood are playing their best basketball right now, and this team has been shooting the ball out of its mind. Wyoming won't roll over, though. This team has been solid, beating each of the top three seeds and scoring some significant nonconference victories. The Cowboys are one of the most experienced teams in the league, and they have revenge after losing their two matchups with the Lobos this year, including an insane 119-114 game in Laramie two weeks ago.
Mountain West Conference Tournament Predictions: There really are some decent teams in this league, even if it lacks the high-end talent of previous seasons. And there's a lot of seniors that simply don't want to see their careers end. But Nevada and Boise State look like they are on a collision course. They've clearly been the two best teams in the conference all season long. And although I expect one of them to get taken to the limit, and potentially upset, in the semifinals, I think both survive and play themselves into an outstanding championship game. I am not betting against Nevada, though, and I think the Wolf Pack will make it back-to-back titles.
Robert Ferringo is a member of the Basketball Writer's Association of America and a professional sports handicapper for Doc's Sports. He is considered one of the best college basketball handicappers in the country and has posted 10 of 11 winning seasons. He is looking for a monster March run and will have an 8-Unit Conference Tournament Game of the Year next week. You can sign up for his college basketball picks and get more information here .
Read more articles by Robert Ferringo