2018 NCAA Tournament Projections and Expert Bracketology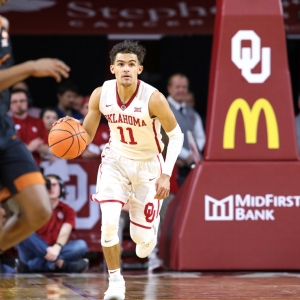 I know that speculating about who will make the field is seemingly part of the fun of college basketball. But, frankly, it drives me nuts.
Snake-oil salesmen like Joe Lunardi, whom I've exposed as a loser time and time again , have tried to add a veneer of credibility to projecting the NCAA Tournament field. However, guys like Lunardi are nothing more than common trolls who use their invented positions as college basketball soothsayers to sway the national discussion about (and in turn have a real impact on) the NCAA Tournament. But in truth, Joe Lunardi is a fraud, and his opinion on which teams make the 68-team NCAA Tournament field shouldn't be any more notable than yours or mine.
Selection Sunday is March 11, and the NCAA Tournament begins with the play-in games set for Tuesday, March 13 in Dayton. The first round begins on Thursday, March 15, and the Final Four will take place on April 1 in San Antonio.
Below I've listed the teams that are already in the field as well as those that reside on the proverbial "bubble". By my count the NCAA Tournament field already has 47 slots guaranteed. That includes the 23 conferences that are one-bid leagues - like the Big Sky and Ohio Valley - as well as the 24 teams that are absolute locks for the field (teams like Virginia and Villanova).
The next 11 slots are filled by teams that I feel are relatively comfortable.
Nevada (Mountain West), Middle Tennessee (CUSA) and Wichita State (MVC) are all the clear front-runners from their respective conferences. And I expect each of their leagues to receive only one bid. However, if all three finish strong (losing no more than one regular-season game and advancing to their league tournament championship game) then there are three more teams that would be added to the bubble field.
Further, there is another group of eight teams from major conferences - Wake Forest, Clemson, Oklahoma State, Ohio State, Georgetown, Michigan State, Colorado, and Auburn - that have an infinitesimal chance at making the NCAA Tournament. Any of these teams would essentially have to win either all or all but one of their remaining games and make a run in their conference tournament. The odds of any of these seven teams making the field is no more than five percent, but I suppose all seven are still mathematically alive, so there you go.
Here are my 2017-2018 NCAA tournament projections, version 1.0:
* = Projected tournament team
# = Primary teams competing for final six at-large bids
American Athletic (Projected Teams: 3)
Locks: Cincinnati*, Wichita State*
Bubble: Houston*
Skinny: Houston has been under the radar all season long, but this team is not only good enough to make the field but also win a game (or two). I have a feeling that this league is going to get screwed when it comes to seeding.
Atlantic-10 (Projected Teams: 2)
Locks: Rhode Island*
Bubble: St. Bonaventure*
Skinny: St. Bonaventure is a team to watch over the next week. The Bonnies have won 11 straight, and they are definitely one of the best mid-major teams in the country. But the committee screws teams from small conferences all the time. So they need a strong showing in their league tournament, and maybe some help, to seal the deal.
ACC (Projected Teams: 9)
Locks: Virginia*, Duke*, North Carolina*, Clemson*
Bubble : Virginia Tech*, Louisville*, N.C. State*, Florida State*, Miami*, Notre Dame, Syracuse
Skinny: The numbers suggest that the ACC is the second-best league in the country. It's not. The Big East, Big 12 and SEC are all better. But the ACC is going to end up with the most teams in the field. Notre Dame is a huge X-factor because of the Bonzie Colson situation. But with him healthy and balling they are definitely good enough to make a Sweet 16 run. Beyond that you kind of have to flip a coin between teams like Florida State, Virginia Tech, Louisville and N.C. State. It would be a joke if this league got 10 bids. But then again it wouldn't stun me.
Big 12 (Projected Teams: 6)
Locks: Kansas*, Texas Tech*, West Virginia*
Bubble : Kansas State*, TCU*, Baylor*
Skinny: Joe Lunardi, as of Feb. 28, still had Oklahoma and Texas in the field. That, to me, is insane. Oklahoma is 3-9 in its last 12 games, and their nonconference resume isn't THAT great. And Texas is barely above .500, below .500 in league play, and 3-6 in their last nine overall (with injury and eligibility issues to boot). The six we have here are rock solid.
Big East (Projected Teams: 5)
Locks: Villanova*, Xavier*,
Bubble : Seton Hall*, Butler*, Creighton*, Providence
Skinny: Providence missed a big opportunity to throw themselves into contention by losing by 10 at Xavier. At this point they are definitely a long shot. But they will have an opportunity to get some huge resume wins in next week's Big East Tournament.
Big Ten (Projected Teams: 5)
Locks: Michigan State*, Purdue*, Ohio State*, Michigan*
Bubble: Nebraska*, Penn State
Skinny: I don't think that Penn State has as much of a chance as a lot of other prognosticators. Nebraska has zero nonconference wins to speak of. And their league resume is pretty weak as well. But I have a hard time seeing the committee justifying a 10th team from the ACC over a fifth from the Big Ten. The Huskers are not safe, by any means, but if they beat Michigan in the Big Ten Tournament Friday then that could be enough. If they do make it then this team is likely headed for the play-in game.
Pac-12 (Projected Teams: 6)
Locks: Arizona*, USC*
Bubble: UCLA*, Utah, Oregon*, Washington*, Arizona State*
Skinny: This is definitely a league tournament to watch. Arizona and USC are the only two teams that can feel good about their bids, and I could honestly see this league get as few as three or four teams in the field.
SEC (Projected Teams: 7)
Locks: Auburn*, Tennessee*, Florida*, Arkansas*, Kentucky*
Bubble : Missouri*, Mississippi State, Texas A&M*
Skinny: The SEC has had a Renaissance this season. This league is as deep and as balanced as any in the country, and their league tournament - randomly held in St. Louis this year - should be a free-for-all. Missouri needs to take advantage of having the tourney close to home. And don't be fooled by Mississippi State's 21 wins; the Bulldogs have played the No. 345-rated schedule in the country. Also, A&M probably needs two more wins to have a shot. And if they don't make the field then they will have to be on the short list as one of the most disappointing teams in the nation.
WCC (Projected Teams: 2)
Locks: Gonzaga*
Bubble : St. Mary's*
Skinny: As always, it comes down to St. Mary's. And as always, I'm going to say that they absolutely should be in the field. They didn't help their cause by losing to Washington State and Georgia in the nonconference. But no one can tell me that they aren't a better team than some of the loser bubble teams like Syracuse or Mississippi State.
Automatic Bid Leagues (Projected Teams: 23):
America East - Vermont*
Atlantic Sun - Florida-Gulf Coast*
Big Sky - Weber State*
Big South - UNC-Asheville*
Big West - Idaho*
Colonial - Charleston*
Conference USA - Western Kentucky*
Horizon - Northern Kentucky*
Ivy League - Penn*
Metro - Canisius*
Mid-American - Buffalo*
Missouri Valley - Loyola-Chicago*
MEAC - Hampton *
Mountain West - Nevada* or Boise State
Northeast - Wagner*
Ohio Valley - Murray State*
Patriot League - Bucknell*
Southern - Furman*
Southland - Stephen F. Austin*
SWAC - Texas Southern*
Summit - South Dakota State*
Sun Belt - Louisiana-Lafayette*
WAC - New Mexico State*
*Denotes team projected for the NCAA Tournament.
Robert Ferringo is a member of the Basketball Writer's Association of America and a professional sports handicapper for Doc's Sports. He is considered one of the best college basketball handicappers in the country and has posted 10 of 11 winning seasons. He is looking for a monster March run and will have an 8-Unit Conference Tournament Game of the Year next week. You can sign up for his college basketball picks and get more information here .
Read more articles by Robert Ferringo