2014 St. Louis Rams Season Win Total Picks & Futures Odds
by Robert Ferringo - 6/10/2014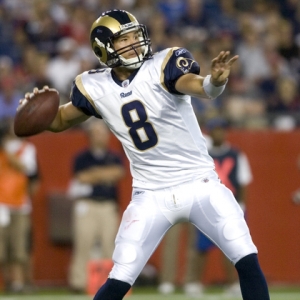 2013 Record: 7-9
2014 Las Vegas Season Win Total: 7.5
2014 Season Win Total Picks: 'Under'
The St. Louis Rams are on the verge of becoming the new Houston Texans: perpetually installed as Everybody's Sleeper Team. It's an ignominious title and one the Rams have to hope they don't live down to. They have seemingly been touted as "a team to watch" for the past three years but have gone just 16-31 during that stretch. In fact, since Mike Martz squandered The Greatest Show On Turf teams in the early 2000's the Rams have not had a season over .500.
Once again the summer brings buzz of a Rams charge. I will admit: I'm a huge Jeff Fisher fan and I like the foundation that he has built for this roster. This team was consistently competitive despite (another) season-ending injury to Sam Bradford midseason. And their seven wins included decisive victories over playoff-bound teams Indianapolis (38-8) and New Orleans (27-16).
But St. Louis still enters 2014 as the fourth-best team in the most difficult division in football. They have one of the most challenging schedules in the NFL and they have major question marks at each of the offensive skill positions. This is still one of the youngest rosters in the NFL - the ended 2013 as THE youngest - and while this franchise may have sunny days ahead I'm not exactly ready to grab my shades.
A big issue is Bradford's health. I am a big fan of Bradford's work. He has been very good and has showed elite capability despite having zero talented skill players to work with. But Bradford only lasted 10 games in 2011 and seven games last year. He needs 16 healthy, effective starts this year for this team to have a prayer to reach even.
St. Louis has a chance to top .500 if they can find success in their non-divisional games. They crossover against the shaky NFC East and a flimsy AFC West. The only chance they have of reaching .500 is if they can scrap their way to five wins in those eight games, which is doable. If St. Louis can go 2-4 in the division then the season could come down to their two swing games - vs. Minnesota and at Tampa Bay. Ironically, these two season-defining games are St. Louis' first two of the year.
I like St. Louis. I do. I think they have value as a team to bet because Fisher is a master in the underdog role. But I can't rely on such a young, unproven team. And I don't see how anyone can confidently predict a .500 record for a franchise that hasn't hit that mark in eight years. I'll believe this team is for real when I see it. Until then, play 'under'.
Rams Regular Season Schedule (All times Eastern)
Week 1: Sunday, Sept. 7, Minnesota, 1 p.m.
Week 2: Sunday, Sept. 14, at Tampa Bay, 4:05 p.m.
Week 3: Sunday, Sept. 21, Dallas, 1 p.m.
Week 4: BYE
Week 5: Sunday, Oct. 5, at Philadelphia, 1 p.m.
Week 6: Monday, Oct. 13, San Francisco, 8:30 p.m.
Week 7: Sunday, Oct. 19, Seattle, 1 p.m.
Week 8: Sunday, Oct. 26, at Kansas City, 1 p.m.
Week 9: Sunday, Nov. 2, at San Francisco, 4:05 p.m.
Week 10: Sunday, Nov. 9, at Arizona, 4:25 p.m.
Week 11: Sunday, Nov. 16, Denver, 1 p.m.
Week 12: Sunday, Nov. 23, at San Diego, 4:05 p.m.
Week 13: Sunday, Nov. 30, Oakland, 1 p.m.
Week 14: Sunday, Dec. 7, at Washington, 1 p.m.
Week 15: Thursday, Dec. 11, Arizona, 8:25 p.m.
Week 16: Sunday, Dec. 21, New York Giants, 4:05 p.m.
Week 17: Sunday, Dec. 28, at Seattle, 4:25 p.m.
Robert will be releasing his 2014 NFL Futures Picks on Thursday, Aug. 14. Last year's top two picks (8-Unit Play on Arizona 'over' 5.5 wins and 6-Unit Play on Kansas City over 7.0 wins) both won easily and he has hit his top NFL Futures Play (rated 7.0 or higher) in four straight seasons. For more information visit his Insider's Page HERE.
Robert Ferringo is one of the best NFL handicappers in the world and is coming off one of the best football betting seasons in the 43-year history of Doc's Sports. Robert banked nearly $8,000 in profit for his football clients and won a stunning 62.1 percent of his NFL plays (95-58). Robert has won over 70 percent of his last 58 NFL side plays (41-17) and has posted six of seven winning NFL seasons. He has banked $17,400 in football profit, college and pro, over the last 20 months and he is excited about building on his staggering resume. Take advantage of our free, no-strings-attached $60 credit to use toward a purchase of Robert's football selections. You cannot afford to miss out on this great offer - click here.
Read more articles by Robert Ferringo
Get all of this Weeks Free NFL picks
Get all of this Weeks Expert NFL Picks