2013-14 Big 12 Basketball Predictions and Betting Odds
by Robert Ferringo - 10/23/2013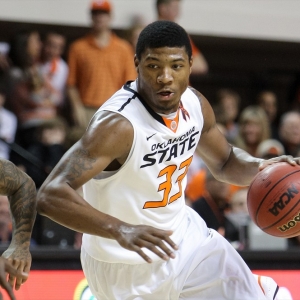 Will this be the year? Can a decade of dominance finally come to an end?
Kansas has won (or shared) an unprecedented nine consecutive Big 12 regular season championships. Those nine straight banners have been remarkable considering the level of basketball played in the Big 12, which for my money has been the second-best college hoops conference over the last eight years, behind the Big East. This isn't Gonzaga winning nine straight West Coast Conference Championships. This is the Jayhawks dominating one of the best leagues in the land.
For the second time in three years the Jayhawks will have to replace at least four of their five starters. But massive roster turnover hasn't slowed down Bill Self's team in the past, so that hasn't rattled the oddsmakers enough to install any other Big 12 opponent as the league favorite.
However, I predict that this will be the year that someone dethrones the Jayhawks. Oklahoma State has one of the best teams in the country and has three future professional players in its starting five. The Cowboys finished just one game off the pace in the league race last year and were a one-point overtime loss away from sweeping the season series. I think this is the season that they finally knock the king off the throne.
But then again, people have been saying that for nearly a decade.
Finally, if Oklahoma State does manage to unseat Kansas, it will be ironic because, top to bottom, this is probably the weakest that the Big 12 has been in the last decade.
Here is Doc's Sports 2013-14 Big 12 basketball predictions (with odds to win the conference title in parentheses):
The Favorite: Kansas (-125)
I stopped doubting Bill Self and the Jayhawks years ago. Each year they lose waves of talent only to see the Next Man Up leap up and thunder-dunk on the heads of the rest of the Big 12. However, I am skeptical of this year's team. In the past Self would lose three, four or five starters and then turn to players with experience in the system. This year Self is following more of the Kentucky Model and will put the keys in the hands of a dynamite freshmen class that is one of the top crops in the country. Andrew Wiggins is considered the best freshman in the nation. Though he hasn't played a single college game, some people think he's one of the best players in the country as well, but I always take a wait-and-see approach. Of the holdovers, point guard Naadir Tharpe will be critical in integrating in the fresh faces. But this team has size and raw talent, and you know Self will have them prepare. That said, I just don't think you can fully replace the experience of last year's team. The 2012 Kansas team overachieved, in my eyes, and four of the five departed starters also started for the 2011-12 national title runners-up. It is going to take some time for this group to gel and for them to fulfill the hype.
The Challenger: Oklahoma State (+250)
It has been a slow, steady build in Travis Ford's first five years in Stillwater. And heading into last season there was some grumbling about his job stability. But then-freshman point guard Marcus Smart came along and put everything into place for a team that went 24-9. Smart passed on the NBA for one more season in college, and his return means the Cowboys have four starters back from last year's team. Smart is getting most of the love, but it wasn't long ago that junior swingman Le'Bryan Nash was the highly-touted NBA prospect on this roster. Nash (14.0 points per game) and high-flying guard Markel Brown (15.3 ppg) give Smart two high-end talents to run with. Former starter Brian Williams is back after injuries sidelined him last year, and slick-shooting Phil Forte (10.2) will provide some offense off the bench. If there is a weakness on this team, it is a lack of post depth. Starter Michael Cobbins does most of the dirty work on the inside. But he needs one or two capable forwards to emerge to help with the rebounding, defense and screening. Sophomore Kamari Murphy and well-traveled junior Gary Gaskins could fill those roles.
The Dark Horse: Baylor (+500)
It will be absolutely impossible for the Bears to replace Pierre Jackson. Last year's do-everything guard exhausted his eligibility and left a gaping hole in the Bears backcourt. However, Baylor has two NBA-caliber forwards in Isaiah Austin and Corey Jefferson, who both wisely passed on the pro draft for another year of development. Those twin towers represent the best frontcourt in the league. And if Baylor can find some quality guard play then they could be in business. Brady Heslip is one of the best shooters in America and a veteran guard. But he is not a natural distributor at the point. JUCO All-American Kenny Cherry will take a shot at running the team, and a pair of freshmen guards will try to develop quickly as well. Keep an eye on the eligibility of transfer forward Royce O'Neale. He has a waiver in for immediate eligibility and could be a key pickup for this team.
The X-Factor: Iowa State (+800)
The Cyclones aren't an X-Factor because I think that they have a prayer of competing for the league title. This team could just be good enough to knock off one of the top three teams and could play a hand in who does win the Big 12. The Cyclones may not have the NBA talent in their frontcourt that Baylor possesses, but forwards Melvin Ejim and Georges Niang are both superb, and Niang has serious breakout potential. Fred Hoiberg's team plays a quirky style that features a lot of three-point bombing. The Cyclones are weak in the backcourt and will rely almost entirely on Marshall transfer DeAndre Kane. Kane is a versatile player that has averaged nearly 16 points per game in his three-year career. But that was in Conference USA. Kane is a high-usage player. And if he can't adjust to the Big 12, the Cyclones are in trouble. But if Kane follows the path of recent successful ISU transfers then Iowa State has enough talent to be a thorn in the side of Oklahoma State, Kansas and Baylor.
The Disappointment: Kansas State (+800)
Bruce Weber, like at Illinois, did a great job winning with other people's players. But he lost his two best players to graduation and transfer and will have to coax a team with just two returning starters into the NCAA Tournament field. I don't see it. Neither Shane Southwell nor Will Spradling averaged more than nine points per game last season. They will handle the work on the perimeter. Rugged Thomas Gipson is an efficient player in the paint, but conditioning is an issue. Question marks and freshmen make up the rest of the roster. The Wildcats were able to mask last year's issues behind a comically easy schedule (No. 201 ranked nonconference slate). This year they have a tougher road to hoe. Don't be stunned if the Wildcats' streak of three straight tournament appearances comes to an end.
The Rest:
Texas (+2000) – This has the look of a make-or-break year for coach Rick Barnes. It wasn't long ago that Texas had the No. 1 team in the country. But they missed the NCAA Tournament last year and are coming off back-to-back ugly seasons. Things will not get better this year. Barnes lost his four best players – all prematurely – from a 16-18 team last year. Barnes has three returning starters, but they combined to average just 17.3 points per game. They don't have any highly-touted recruits, and Barnes is a terrible in-game coach. This team is a non-factor, and I expect another lackluster year.
Oklahoma (+1000) – Lon Kruger did a masterful job steering a veteran Sooners team into the NCAA Tournament last season. But now he must replace five of his top eight contributors and continue his rebuilding effort in Norman. Kruger has a nice perimeter foundation with sophomore point guard Buddy Hield, sophomore shooting guard Je'lon Hornbeak, and senior wing Cameron Clark. But that's about it. The frontcourt is a mess, and Oklahoma should get pounded in the paint. I can see this team taking a step back this year. But with Kruger at the helm it should just be setting them up for a bigger leap forward.
West Virginia (+1000) – Mountaineer basketball has never been that pretty to watch under Bob Huggins. But last year it was disgusting. West Virginia flamed out to a 13-19 record and was No. 283 in the country in field goal shooting. Their defense (No. 260) was not much better, and this team flat-out stunk. I wouldn't expect a major turnaround this year either, as WVU has just two starters and zero double-digit scorers back on the roster. This is one of the youngest teams in the Big 12, with no seniors on the roster, so they appear to be building for next year.
Texas Tech (+5000) – Tubby Smith was pulled off the scrap heap and is the new head man in Lubbock. Smith has won 20 or more games in 19 of his 22 seasons on the bench, but he won't get there this year in a program that has won just 19 games the past two seasons combined. Tech welcomes back four starters. But none of them are very good. Last year's super-sub, Jaye Crocket (11.9), is the best of this rotten bunch. But if junior Jordan Tolbert can bounce back from his sophomore slump and if Dejan Kravic can continue to develop, Tech won't be awful in the post. But feeble guard play will doom this team to another losing year.
TCU (+5000) – One of the worst BCS programs in the country, the Horned Frogs are just happy to be here. They went 2-16 in league play last year but did pull an astounding upset of Kansas out of their hat. But they are awful. Sure, some injured players will be back in the fold. But this is a bad team that was never competitive in the Mountain West. They were thrust into this college hoops cauldron because of a football marriage. And on any given night the Horned Frogs are capable of losing by 30.
Projected Big 12 Standings:
1. Oklahoma State*
2. Kansas *
3. Baylor*
4. Kansas State
5. Iowa State
6. Texas
7. Oklahoma
8. West Virginia
9. Texas Tech
10. TCU
*Projected NCAA Tournament Teams
Robert Ferringo is a writer and a professional sports handicapper for Doc's Sports. He is considered one of the best college basketball handicappers in the country and has earned his $100-per-Unit clients over $40,000 in the last six years with his nonconference handicapping. He has produced three consecutive profitable seasons and four of five winning years overall. You can sign up for his college basketball picks and get more information here.
Read more articles by Robert Ferringo
---
Most Recent College Basketball Handicapping