College Basketball National Championship Betting Odds: Best Bets
by Robert Ferringo - 10/20/2014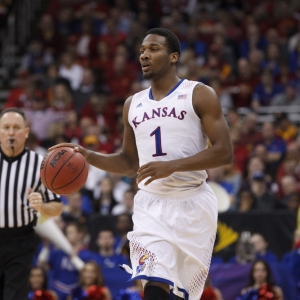 The Connecticut Huskies, a team that started the season outside the Top 15 with no national buzz, cut down the nets at AT&T Stadium in Arlington last April as the 2013-14 National Champions. They seemingly came out of nowhere, and at the start of last season absolutely no one saw UConn as a realistic title threat.
Well, no one except me.
Last year at this time I tabbed the Huskies as one of the best bets on the board to win the National Championship. They were at 55-to-1 and were just begging for action, offering tremendous value for futures players. But I didn't just nail Connecticut last October as a team to get down on. I told anyone who'd listen last May - 11 full months before they would hoist the trophy - that they should literally run to the window and get $50 down on the Huskies when they were listed as part of The Field.
Their odds at the time: 100-to-1.
Calling my shot with a 100-to-1 longshot to win the National Championship was one of my crowning achievements as a college basketball handicapper. That was the perfect exclamation point on a season where my sides and totals more than doubled my clients' bankrolls with over $10,000 in profit.
The only thing left to do is to do it all over again.
I don't have nearly the conviction this year as I did last year when I listed my best bets to win the college basketball National Championship. In fact, I actually think that college basketball futures are a horrible value for bettors. But if you must, here are the best value plays for betting on which team will win the 2014 college basketball National Championship:
(Odds accrued from multiple online sources, including 5Dimes.)
Best Bets:
Kentucky (+350) - I have been WAY ahead of the curve with the Wildcats the past two seasons, tabbing them as the most overrated team in the country. In 2012 they missed the NCAA Tournament completely, and Robert Morris ended their season in the NIT. They almost proved me wrong last year following a miracle NCAA Tournament run. However, I was 100 percent correct before the season started that their odds to win the title weren't even close to the actual likelihood of them winning it all.
But this year I'm on board with the Wildcats. They are just bigger, badder and physically stronger than 95 percent of the teams in the country. They have a proven backcourt and some experienced trees planted in the post. If any of the freshmen are as good as their hype then this team will have a solid eight- or nine-man rotation to work with. They also play in the dumpster fire SEC, so they are all but assured a conference title and No. 1 seed in the Big Dance. From there they will be tough to beat. And for the first time in five years they may be worthy of the preseason hype they are getting.
Kansas (+1400) - Kansas was another team on my list of sucker bets at this time last year. They managed to win their 10th straight Big 12 title, but they didn't even make it out of the opening weekend of the NCAA Tournament. Last year at this point their odds to cut down the nets were at +500. I promise you they are not three times worse heading into this winter. They have several young power players to replace Joel Embiid's production. And I think Wayne Selden will really blossom now that he's out of Andrew Wiggins' shadow. Perry Ellis and Hunter Mickelson are underrated veteran pieces. And I think it was addition by subtraction when Naadir Tharpe decided to go pro. If they can find some steady point guard play this team is a legit Final Four threat.
Louisville (+2500) - Russ Smith and Luke Hancock are nearly impossible to replace. But, as with Kansas, these odds don't really reflect where the Cardinals currently sit in the college basketball hierarchy. Montrez Harrell is an absolute beast on the block and will carry this team to the Sweet 16 by himself. Chris Jones is a veteran point guard, Wayne Blackshear and Terry Rozier have serious breakout potential as go-to scorers, and the Cardinals have a four-man freshman class that rivals any in the country. Louisville is going to floss its teeth with the ACC after spending the last decade tussling in the Big East. They have been to two Final Fours the past three years, including a title in 2013, and at these odds the Cards are worth a look.
Wichita State (+3200) - You wouldn't think that the Shockers would sneak up on anyone in college basketball this year. But these odds show a lack of respect for exactly how good this team was last season and precisely what they accomplished. It took a superhuman effort from Kentucky - and some luck in the final 60 seconds - to send the Shockers packing. But Wichita starts the season with the best backcourt in the country. Fred Van Vleet, Ron Baker and underrated Takele Cotton should carry this team to one of the top seeds in the NCAA Tournament. And if they can get any production from their new frontcourt then this team has a great chance to make it back to the Final Four for the second time in three years. From there you could very easily hedge off this wager, and that makes this an outstanding value play on a squad that will begin the season in the Top 10.
Texas (+3000) - Last year at this time I was one of many carrying a torch in the Rick Barnes lynch mob. Now I'm on the bandwagon. The Longhorns are loaded with talent, and they gained a lot of valuable experience last season. Rick Barnes is in that list of "best coaches to never win it all," and he has flopped in March with better teams than this. But that doesn't mean that these odds are not a mistake by the books. Freshman Myles Turner is the No. 2 prospect in the country. Add him to a team that won 24 games last year and has its top nine players back and you are on the short list of teams to win it all. These odds should be closer to +1800, so there's value here.
Gonzaga (+3500) - The Bulldogs have been one of the most overvalued teams in the country over the past several years, and they haven't even made it out of the opening weekend since 2009. However, this is Mark Few's best team in years. Few welcomes back two three-year starters in the backcourt and a beast in center Przemek Karnowski. The Bulldogs have a pair of Top 100 freshmen as well as intriguing frosh Domantas Sabonis, the son of Hall of Famer Arvydas. That core would have Gonzaga threatening the second weekend of the Big Dance. But their three top-end stud transfers - Kyle Wiltjer (Kentucky), Byron Wesley (USC) and Eric McClellan (Vanderbilt) -- give them a roster stocked with Final Four talent. Few is a good enough coach to mesh this team together. And if they develop chemistry, they have the talent to win six straight games when it counts.
Robert Ferringo is a member of the Basketball Writer's Association of America and a professional sports handicapper for Doc's Sports. He is considered one of the best college basketball handicappers in the country and has earned six straight winning college basketball years. His $100-per-Unit clients nearly $57,000 in the eight seven seasons with his nonconference picks and he is looking forward to his biggest season ever. You can sign up for his college basketball picks and get more information here.
Read more articles by Robert Ferringo
---
Most Recent College Basketball Handicapping