2015 West Coast Conference Tournament Expert Picks and WCC Betting Odds
by Robert Ferringo - 3/2/2015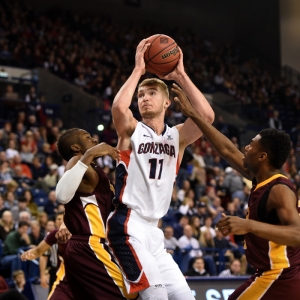 "He's cut! The Russian's cut!"
The famous line from Rocky IV was apropos for West Coast Conference basketball after BYU's somewhat shocking upset over Gonzaga last Saturday. The Bulldogs had been 17-0 in league play this year and had won 41 straight home game. They had long ago clinched their third straight regular-season conference title and looked unbeatable by any team in this league. But the Cougars' upset dealt a significant blown to Gonzaga's air of invincibility heading into March and the WCC Tournament.
The West Coast Conference Tournament tips off on Friday, March 6 at The Orleans Arena in Las Vegas Nevada. The quarterfinals will be played Saturday before an off day. The semifinals will tip off Monday night, and a champion will be crowned on Tuesday, March 10.
Here is Doc's Sports West Coast Conference Tournament picks, with my own projected futures odds:
The Favorite: Gonzaga (-450)
Despite their loss to BYU, Gonzaga is still ranked No. 7 in the country and on track for a very high seed in the upcoming NCAA Tournament. The Bulldogs' only other loss this season came in overtime and on the road against No. 5 Arizona back in December. The Bulldogs have won 12 of 16 WCC tournament titles and have made the finals a stunning 17 straight years. Gonzaga really doesn't have a weakness. Their guard play is excellent, with a trio of seniors - Kevin Pangos, Gary Bell and transfer Byron Wesley - leading the way. Another transfer, forward Kyle Wiltjer pairs with 7-footer Przemek Karnowski and bench player Domantas Sabonis to give the Bulldogs some size inside. This team can shoot, can defend, can play at a high level and is extremely well-coached. That loss to BYU could end up being a good thing for the Bulldogs. It could be a splash of cold water to the face and wake this team up a bit. Or it could be foreshadowing for another sad March for a program that underachieves in the NCAA Tournament every year.
The Contender: BYU (+300)
Good luck trying to figure out what you are going to get from this Cougars team. They are the No. 2 scoring team in the country and have one of the best pure scorers in the nation in Tyler Haws. BYU plays with three and sometimes four guards at one time, which makes them vulnerable on the defensive end. But they have won six straight after a January swoon, and they are the hottest team in the league coming into March. This team is flaky as hell. But they are also playing for a possible at-large berth to the NCAA Tournament, and their three seniors - Haws, Anson Winder and Skyler Halford - are going to go down firing. This is a boom-or-bust team that could either lose early or shoot its way to the title game, where they lost to Gonzaga last season.
The Sleeper: St. Mary's (+300)
St. Mary's has long been Gonzaga's foil in the WCC. They are the last non-Gonzaga champion to cut down the nets in the WCC, winning the league title in 2010 and 2012 and playing the Bulldogs in the title game in 2009, 2011 and 2013. This year's team isn't as good as past versions. But there is definitely talent here. Center Brad Waldrow is one of the league's best big men. Aaron Bright (Stanford) and Desmond Simmons (Washington) are two senior transfers with big-time experience and talent. This team has been very streaky, posting blowouts over Portland and San Francisco lately while also getting upset by Santa Clara. But they are one of the most experienced teams in the country, and their five seniors are going to be fighting tooth and nail to get one last title. They have a very tough draw before even getting to Gonzaga, though, as they would have to get through an underrated Portland team as well as BYU.
The Spoiler: San Diego (+1800)
There are a lot of potential spoilers in the WCC this year, and this team has as much depth as we've seen in several seasons. Portland is finally healthy and has some very good players. Pepperdine is a team that raised some eyebrows with its play throughout January. But I am going to go with San Diego simply because of their senior guards. Diminutive point guard Chris Anderson and super-shooter Johnny Dee make up one of the best backcourts in the league. Do they have enough size on the inside to get past Pepperdine and take down Gonzaga? Probably not. But coach Bill Grier led this program to a surprise tournament title in 2008, and if his guards play out of their minds they might just be able to muck up the works.
Early Round Matchup To Watch:
No. 3 St. Mary's (-6.5) vs. No. 6 Portland (3 p.m., Saturday, March 7)
These are two very good teams, and either one of these squads is capable of making a run to the championship game. We've already touched on what St. Mary's has working. But Portland is a team that I think hasn't played up to its potential this year. Injuries to some key players definitely slowed this group down, and they enter the tournament having lost four straight games. But I think Portland is dangerous. They are one of the few teams with the size to stack up against Gonzaga's big men. And mercurial senior guard Kevin Bailey is one of the league's better scorers when he is right. St. Mary's has absolutely dominated this series, though, and has beaten the Pilots nine straight times. You also can't even begin to compare their performances in the WCC Tournament, with the Pilots winning just one quarterfinal game the past five years while St. Mary's has two titles in that same stretch.
West Coast Conference Tournament Picks: This is going to be another quality mid-major tournament. There are a ton of very talented experienced guards in this league, and I think we'll see more than one upset along the way to crown a champion. But I don't see Gonzaga losing. I think that BYU is the only team that really poses a threat to them. But BYU is so inconsistent that I think they would have a hard time just winning the two games to get to the championship rematch. The Bulldogs own this tournament and this conference. And after losing to BYU in their home finale, I think they are going to be on a mission this week down in Las Vegas.
Robert Ferringo keeps proving himself to be one of the best college basketball handicappers in the nation. Robert has posted 11 of 16 winning college hoops weeks and 17 of 20 winning college hoops months. He has banked nearly $10,000 in profit with his side plays this year and almost $17,000 in profit since Nov. 11, 2012. Robert is a profit machine and you can take advantage of our free, no-strings-attached $60 credit to use toward a purchase of Robert's college basketball selections. CLICK HERE for $60 absolutely free!
Read more articles by Robert Ferringo
---
Most Recent College Basketball Handicapping