The Brett Favre Circus Starts Again
by Trevor Whenham - 7/2/2010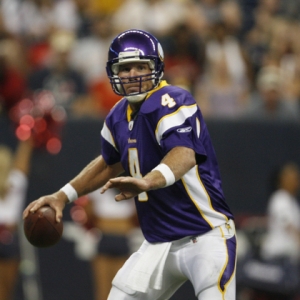 Brett Favre just couldn't handle being out of the news. Maybe it was all the attention everyone is paying to where LeBron James will play next year. Or maybe he was jealous because Phil Jackson, the second most diva-ish retirement fiend behind Favre, has been gaining headlines surrounding his indecision (although he re-signed with the Lakers yesterday). Or perhaps Favre is just sick of hearing about the World Cup.
Whatever the reason, in a simple interview with the Biloxi Sun Herald Favre whipped everyone who is willing to be whipped into frenzy back into one. Favre didn't commit to anything for next year or make any firm statement about his plans, but he said two things which you can read a lot into - that he knows he can still play at a high level, and that he would love to go and beat the Saints. New Orleans and Minnesota play each other in the season opener.
By themselves either of those two statements would make it seem likely that Favre is leaning towards returning for his 20th year. When you combine that with his decision to get ankle surgery soon after the season ended, though, it seems likely. The ankle wasn't damaged significantly, but there was pain as a result of a hit in the NFC Championship Game. It wouldn't have been debilitating if he was planning to retire, but it would have gotten in the way of him playing a full season if he chose to return. The surgery went well and he's rehabbing hard, so that's likely no longer a factor in his decision.
So, it seems more likely than not that Favre will decide to return for another season. There even seems to be a growing sense that he'll commit to returning for two seasons - though his word and his commitment is all but valueless these days. That can't really be seen as surprising on a lot of levels. Favre has a massive ego, and he knows that he was good last year, so it's hard to believe he would quit when he can still be valuable. He also likes all of his records, and more playing time gives him more chance to put the records out of touch for Peyton Manning and the rest.
If you are reading this then one question probably matters more to you than any other - what does his return mean from a betting perspective? The answer, I would suggest, is simple - not very much. I don't think that the potential for his return should have you rushing out to buy or sell future bets or adjust your expectations for the team. Here are five good reasons why:
The team was likely assuming he was coming back anyway - If most teams found themselves in July without a clear picture of their quarterbacking situation they would be freaking out. Even teams with reasonably stable QB situations are making crazy moves these days - the Jets have reportedly flirted with JaMarcus Russell and Mark Brunell recently. Despite all the uncertainty, though, the news out of Minnesota has been decidedly calm. Brad Childress has said little, and what he has said has been remarkably without panic. To me that's a pretty good indicator that Childress isn't worried because he has a solid sense that his starting QB this year is going to be exactly who it was last year.
They must have had some faith in the alternatives if he didn't - What's most telling is that the Vikings have done nothing of note on the QB front this offseason. Tarvaris Jackson and Sage Rosenfels are still the alternatives. Outside of the QB position this is a team that is loaded to be a serious contender again. If they were concerned about Favre's departure and didn't like the alternatives they have then they would have been aggressive about doing something about it. Their inactivity tells us that they aren't worried about their depth, and if they aren't then why should we be?
The talent level is high on offense - It's not like the QB play even needs to be world class for this team given what they have to work with. It just has to be competent. The offensive line is strong, Rice, Harvin, and Berrian are a very nice receiving trio, Shiancoe is a top level tight end, and some guy named Adrian Peterson is in the backfield. What Favre does doesn't really matter because a decent QB - and Jackson and Rosenfels have both shown that they can be that - could step in and be expected to have reasonable success.
If he comes back he'll be ready - Favre's ego won't let him come back and struggle. He didn't look fantastic for the Jets, but came back last year and looked as good as he has in a long while for the Vikings. He's going to be ready or he'll stay in Mississippi.
He wasn't going to join the team in a hurry either way - No matter what the team was going to go through much of training camp without Favre anyway. He skipped the camp part last year and joined the team just for the preseason - long enough to get comfortable with the offense. He'll do the same thing this year if he plays, and there is no reason to believe that his plan was ever different than that. Because of that, and because he knows the offense so well and has an established relationship with most of his offense, it doesn't really matter when re returns to the team, or when he decides what he is going to do.