2013-14 Pac-12 Basketball Predictions and Futures Odds
by Robert Ferringo - 10/25/2013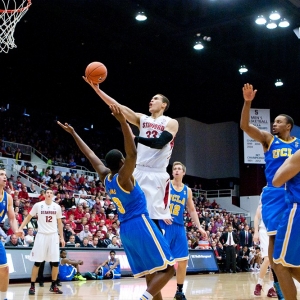 The Pac-12 is having a very good year.
After years on the fringes of the national conversation in both college football and college basketball, the Pac-12 has come roaring back. The football conference might be the best in the country, and the basketball league heads into the 2013-14 season bursting with promise.
This year the Pac-12 has as much talent as anything the Big 12 has to offer. They are also more stable and secure than rejiggered leagues like the Big East and the American Athletic Conference. That stability, both in terms of coaching and in player movement, means that the Pac-12 could be a haven for bettors this season, with several underrated programs ready to make national noise.
Here is Doc's Sports 2013-14 Pac-12 basketball predictions (with odds to win the conference title in parentheses):
The Favorite: Arizona (+200)
I am not nearly as high on the Wildcats as a lot of analysts this year. They opened the season No. 5 in the country in the Coaches Poll, which I found ridiculous. Arizona has to replace three of its top four scorers from a team that didn't win the Pac-12 last year. Yes, Arizona has some nice freshmen tossed into the fold. But I'll take a wait-and-see approach with Aaron Gordon and Rondae Hollis-Jefferson. Also, new point guard T.J. McConnell is the ball-handler that the Wildcats have been missing since Momo Jones transferred. But while I like McConnell, he was just a good player in the A-10. He won't dominate the Pac-12. Can Nick Johnson finally play up to his physical talent? Does Arizona have enough true grit on the inside? I think there are a lot of questions here. They are talented. But I do not think that this is a Final Four-caliber team right now even though they are being touted as one.
The Challenger: Colorado (+300)
Tad Boyle has built the Buffaloes into a burgeoning power out West. This Buffs team was an also-ran in the Big 12, but since the move to the Pac-12 they have slowly but surely built themselves into a legitimate program. Colorado lost its best player, underrated Anthony Roberson went to the NBA early, and that is the only thing standing between the Buffs and Sweet 16. They still may get there thanks to one of the most talented and ruthless backcourts in the country. Two-guard Spencer Dinwiddie will be the next Colorado player to turn pro, and he averaged 15.3 points per game as a sophomore. The junior pairs with classmate Askia Booker, a fearless point guard that added 12.4 PPG last season. Sophomore forwards Xavier Johnson – who has serious breakout potential either this year or next – and Josh Scott give Colorado two talented big men to work with as well. Boyle runs a quirky offensive system, and Colorado has a unique home-court advantage. They are short on experience – there are no seniors on the roster – and depth is a concern. But this is a very good team that will make some noise in the league.
The Dark Horse: Stanford (+800)
I think that the Cardinal could be in for a big year. A convergence of negative factors led to last year's underachievement. But Stanford has all five starters back from a 19-win team, and they should be motivated for some redemption. Stanford doesn't just have skill, it also has experience. The Cardinal has four three-year starters, and their top seven contributors are all juniors and seniors. This team won the NIT just two years ago and has an NBA-level go-to guy in forward Dwight Powell. The key will be for guards Aaron Bright and Chasson Randle to bounce back from a disappointing 2012 and seize control of this club. But they can go 6-7, 6-10, 6-10 in the paint with a group that is used to playing together. But they need to shoot the ball better (No. 259 in FG percentage) and be more efficient offensively. The Cardinal once again has a challenging nonconference schedule. Last year they couldn't get any signature wins in November and December, losing every key nonconference test, and that set the tone for a down year. But if this team can get some confidence early they have the talent to win this league.
The X-Factor: UCLA (+350)
Steve Alford spurned New Mexico this offseason to take over a degenerating program at UCLA. He brings a strong resume from the Mountain West, but now Alford is going to be asked to rebuild one of the most prestigious programs in the nation. Alford has some pieces in place for a successful rookie campaign, and he will build his team around the twin towers of Travis and David Wear. The seven-foot seniors will anchor a strong frontline bolstered by the return of Kyle Anderson and his 10 points per game as well. Sophomore guard Jordan Adams was fantastic as a freshman until a broken foot sidelined him late in the year. That injury may have sealed Ben Howland's fate. And Adams' return and maturation is the key to Alford's first season. The other main issue troubling the Bruins is point guard play. They seemingly haven't had an effective leader since Jordan Farmar. Larry Drew, who was actually pretty effective last season, has graduated. There is no obvious replacement. That is a problem because although this roster is talented, this is a dumb team. The Bruins have been plagued by idiotic decision-making in recent years, and they have been a scattered, inconsistent mess. You can't pin that all on Howland. UCLA has five of its top seven players back from a 25-win game, and they won't miss Shabazz Muhammed as much as people think. If Alford can get them to defend with vigor and raise the basketball IQ this team could do some damage. If not, they will be one of the most overrated teams in the nation.
The ATS Machine: California (+800)
Justin Cobbs is one of the best point guards in America and is one of the best players that no one talks about. The senior is an absolute assassin and a three-year starter for the Golden Bears. He is the linchpin for a team that was a bit overshadowed by Allen Crabbe last year. Certainly the Bears are going to miss Crabbe, who was unstoppable at times last year. But they still have Cobbs and a total of four starters back from the team that tied for second in the Pac-12 last year. This team has zero preseason buzz. But if heralded freshman Jabari Bird can step in and account for half of Crabbe's departed 18 points per game then this team won't drop off as much as people think. Cal was picked a distant fifth in the preseason media poll. And like Cobbs, this team is underrated and undervalued heading into the season. Cal has an interesting nonconference schedule that includes a game at Creighton and a spot in the Maui Invitational. Regardless of how they perform early, the Bears should have plenty of value when they get into the meat of Pac-12 play.
The Disappointment: Oregon (+500)
How many times can Dana Altman keep hitting blackjack with his transfers? The Ducks have gone 52-19 the past two seasons on the backs of several crucial transfer players. Altman has been masterful at mixing in those vagabonds with his own recruits and has built the Ducks back up to where they expect an NCAA berth each season. Oregon will try to keep it going this year with Mike Moser (UNLV), Joseph Young (Houston), Jason Calliste (Detroit) and Elgin Cook (JUCO). The problem is that the key player in that quartet, Young, hasn't been declared eligible. If he doesn't get his waiver approved the Ducks will be thin in the backcourt. Oregon starters Dominic Artis and Damyean Dotson are capable as is backup point guard Jon Loyd. But this team needs a wing scorer, and Young would fit perfectly. If he is allowed to play – and if Moser proves that last year was an aberration – then Oregon may not disappoint those that have them just outside the Top 25. But those four transfers are expected to be four of the team's best seven players. And with no cohesion or chemistry between them, I have a feeling things could be tricky for Oregon backers.
The Rest:
Arizona State (+1500) – I voted for then-freshman Jahii Carson as a first-time all-American last year after a stunning rookie year that saw him average 18.5 points and 5.1 assists per game. Carson turned down the NBA and now has the Sun Devils primed for their first NCAA appearance since 2009. Three-year starters Jonathan Gilling and Jordan Bachynski are there for support. But the key will be Penn State transfer Jermaine Marshall. The off-guard averaged 15.3 points in his final season in the Big Ten. He will need to do the same in Tempe to keep defenses from swarming Carson. Depth is a major issue for the Sun Devils, and I can see them wearing down in February. But Herb Sendek will lean on one of the best players in the country to take his program dancing.
Washington (+1200) – I think that this is a crucial year for Washington basketball. The Huskies have been one of the best programs in the West for the past decade under Lorenzo Romar. But they have seen their win total and RPI steadily decrease each of the past five seasons. Is this the midst of a slide to irrelevance, or was last year's 18-16 NIT team just a blip on the radar, a natural offshoot of losing some top talent to the NBA? Future pro C.J. Wilcox will lead the Huskies this year. But he doesn't have much to work with as he is one of just two starters back. Sophomore Andrew Andrews and juniors Desmond Simmons and Shawn Kemp Jr. have shown promise. But now those guys need to produce. If not then I don't think Wilcox is good enough to carry this team back to The Big Dance and the grumbling could begin out in Seattle.
Oregon State (+2000) – Craig Robinson has milked being The President's brother-in-law for all that its worth. Now it is time to put-up or shut-up. I think that if the Beavers don't make their first NCAA Tournament appearance since 1990 that Robinson will be shown the door. And his make-or-break season got off to a rocky start when two frontcourt starters, senior Devon Collier (one game) and Eric Moreland (14 games), received offseason suspensions for off-the-court issues. The Beavers will lean on guard Roberto Nelson (17.8 PPG) on the perimeter. And they have some ability in the frontcourt. But Oregon State has to defend better (No. 263 in scoring defense), and they need to find Nelson some backcourt help. I think this is the end of the road for Robinson.
USC (+5000) – Get ready for Dunk City – West. Andy Enfield, whose thrilling Florida-Gulf Coast team was the toast of last year's NCAA Tournament as the first No. 15 seed to make the Sweet 16, is now manning the sidelines at USC. The Trojans finally parted ways with Kevin O'Neill, who has been one of the worst coaches in college basketball. Enfield has a major rebuilding job to do. He has a decent backcourt with returning starters J.T. Terrell and Byron Wesley and Maryland transfer Pe'Shon Howard leading the way. But Enfield needs depth and versatility to install his high-octane brand of basketball. He has neither here.
Washington State (+5000) – The Cougars were set adrift when Tony Bennett bolted for Virginia, and they have yet to recover. Wazzou has topped 20 wins just once in the past five years, and I don't expect this year's group to be much better than the team that went 13-19 last year. Gone is do-it-all forward Brock Motum as well as lead guard Mike Ladd. What remains is three mediocre returning starters and essentially a one-man recruiting class in Que Johnson as the only reinforcement. Ken Bone is certainly trying. But it looks like another terrible team out in Pullman.
Utah (+2500) – Remember when the Utes used to be good? It seems like forever ago, but Utah used to be one of the best programs in the West. But this group hasn't adjusted well to a step up in class since leaving the Mountain West. Last year's team was bad, and this year's team may be even worse thanks to the loss of three of Utah's better players. Utah has just one starter back from a 15-18 team, and it should be another year in the basement for the Utes. I like Larry Krystkowiak's style and his system. But he needs to find some talent – quickly – out in Salt Lake City.
Projected Pac-10 Standings:
1. Arizona*
2. Stanford*
3. Colorado*
4. UCLA*
5. California*
6. Arizona State*
7. Oregon*
8. Washington
9. Oregon State
10. USC
11. Utah
12. Washington State
*Projected NCAA Tournament Teams
Robert Ferringo is a member of the Basketball Writer's Association of America and a professional sports handicapper for Doc's Sports. He is considered one of the best college basketball handicappers in the country and has earned five straight winning college basketball years. His $100-per-Unit clients nearly $49,000 in the last seven seasons with his nonconference picks and he is looking forward to his biggest season ever. You can sign up for his college basketball picks and get more information here.
Read more articles by Robert Ferringo
---
Most Recent College Basketball Handicapping