2014 SEC Tournament Picks and College Basketball Predictions
by Robert Ferringo - 3/10/2014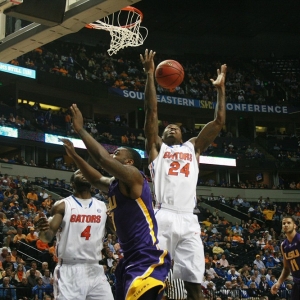 I've said it before and I'll say it again: when it comes to college basketball the SEC is one hell of a football conference.
Conference realignment has forced many conferences to be leaner and denser with quality college hoops action. The Big 12, Big East and the newly-formed American Athletic Conference are each perfect examples of the trend in action. However, the SEC appears to be regressing and is as bloated and sloppy as it has ever been.
Just two teams from the SEC, Florida and Kentucky, seem destined for a trip to the NCAA Tournament this year. Several others - Georgia, Tennessee, Arkansas and Missouri - have at least a puncher's chance of earning an at-large bid. But each of those teams is facing an uphill battle and will likely need multiple wins in this week's league tournament.
Urgency won't be in short supply as the SEC Tournament begins Wednesday, March 13, in the Georgia Dome in Atlanta. But quality play might be.
Here is Doc's Sports SEC Tournament picks with projected odds to win:
The Favorite: Florida (-175)
The Gators enjoyed a historic run through the SEC this year, becoming the first team in league history to post a perfect 18-0 regular season. Florida is the No. 1 team in the country right now and the consensus favorite to win not just the conference tournament but also the NCAA Tournament. ( As I predicted they might be back in October.) Billy Donovan had done an exceptional job of coaxing this group through injuries, suspensions, and other twists of fate, and his crew is peaking at the right time. Florida has won 23 straight games, and their last three victories have come by an average of 24 points per game. Florida gets it done on both ends with a deep, talented team that's in the top 10 in both offensive and defensive efficiency. Seniors Casey Prather, Scottie Wilbekin, Will Yeguete and Patric Young form an unshakeable core for this team, and that trio has played in, and won, a lot of big games together in their careers. This team can beat opponents 20 different ways to Saturday, as it were. Their lone Achilles heel is inconsistent 3-point shooting. But several shooters have had hot hands recently, and if the Gators are knocking down shots from deep there is no one in this - or perhaps any other - league that will beat them.
The Contender: Kentucky (+300)
I was one of the few people laughing at Kentucky's preseason expectations . And while a lot of folks nationally have been disappointed and confused about how "poorly" the Wildcats have played, I'm actually surprised they managed as well as they have this year. Kentucky is the least experienced team in the country. Not "one of," they are actually the youngest team in college basketball in years of service. Their top five players are all freshmen that have been playing together for all of 15 minutes. And their version of a "veteran" is sophomore Willie Cauley-Stein, who averaged 23 minutes last year. Kentucky has plenty of raw talent. But little things like chemistry, experience and outside shooting have tripped them up. The Wildcats' growing pains should continue, and this team has dropped four of seven games overall and seven of nine against the spread.
The Sleeper: Arkansas (+1000)
The Razorbacks would be a serious threat - if every game were played on their home floor. Arkansas is an aggressive, up-tempo team with a host of athletes that can take the court with anyone. But Arkansas has one of the largest home-road performance disparities in the country. It has been that way for several seasons. But Mike Anderson's team may have shown signs of a breakthrough in late February when they tallied back-to-back wins at Mississippi State and Kentucky. If the Razorbacks can harness some of the energy that they play with in Bud Walton Arena then this is a team that could threaten Florida. The two played a sensational 84-82 overtime game in Fayetteville back on Jan. 11, and I would love a rematch in the semifinals.
The Spoiler: Georgia (+1500)
Can you tell me a Top 3 team in any BCS conference that has had a more unassuming season than the Bulldogs? Georgia quietly and efficiently took care of business in the second half of the season and earned a tie with Kentucky for second place in the SEC. They have won eight of 10 games and have the confidence of a team with nothing to lose. The crux of this team is juniors and sophomores. But they have each been in Mark Fox's system long enough to properly execute his precision offensive sets. The Bulldogs don't have any one single player for opponents to key on. Instead they have multiple guys that can step out and bang 3-pointers, and Georgia is content to slow down the pace of games and win with defense and clutch shooting. They have a favorable path to the semifinal where they could play the spoiler and get into the NCAA Tournament discussion.
The Matchups (With My Projected Odds):
No. 12 Auburn (-1) vs. No. 13 South Carolina (7:30 p.m., Wednesday, March 12)
Good luck guessing which of these teams is going to show up. Auburn has been the better of the two teams all year, and for a stretch in early February they actually showed some signs of life. But they have lost four of their last six games and been haunted by an offense that can fall asleep in an instant. South Carolina has had an adventurous two weeks. They upset Kentucky on March 1 followed by a 26-point mauling from Florida three days later. Then coach Frank Martin was suspended for a road win at lowly Mississippi State to close the regular season. South Carolina does play hard and has been competitive in most of their 13 league losses. But Auburn gets the edge thanks to an edge in the backcourt.
No. 11 Vanderbilt (-6.5) vs. No. 14 Mississippi State (10 p.m., Wednesday, March 12)
No one in the league has done more with less than Vandy's Kevin Stallings. The Commodores have just seven scholarship players yet managed to finish .500 and with a 7-11 mark in the league. They also have four losses by three points or less in the past month and have covered the spread in four of six games. Mississippi State knows all about being shorthanded. They spent most of last season with just a handful of scholarship players (and went just 10-22). They have shown improvement (13-18) but have lost 13 straight games heading into Atlanta.
No. 8 Missouri (-5) vs. No. 9 Texas A&M (1 p.m., Thursday, March 13)
Three weeks ago Missouri was trying to pick up some wins to lock up an NCAA Tournament berth. But right now they are a team that finished just 2-3 in its last five and 5-6 in its last 11 games and in need of at least two wins this week to have a prayer at going to The Big Dance. The Tigers just beat their former Big 12 rival in Missouri on March 5, and that was the only meeting this year. A&M has won only one game outside of its home gym all year, including three losses on neutral courts. This has been a rebuilding season, and there has been nothing noteworthy about their play over the last two months. This game isn't a lock for Missouri, but they are the more talented, more desperate team.
No. 7 LSU (-1) vs. No. 10 Alabama (7:30 p.m., Thursday, March 13)
The Tigers have a genuine lack of interest in defense, while the Crimson Tide can't throw the ball in the ocean. It is a stoppable force against a moveable object in this one. LSU has been an enigma. They have a nice backcourt and one of the league's better big men in Johnny O'Bryant. But LSU hasn't won back-to-back games since taking down Kentucky and Arkansas to close out January and open February. They have gone just 4-6 since then and are yet another SEC team that can't win away from home. Alabama fights the good fight. But they simply cannot generate enough consistent offense outside of senior Trevor Releford to really put a run together. This one won't be pretty.
SEC Conference Tournament Picks: No one will beat Florida. The SEC is not a good basketball conference - at all. And while there are some really talented individual players, there are just not many good teams competing down South.
Robert Ferringo keeps proving himself to be one of the best college basketball handicappers in the nation. Robert has posted 11 of 16 winning college hoops weeks and 17 of 20 winning college hoops months. He has banked nearly $10,000 in profit with his side plays this year and almost $17,000 in profit since Nov. 11, 2012. Robert is a profit machine and you can take advantage of our free, no-strings-attached $60 credit to use toward a purchase of Robert's college basketball selections. CLICK HERE for $60 absolutely free!
Read more articles by Robert Ferringo
---
Most Recent College Basketball Handicapping