Ferringo Report On NFL Week 2
by Robert Ferringo - 9/22/2009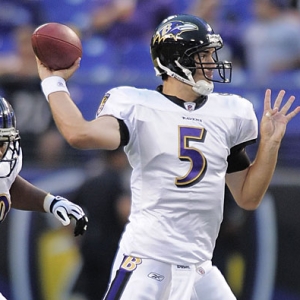 Below is the Ferringo Report, which are my random and nonsensical ramblings about last week's action. I didn't break down all of the games this week (there were three two that I don't mention in here) but all of this should just give you a little bit of an idea of some of the things I noticed while either watching the games in real time or breaking down the tape on Monday.
Here is my Ferringo Report on Week 2:
- So far this season the Ravens are 7-for-8 in terms of scoring touchdowns in the red zone and are an easy 2-0 against the total this year. Just like two or three years ago the Steelers all of a sudden became a money 'over' team I think that Baltimore is headed in that direction.
- Joe Flacco has looked great and is getting a ton of attention. But in San Diego it was all about the three-pronged running attack that the Ravens have been employing. Cam Cameron has been incredible with the way that he is weaving the running backs in and out within the same drive. Baltimore simply pounded the ball down San Diego's throat and whittled away at down and distance with screens and short passes to the backs out of the backfield. Of their 60 plays, Ray Rice, LeRon McClain and Willis McGahee touched the ball on 36 of them.
- "Go for it!" is no longer just the mantra of shirtless maniacs in the cheap seats on Sunday. (And by "cheap seats", I mean the dive bar with the Sunday Ticket where real fans watch their games.) There were 34 fourth-down conversion attempts over the weekend. And of the fourth-and-one attempts, 82 percent of them were successful.
- Can't figure out why more quarterbacks don't set their feet and throw when they are rolling out of the pocket. It seems like it is OK to fling the ball on the run while outside of the pocket. Hey, I understand times when a quarterback is under total duress or is trying to take a sack. But more times than not - I'm talking a 10-to-1 ratio - if a quarterback is rolling out and there isn't a rusher within five yards of them the quarterback refuses to set their feet and make a good throw, and the results (turnovers, missed big plays, etc.) speak for themselves.
Go back and look at Drew Brees' first touchdown to Marques Colston. Watch how he is rolling out to the right but stops, sets his feet, and makes a great throw to Colston in coverage.
- The Chargers are just not a disciplined team. But this is not news. Norv Turner is just a terrible, terrible football coach and doesn't know how to control a team. In two games this year - and through the entire first half of last season - the Chargers look like they are just going through the motions. They take too many sloppy, bad penalties (false starts at first-and-goal, holding penalties to knock them out of field goal position, etc.) and they don't fight for extra yards. On San Diego's last possession, Legadu Neenee made a third-down catch about two yards short of the first down. Instead of plowing forward to pick up a new set of downs he stopped, tried to juke, and got caught from behind while standing still. Those are the types of things that always happen to the Chargers. I don't think it's a coincidence.
- Cincinnati's offensive line was light-years ahead of where they were in Week 1. You could tell this week that they were a lot more comfortable attacking Green Bay's fledgling 3-4 defense than the Packers were playing it. The Bengals see the 3-4 at least four times a year from Cleveland and Pittsburgh. You could tell.
There were three times - outside of short-yardage situations - where the Bengals actually went with six offensive linemen and they pounded the ball with Cedric Benson. All three times they picked up big yardage on the ground. There were still bad penalties - this is Cincinnati and a Marvin Lewis-led team, after all - but they were great on third down (9-for-14) and in the red zone (4-for-4) this week.
- I didn't think that things could get worse for Green Bay's offensive line. But then it did. I know that Cincinnati and Chicago have pretty good defensive lines. But c'mon: six more sacks this week? And it wasn't even Allen Barbre that was getting worked over this week.
Green Bay needs to clean up its play. Fast. Dropped passes have been absolutely killing them through the first two weeks. Sacks, drops and penalties just mangled this team in a game that they should have one. The Packers were one of the sloppiest teams that I saw this weekend.
- That was a 9-7 weekend for the underdogs, with eight of the winning their games outright. The first three weeks and the last two weeks of the year are the best time for moneyline wagers on underdogs across the board. So far this season 17 of the 32 games have been covered by the underdog. Only four of those 17 teams did the underdog lose the game outright but cover the spread. That means that in 28 of 32 instances the teams that win the game cover the spread. You shouldn't be betting much for "line value" this time of year while the league sorts itself out. Right now just pick a winner and bet that team, regardless of spread.
- Mike Singletary called out his offensive line last week and it 100 percent worked. The Niners dominated up front and were able to do what they needed to - not what they wanted to, but what they needed to - against the Seahawks. I do think that his style of play is taking root with the Niners. And as a result they should continue to be a solid 'under' bet. They just don't have the weapons in the passing game to break a lot of big plays and this club wants to grind things out. Also, the defense is playing on emotion and momentum, and it's building each week. But they don't want to peak too early.
- Jordan Babineaux has to be kidding me. The Seattle safety came as close to costing his team the game as any one player can on Sunday. San Francisco really didn't do much on offense, save two long runs by Frank Gore. And on those two runs Babs got humiliated by not even getting a hand on Gore. He took two terrible angles and missed both tackles, allowing a 79-yard and an 80-yard touchdown. Take those two plays away and the Niners only rushed for 97 yards on 27 carries (3.6 yards per) so don't be completely fooled by San Fran's rushing numbers.
- For the second week in a row the Seahawks had a huge special teams play against them (this week it was a punt return for a touchdown) negated by a penalty. Just something to keep an eye on. With all of the injuries impacting this team and the tight margin for error in the West between the Seahawks, Niners, and Cardinals, something like special teams can make the difference in one game, and that can make the difference in a season.
- Houston was No. 3 in the NFL in total offense in 2008 and New England was No. 5. So the Jets have held two of last year's top five offenses to zero touchdowns and just nine points in two games. Darrelle Revis, Kerry Rhodes and David Harris is as good of a young nucleus of defensive playmakers as there is in the NFL. Mix in Pro Bowl talents like Bart Scott, Shaun Ellis, Lito Sheppard and Kris Jenkins and you can see that the Jets absolutely aren't a fluke on that side of the ball. Rex Ryan has talent and has a great scheme and the Jets will be in the mix all season as a result of it.
However, I'm not buying the Jets defense. At all. They have gone up against two of the softest defenses in the NFL over the past two weeks and they have not looked sharp doing it. I want to see the Jets move the ball when someone is hitting back.
- Riddle me this: take Tom Brady and Randy Moss away from the New England Patriots and tell me how the Pats are better than the Kansas City Chiefs.
- This is why it's ridiculous to be stubborn with a young, unproven, not-very-good-to-begin-with-quarterback: I think that with Bruce Gradkowski, Jeff Garcia or Charlie Frye at quarterback I think that the Raiders would be 2-0 right now. JaMarcus Russell is completing 35 percent of his passes so far this year. Think about that. They would have beaten the Chargers with even moderately competent QB play and they would be 2-0 right now. If they were just getting anything out of that position they could be right there with the Jets and Niners as far as "surprise" teams in the NFL.
- All I can say about Eli Manning is wow. Granted, he is blessed with one of the three or four best offensive lines in the NFL. And that makes absolutely all of the difference. But the bottom line is that three or four years ago Eli was 50-50 as far as what his upside was in the NFL. Now he is inching forward into that "elite" range.
- Here is the NFL and why it is so "unpredictable" each year: the Tennessee Titans. Last year the Titans stared the year with 10 straight wins and were 12-1 in mid-December. They were also 11-2 ATS in those first games. But they were also 4-0 in games decided by seven points or less. So far this year they are 0-2 SU and they are 0-2 in games decided by seven points or less. It's the ability to catch the breaks and win close games that make the NFL such a variable sport.
What "breaks" do I mean? How about the fact that Houston had four fumbles in the game but didn't lose any of them? And I am counting Jacoby Jones' fumbled punt late in the fourth quarter that bounced right into the arms of a Titans cover man. Due to a quirky rule the ball actually stayed with the Texans. Also, by my count there were at least three "up for grabs" balls that Matt Schaub threw that Tennessee didn't intercept. Juxtapose that with Kerry Collins' stunning fumble to end the game (he literally just dropped the ball) and you can see why the margin for error is so thin in the NFL.
- The Seahawks are really struggling right now mainly because they are soft on the offensive and defensive lines. Injuries are absolutely killing this team. But until they bow their backs a bit they are going to struggle.
- Tennessee had three Pro Bowlers out of their secondary last year. Wouldn't have known it watching all of the stunning breakdowns in the secondary that allowed Houston to overcome a 21-7 lead.
- Darren Sproles and Jason McCourty each need to know the rules if they are going to be on special teams. Sproles caught a kickoff at the four-yard line with one foot out of bounds against Baltimore. Had he let the kick go it would have been SD ball at the 40-yard-line. However, he was bailed out by the rule that says because he caught the ball and was out of bounds the Chargers DID get the ball at the 40. But Sproles didn't know that when he made the catch.
McCourty was the guy for Tennessee that had Jones' fumbled punt bounce right into his hands. He too didn't know the rules or he would have let the ball drop before he picked it up. Some people would call that knowledge "savvy". I call it knowing the rules.
- Jim Zorn proved yet again that he has absolutely no idea what the hell he is doing and that his tenure as an NFL coach has a rapidly approaching expiration date. Not only did his incredible decision to go for it on fourth down at the 5-yard line, with a two-point lead, with under a minute to play cost me a pair of teasers but it also showed that Zorn is an ass-clown. I'm not just saying it was the wrong call because of my wager. He could have salted the game away by just kicking the FG. I understand why he made the decision. And just because it worked doesn't mean it was the right one.
Zorn can get away with a decision like that against a bad team like St. Louis. But any decent team makes them pay by moving down the field and kicking a game-winning field goal.
- Colin Cowherd is on the same wavelength with the Ferringo Report. Last week I talked about how Jake Delhomme just isn't any good and we shouldn't expect him to bounce back. Delhomme was a lowly regarded player out of a scummy Sun Belt school and really only had a pair of decent (Steve Smith-aided) seasons. Is it a stunner that he's flaming out?
Well, Cowherd applied the same line of reasoning with Tony Romo. He pointed out that Romo didn't receive a single D-I scholarship offer out of high school. He was also undrafted in the NFL. So maybe the reason for that is because he really isn't that good and we shouldn't expect him to ever turn the corner. I do think that the reasoning is sound.
- For all of the scoring in the New Orleans-Philadelphia game, it was just 10-10 with under two minutes left in the half.
- Buffalo played a great momentum game on Sunday and overwhelmed a young, inexperienced coach and a young, inexperienced team. Let's not get too carried away with Buffalo (we've seen fast starts with them before) but they could be a decent bet for the next month. (That is, until pressure starts to build and they fold faster than the French army.)
- I, like so many others, are just stunned that Indianapolis managed to win in Miami on Monday night. Indianapolis' defense was absolutely pathetic. They made zero adjustments and their secondary wasn't even close to stopping Miami's passing game. However, the idea was to sit back, keep everything in front, and wait for either one of their defensive linemen to make a big play or wait for the opponent to make a mistake. It worked this week against the sagging Dolphins and last week against the joke in Jacksonville. But it won't work with good teams.
- I have said it before: Steve Spagnuolo has St. Louis playing hard. The problem is that they just aren't any good. I thought that the Rams did a great job of adjusting their offense from Week 1 to Week 2. But the talent really just isn't there.
- All Kyle Orton does is win. That's it. The NFL doesn't grade games on style points and is a bottom-line business. And all Orton does it get it done. That's all he did in Chicago and that's all he's doing now. And remember - this is a guy who had a bone sticking through his flesh on his right (throwing) pointer finger just three weeks ago.
Also, you can tell Orton still really don't know or feel comfortable with the offense. A lot of his incompletions on Sunday weren't even close. I mean, I'm saying there was no receiver in the frame of the TV. When he missed, he was missing by 10 or 15 yards as if there was some clear miscommunication. He will get better.
- Last year the Broncos were one of the worst two or three defenses in the NFL. It was disgusting. Through two games they have yet to allow an opponent to score over 10 points. They are clearly better but they are nowhere near as good as their numbers suggest.
- Did anyone really think Brady Quinn was going to be a decent NFL quarterback? Hey, put your hand down Lou Holtz!
Does Cleveland want to know why it can't score? I can give you one of the biggest reasons and it is so blatantly obvious it makes me laugh: Jamal Lewis was done three years ago! Lewis is absolutely awful and needs to become just a goal line or short-yardage back. He is amazingly slow and has no elusiveness. This guy is way, way past his expiration date. This is how Lewis operates now: he "runs" three yards, runs right into the back of one of his teammates or into the arms of a waiting defender and then he either falls backwards for a 2-yard gain or falls forward for a 4-yard gain. That's it. That's all he offers. I put the over/under on Lewis' longest run this year at 22 yards. And I'm taking the 'under'. Get James Davis in there!
- Lost in all of Kurt Warner's effectiveness on Sunday is the fact that the Arizona defense is suddenly a force. These guys have been really, really good this year on that side of the ball. Last year it was as if they either stopped people simply on accident or they forced a turnover. This year they are controlling the line of scrimmage. But I will also say that they have not played any good teams yet and they are still a game-and-a-half behind San Francisco. Not good.
- The Chicago Bears have been thoroughly outplayed in each of their first two games, yet are 1-1. They have to be thrilled with that. Jay Cutler looked like a different guy this week and was actually making good decisions with the ball. He wasn't whipping it into the middle of the field off his back foot and he was throwing it away when the play wasn't there. I will also give a ton of credit to Ron Turner. I detailed last week how the Bears have been awful against 3-4 defenses in Turner's tenure. But facing that defense in back-to-back weeks you could tell he was ready this time around. The Bears utilized the short passing game to perfection and were patient and methodical moving the ball down the field. Good show.
I have said this about Cutler before: he is going to lose some games for the Bears that they should lose (he is not a guy to bet big as a favorite) and he is going to win some games for them that they shouldn't (he's a solid bet as an underdog). Sunday he won one for the Bears that they shouldn't have and he deserves credit.
- Santonio Holmes - c'mon buddy. That was four drops on Sunday, including an apparent touchdown late in that game. Pittsburgh controlled that game on Sunday. But two turnovers and two missed field goals (from one of the best bad-weather kickers in the NFL) cost them and their backers.
Robert Ferringo is a professional handicapper and you can purchase a full season's package of his football selections for just $25 per week! Click here for details.