NFL Power Rankings Week 4
by Robert Ferringo - 10/1/2009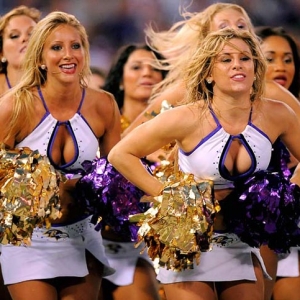 Here is a look at my Doc's Sports Power Rankings:
1. Baltimore Ravens (3-0) - There is no doubt that the Ravens have been a wrecking crew through the first few weeks. And they have enough people kissing their asses right now. So I'll go this way: the Broncos are getting killed for their pathetic schedule but the Ravens have only played Kansas City and Cleveland. Just throwing it out there. Heir next five opponents have a record of 12-3 so far this season so we're really going to see if the Ravens are worth of the top spot in Doc's Sports Power Rankings. Baltimore is 18-5 ATS in its last 23 games overall and they are a solid 6-2 ATS as an underdog.
2. Minnesota Vikings (3-0) - While everyone is ga-ga over their comeback win last Sunday I have one simple question: why the hell did they have to come from behind in their home opener against the mediocre Niners? I watched every snap of that game and the Vikings were out-muscled and Brad Childress was outcoached. Through three weeks their defense has not looked nearly as stout this year. It's as if they are relaxing because they know they have Brett Favre and an offense that can score. The Vikings are just 3-11 ATS after an outright win and they are just 1-7 ATS on Monday Night Football against a divisional opponent.
3. New York Giants (3-0) - Just bet them at this point. The Giants are 35-17-2 ATS in their last 54 games and they are 21-5 ATS on the road. They have been beating the piss out of crappy teams for two years now. And in case you weren't sure, they get the Chiefs and then the Raiders over the next two weeks. I mean, talking about easing into the regular season. The Giants have averaged over 38 minutes of possession through their first three games. But in a surprise stat, the Giants are actually the second-worst team in the NFL in yards per passing attempt.
4. New Orleans Saints (3-0) - I've been screaming all fall about how good this Saints defense is and it proved itself last week in Buffalo. There are just enough veterans and enough former Pro Bowlers on this unit to make it solid. With the offense completely bottled up the Saints absolutely smothered Buffalo. And in a 10-7 game a lesser defense could have caved. Pro Bowl tackle Jammal Brown has been put on IR and is done for the year. It's a blow to this team, but they have been pretty good so far without him. New Orleans is 10-1 ATS as a favorite and they are 8-1-1 ATS in their last 10 games overall.
5. Pittsburgh Steelers (1-2) - I really can't ding the Steelers too terribly much for their last two games. Both were on the road against teams with winning records. And in both games the Steelers actually outplayed their opponent. Pittsburgh has really had San Diego's number lately. They are 6-2 ATS against the Chargers (4-1 ATS at home) and they have won six of the last seven outright.
6. New York Jets (3-0) - Before we get too carried away with the Jets - and the only reason they are this high and not No. 13, like I really think they are is because the next seven teams are all a jumbled mess - let's keep a couple things in mind. First off, the Jets were outplayed for a significant portion of their games with both New England and (for about 90 percent of the game) Tennessee. Mark Sanchez has a QB rating of 87.7, his two INTs and has fumbled four times. So it's not like he's really helping the situation. The Jets are 5-0 ATS as an underdog.
7. Green Bay Packers (2-1) - This is the week for Dom Capers to earn his paycheck. Brett Favre has always struggled against zone blitzes from the 3-4. Green Bay is woefully undermanned on both the offensive an defensive front lines. But they have an edge in the secondary and at the skill positions. This should be a great game. Green Bay has been awesome on the road, going 15-5-1 ATS in their last 21 visits. Also, the road team is 11-3 ATS in their series with the underdog as a sensational 16-5 ATS in the last 21 meetings. Further, the Packers are 5-1 ATS in Minnesota and 4-0 ATS overall. In other words, the Packers own the Vikings.
8. Indianapolis Colts (3-0) - Indianapolis is averaging a ridiculous 10.2 yards per pass through three games. The 2007 Patriots (8.3) and the 2004 Colts (9.0) weren't even close to that despite record-breaking seasons by their quarterbacks. The defense did take yet another hit this week, as Dwight Freeney will likely miss three games. But this team just keeps on keeping on. Indianapolis is just 3-8 ATS at home.
9. Philadelphia Eagles (2-1) - It's a system, man. The Eagles, like the Colts and Patriots, just continue to consistently win because of their system so don't be fooled by the loss of one or two guys. They are like USC or Ohio State or Florida in college football. This bye week couldn't have worked out better. It gives Donovan McNabb more time to heal, Kevin Kolb more time to grasp the offense so they don't have to rush McNabb back, and allowed Jeremiah Trotter to get up to speed and add some toughness to this defense. Oh, and they get Tampa Bay, Oakland and Washington on the other side. So look for more winning.
10. Atlanta Falcons (2-1) - I'm really curious to see how that game would have gone if not for the phantom offensive pass interference penalty early in the third quarter. That TD would have given the Falcons the lead. The Falcons have four straight games against teams with a winning record after their bye so they better be ready. Defense has still been playing much, much better than I expected.
11. San Diego Chargers (2-1) - The Chargers offense was completely smothered by Miami's defense last week and the offensive line just couldn't sustain any type of push. That's not a good sign heading into Pittsburgh. Interestingly enough, this will be San Diego's first foray out of California this regular season. San Diego has not been good against the Steelers, but they have been a great underdog. They are 19-7-1 ATS in that role and they are 20-9-1 ATS against AFC opponents.
12. New England Patriots (2-1) - Even with last week's cash the Patriots are just 4-11 ATS in their last 15 games in Foxboro. Yet, their win over Atlanta now means that they are 16-0 SU against the NFC. I have ragged on New England's defense but even I can't deny the numbers over the last couple weeks. That said, Atlanta moved the ball at will and were it not for a couple play (and the weather) the Falcons easily hit 24 points. The Patriots have gone 'under' in back-to-back games and were it not for their late fireworks against Buffalo that game would have been an easy 'under' as well.
13. Chicago Bears (2-1) - Opposing kickers have been the best thing to happen to the Bears this year. And if anyone is curious as to what happened to Chicago's running game it's simple: their offensive line has severely regressed. Anyone that thought that signing Orlando "I'm Way Over The Hill" Pace was a boon was kidding themselves. Chicago's 2.8 yards per carry average is No. 31 in the NFL. Chicago's pass defense, statistically, has been much better than expected and that's a huge reason for their success so far. The average margin of victory in the last 10 meetings with Detroit has been 12 points, with Chicago laying out a trio of 30-plus point beatings. Chicago is 4-10-1 ATS as a home favorite and is 5-16-2 ATS after a straight-up win.
14. Tennessee Titans (0-3) - Jeff Fisher admitted that he made a mistake and brought back long-time kick returner Mark Jones. Too bad the Titans already lost a game because of fumbled freakin' punts. Biggest surprise about this team so far has been the weak secondary play. And now Cortland Finnegan hasn't been practicing with a bad hammy. The Titans are 7-2 ATS against a team with a losing record and they are 4-1 ATS in the last five meetings with the Jaguars (5-2 ATS in Jacksonville). Also, the road team has won three of four outright. Tennessee is also 12-4 ATS in divisional games and are 7-3 ATS on the road.
15. Cincinnati Bengals (2-1) - Is this the perfect letdown situation for the Bengals or what. And this is the type of game right here where Marvin Lewis being one of the worst coaches in the NFL is going to collapse on them. Good teams win these games over floundering teams. We're about to find out if the Bengals are going to max out at 8-8 this year or if they have what it takes to be a decent team. The Bengals are 2-8 ATS as a favorite.
16. Dallas Cowboys (2-1) - So exactly what have you seen out of Dallas that would make you think that they deserve to be road favorites? Well, you would think that this is a super shady role for the Cowboys to play but they are actually 4-0 ATS in their last four as a road chalk of 3.0 or less. Dallas has rushed for nearly 500 yards over the past two games. However, they are not a power running team. According to several sites, their rushing metrics indicate that this team is far, far more successful with draws, counters, and sweeps than they are with straight-ahead, off-tackle rushes.
17. San Francisco 49ers (2-1) - Looks like Frank Gore is only going to miss a couple games for the Niners. And as their best offensive weapon that's huge news for the Niners, although I do think Glen Coffee will be able to hold down the fort. The thing I was most impressed with by this team was the way it dominated the line of scrimmage against a pretty physical Vikings team. That is why the Niners will win the West this year. San Francisco is 9-19-1 ATS as a favorite. They are also 7-2 ATS against the Rams and they are 6-2 ATS in their last eight games at home against St. Louis.
18. Arizona Cardinals (1-2) - With all of the weapons this team has it is still No. 29 in the NFL in third down conversions at 27 percent. It's because by not following a more traditional play-calling pattern they are leaving themselves way too many third-and-longs. They get Houston at home and then have three of four on the road. This is where that Super Bowl runner-up schedule starts to tighten the noose.
19. Denver Broncos (3-0) - With just 16 points allowed the Broncos have the third-stingiest defense through three weeks in the history of the NFL. I am incredulous writing that sentence after watching that group last year. The main reason is that their defensive passer rating is No. 3 in the NFL at just 50.23. Of course, playing the Browns and Raiders will do that to you. We'll find out this month if this team is for real. Their opponents' record over the next four weeks is 8-3. The Broncos are 7-19-1 ATS in their last 27 home games and 13-29-1 ATS overall.
20. Seattle Seahawks (1-2) - No Matt Hasselbeck (I didn't think Seneca Wallace was awful. Well, except for that "what the hell are you doing" interception that he flung sidearm. That was awful.) and no Walter Jones this week. But the Seahawks do get Lofa Tatupu back and both Ken Lucas and Jordan Babineaux should be in the lineup. The defense has not been as poor as some people think. Even short-handed they are No. 4 in third down efficiency and other than the final drive they didn't allow the Bears to move the ball much. The problem has been the big play.
21. Houston Texans (1-2) - Does everyone believe me know that Houston sucks? I have been screaming it all fall. This team is amazingly soft. They are No. 32 in the league in yards per play allowed (6.2) and No. 31 in third down defense (50 percent). Houston has only covered one game so far this year and they are 1-8 ATS in October games. They are kind of in "must-win" situation because people's jobs are on the line. Houston is 7-3 ATS in their last 10 games.
22. Buffalo Bills (1-2) - Buffalo will be without half of its starting secondary as Leodis McKelvin will be out and Donte Whitner is also down. Those are two of potentially six starters that Buffalo could be playing without If I've said it once I've said it a thousand times: this team will never, ever win with Tricky Dick Jauron at the helm. And the franchise has actually wasted a pretty darn good team over the last couple years as a result. The Bills are 25-7-1 ATS against teams with a losing record. The Bills have owned this series, going 7-2-1 ATS against the Fins.
23. Jacksonville Jaguars (1-2) - This is a pretty spry little team. They gave Indianapolis all it could handle and then simply manhandled Houston's defense. I will say this: the Jags were an offensive pass interference call and then a goal-line fumble away from being tied up with the Texans last week. They got a gift win and are that close to 0-3. Jacksonville is a pathetic 1-8 ATS in its last nine home games and they are 3-15 ATS on grass. But they are a sweet 9-4-1 ATS as a home dog.
24. Miami Dolphins (0-3) - Not only is this team now sans Chad Pennington, but Joey Porter has a sore leg and likely either won't play or won't be effective this weekend. Those two guys were easily the two biggest reasons why the Dolphins made the playoffs last year. Hands down. Oh, and does losing just follow Jason Taylor around or what? Miami is 8-21-2 ATS in games against the AFC East and 8-23-1 ATS against teams with a losing record.
25. Washington Redskins (1-2) - I'd like to point out that I was a week ahead of all of the "Jim Zorn is a terrible football coach" stories that hit the airwaves after Washington lost to Detroit. After witnessing the debacle against St. Louis I thought it was obvious. So now a full year with a talented roster will be wasted because Zorn has no idea what the hell he is doing. The 'under' is 8-0 in Washington's last eight games at home and is 8-0-1 when they are favored. Also, the 'under' is 13-3-1 in Washington's last 17 games overall.
26. Carolina Panthers (0-3) - From this part of the power rankings down, all you have to do to figure out why these teams blow is look at the quarterback situations. Jake Delhomme might not be getting a ton of help but the only action he should be seeing in the NFL is in the fourth quarter of Week 1 preseason games. He is awful. Oh, and isn't it about time for Julius Peppers to start mailing it in?
27. Oakland Raiders (1-2) - Another banner week for the worst franchise in professional sports. They are worse than the Pirates and Clippers because the entire NFL system is set up so that bad teams don't stay bad for long. Oakland needs to take a long, hard look at Byron Leftwich. Yeah, the guy who can't even quarterback a terrible Tampa team. Because Leftwich represents JaMarcus Russell's CEILING. And he's still about four years away from that point. It's just a joke that he is still their quarterback. Oakland has been a live dog, going 4-1 ATS in their last five times catching points. But they are still 17-35-1 ATS against teams with a losing record.
28. Tampa Bay Bucs (0-3) - Raheem Morris is way, way over his head. Between calling out his players this week (Hey, Raheem, your team just blows) to his flip-flop on Byron Leftwich (although Leftwich is still a team captain, because neutered quarterbacks get tons of respect) this guy has no idea which end is up. All I know is I can't want for Josh Freeman. That kid is terrible and will be an ATM machine. Tampa is 1-7 ATS against another team with a losing record.
29. Detroit Lions (1-2) - Congrats - but you still suck. Now, that said, I 100 percent expect the Lions to put up a fight in Chicago. Detroit absolutely dominated Washington last week and they were better than Minnesota for half of the game. That's six of eight quality quarters of football and they are now catching a banged-up Bears club. The 'over' is 20-6 in Detroit's last 26 road games and is 17-7-1 in their last 25 games overall. Also, the underdog is just 8-2 ATS in the last 10 meetings with Chicago and seven of the last 10 meetings have been determined by 10 points or less. Lions are 4-1 ATS in the last five meetings.
30. Cleveland Browns (0-3) - Do I even need to say anything about what a steaming mess this team is? I don't think so. I will instead only say this: Cleveland has played Minnesota (3-0), at Denver (3-0) and at Baltimore (3-0). Part of the reasons that those teams are 3-0 is because they played Cleveland and those games were pretty much all blowouts. But that also represents the most difficult schedule in the NFL to this point. The Browns are 1-10-1 ATS in their last 12 games. Underdog is 4-0 ATS in the last four meetings.
31. Kansas City Chiefs (0-3) - Absolutely no idea why the Chiefs would be so quick to dump the most mobile quarterback on their roster considering that they have, by far, the worst offensive line in football. Everyone is piling on Larry Johnson talking about how "done" he is. Well, I hate to tell you, but Adrian Peterson couldn't run behind that K.C. offensive line and they are going to continue to be pathetic until they get it worked out. Also, this team is No. 31 in negative pass plays, meaning that the defensive front four is just as bad as the offensive front.
32. St. Louis Rams (0-3) - I know he had a couple touchdowns last week but I remember thinking to myself during the preseason that I couldn't wait for Marc Bulger to get hurt because Kyle Boller looked absolutely awful. Rams are in the midst of a 7-15 ATS slide and they are 8-20 ATS against the rest of the NFC West. Basically, they are a terrible wager in any role because they are just pathetic right now. However, the underdog is 7-2 ATS in the last nine matchups with the Niners. Of course, usually it's the Niners that are dogs but the Rams will take anything they can get right now.
Robert Ferringo is a professional handicapper and you can purchase a full season's package of his football selections for just $25 per week! Click here for details.