Rams Could Match Lions Record for Futility
by Trevor Whenham - 9/16/2009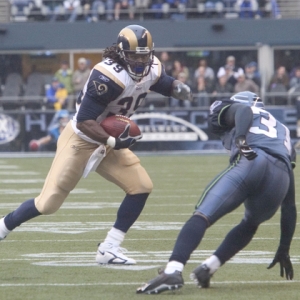 The story we kept hearing coming into this season was that new coach Steve Spagnuolo had overhauled the attitude in St. Louis and had the team moving in the right direction. The story I am more interested in concerning the team after their brutal opening shutout to the Seahawks is whether the Rams can win a game at all. We knew that St. Louis wasn't going to be very good this year, but its first game - a 28-0 loss that wasn't as close as the score would suggest - was even worse than you could have imagined. So, was this fist game disaster just a blip as the team adjusted to a new coach and a new system, or was it a sign that Detroit's dubious record from last year could soon have some company? Here's a look:

QB - Remember when Marc Bulger used to be a pretty darned good quarterback? He's nine years into his career, and about five years ago you could have made a compelling argument that he would be among the league's elite by now. Instead, he's taking steps backwards with every outing. You can argue that he hasn't had much of a team around him, but one stat really stands out - his yards per attempt has fallen every year since 2004. That certainly shouldn't happen as a guy gets more experienced and more comfortable with the NFL game, and it's a clear sign that he's just not making progress.
Bulger couldn't even manage to complete half of his passes in the season opener, and that's just unacceptable. He also struggles to stay healthy, so consistency and momentum are hard to come by. The depth chart behind Bulger isn't particularly inspiring, either. Kyle Boller has lots of experience starting Baltimore, but he was largely crappy, and he hasn't taken a snap in more than a year. Keith Null is the third man on the depth chart, but the sixth rounder out of West Texas A&M is as raw as they come and can't be relied upon to provide much. In short, don't rely on the quarterbacks to single-handedly win games for this squad.

Offense - Beyond the quarterback this is not a particularly inspiring team offensively - they won't be winning any blowouts. New offensive coordinator Pat Shurmur is implementing a new system, so you can expect all of the growing pains that usually involves.
The running game is anchored, still, by Steven Jackson. He's the team's best player, and one of the more talented backs in the league. The problem is that he can't stay healthy. He has played just 12 games in each of the last two seasons, and saw his average per carry decline slightly in each of those seasons when he was playing. Jackson's only 26, but physically he's older than that, and I struggle to believe that he will be elite this year - especially because he's running behind a totally reworked offensive line.
Behind Jackson the depth is questionable. Depth is also a major problem at receiver. Donnie Avery is the No. 1 guy. He's coming off a good rookie season, but he has struggled with health in the offseason. Beyond that it's hard to find a familiar name on the depth chart. Good receivers can make a decent quarterback good, but that won't be happening here. This team seems destined to struggle offensively all year.

Defense - This is possibly a reason to be optimistic for the team because there are some very nice pieces in the front seven. Up front Chris Long should emerge in his second season, and Leonard Little is a much better player than he is a human being. Behind them you have a solid veteran linebacker in Will Witherspoon, and a very promising youngster in James Laurinaitis. The defense is being built to key around the middle linebacker, and Laurinaitis showed in the first game that he is up to the challenge - he had a game leading 14 tackles, and recovered a fumble as well.
The problem with the defense is that the secondary isn't nearly as talented, so it will be much harder to run on this team than it will be to throw on them. This isn't going to be the worst defensive unit in the league, but it will be far from the best.

Schedule- There isn't a lot of reason to think that this team can win more than a couple of games at the very most, but maybe the schedule will give them an advantage. In fact, it could. By strength of schedule, it's only the 22nd most difficult in the league. The big problem, though, is that the team has a relentless list of strong offenses, and pass-happy ones, coming into to play in the offense-friendly dome in St. Louis.
Just look at the teams - Green Bay, Minnesota, Indianapolis, New Orleans and Arizona. Those are their next five home games, and the team will be very challenged to keep up with any of them. The road schedule is somewhat easier, though not a walk in the park. It's quite possible that Nov. 1 will loom as a defining game for this team. That's when they travel to play in Detroit. That's not going to be a game for the ages, but it could be telling for the prospects of this team. Given the way this team played in their opener and the talent they have there are only three games that I would give them more than an impossibly slim chance of winning, and I wouldn't be surprised to see them lose any of those games. This is going to be an ugly, ugly season.