2010 Atlanta Falcons Strength of Schedule, Futures Odds and Predictions
by Alan Matthews - 7/21/2010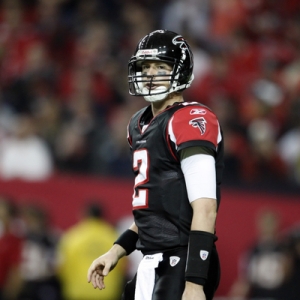 The Atlanta Falcons were one of the surprise teams in the NFL in 2008 as Matt Ryan had one of the best rookie seasons ever for a quarterback and Michael Turner lit up the league in his first season in Atlanta, and out of LaDainian Tomlinson's shadow in San Diego.
Big things were thus expected in 2009, but injuries played a huge role in the Falcons finishing at 9-7 and remaining out of the playoffs. On the bright side, a season-ending three-game winning streak allowed Atlanta to post back-to-back winning seasons for the first time in the 44 years of the franchise.
Ryan had a good sophomore season but not great. He was bothered by a turf toe injury in the second half and missed two games. Ryan threw six more touchdowns than he did in his rookie year, but just about every other stat was a bit worse.
The big problem for this team was that Turner broke down last season after a whopping 376 carries in 2008. He badly sprained his ankle last year and missed most of six games. He was on pace for 1,477 yards and 18 TDs before the injury. Assuming Turner stays healthy and Ryan bounces back, plus you throw in stud WR Roddy White and still very good TE Tony Gonzalez, and the Falcon offense should be just fine.
The team desperately needs someone to take some attention off defensive end John Abraham. After racking up 16 1/2 sacks in '08, Abraham drew much more attention last year and had just 5.5. The Falcons really didn't address the pass rush in the offseason and are hoping to find help from someone already on the roster like Kroy Biermann or Jamaal Anderson. Atlanta's defensive should be better with the addition of top cornerback Dunta Robinson, who will be counted on to guard the opposing No. 1 WR. The defense remains a much bigger question mark than the offense.
BetUS lists Atlanta's 'over/under' for wins at nine for NFL season win totals and the Falcons at +200 to win the NFC South. What are their chances? Here's a look at the 2010 Atlanta Falcons Schedule:
Week 1: Sunday, Sep. 12, at Pittsburgh, 1:00 PM
Week 2: Sunday, Sep. 19, Arizona, 1:00 PM
Week 3: Sunday, Sep. 26, at New Orleans, 1:00 PM
Week 4: Sunday, Oct. 3, San Francisco, 1:00 PM
Week 5: Sunday, Oct. 10, at Cleveland, 1:00 PM
Week 6: Sunday, Oct. 17, at Philadelphia, 1:00 PM
Week 7: Sunday, Oct. 24, Cincinnati, 1:00 PM
Week 8: BYE
Week 9: Sunday, Nov. 7, Tampa Bay, 1:00 PM
Week 10: Thursday, Nov. 11, Baltimore, 8:20 PM
Week 11: Sunday, Nov. 21, at St. Louis, 4:05 PM
Week 12: Sunday, Nov. 28, Green Bay, 1:00 PM
Week 13: Sunday, Dec. 5, at Tampa Bay, 1:00 PM
Week 14: Sunday, Dec. 12, at Carolina, 1:00 PM
Week 15: Sunday, Dec. 19, at Seattle, 4:05 PM
Week 16: Monday, Dec. 27, New Orleans, 8:30 PM
Week 17: Sunday, Jan. 2, Carolina, 1:00 PM
Atlanta's strength of schedule is ranked 20th in the NFL with an opponents' cumulative 2009 winning percentage of .496 (127-129).
Obviously, the Falcons catch a major break in that they open against a Pittsburgh team that will be starting Byron Leftwich or Dennis Dixon at quarterback instead of the suspended Ben Roethlisberger. Thus, rather shockingly, Atlanta is actually a two-point favorite at Pittsburgh. When is the last time the Steelers were dogs in a home opener? The good fortune continues for the Falcons as they play a Cardinals team also without its 2009 starting QB – of course Arizona's Kurt Warner retired.
Overall, Atlanta faces six non-division opponents – Arizona, Green Bay, Baltimore, Philadelphia, Cincinnati and New England -- who posted winning records last season.
Getting rebuilding Tampa Bay and the terrible Rams for three of five games right after the bye seems like a huge gift. Last season the Falcons swept the Buccaneers in the season series for the first time since 2006. But last year the Falcons also fell apart around midseason, losing six of eight starting in Week 7. That shouldn't happen again. If Atlanta has any hope of dethroning the Saints for the division, they will need at least a split – New Orleans swept the series last year but both games were close. That Monday night home game is Atlanta's first since Dec. 10, 2007, which was Bobby Petrino's final game as coach.
Under Head Coach Mike Smith the Falcons are 7-10 overall on the road, including the Wild-Card loss in Arizona after the 2008 season.
I think oddsmakers have this dead on with their total as this looks like a 9-7 record, but if the Falcons can pull out that win in Pittsburgh it could literally set the tone for the entire season and see the team reach double-digit wins. So if you take the 'over,' you are banking heavily on Week 1 in my opinion. I don't see this team winning the NFC South, but it's not out of the question.
Doc's Sports went 7-1 for member's picks in the 2009 NFL Preseason and we are very excited about the 2010 slate of exhibition games. Our picks for the entire NFL Preseason are just $49. Also, our Early Bird Special for the NFL full season is just $695 and that will get you all the picks from the first kick in preseason to the final buzzer of the Super Bowl (normal price will be $950). Click Here for more information about football picks and Click Here for prices and packages.