NFL Handicapping: Possible Value Teams
by Trevor Whenham - 10/25/2012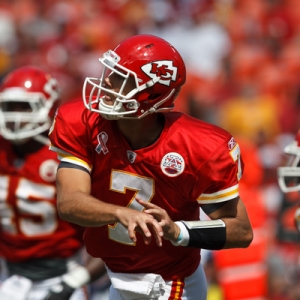 There is still a whole lot of football left to play in this regular season in the NFL. For some teams, though, any hopes or dreams — however slim — of playoff contention are long gone. It's not even the end of October, and for teams with one or two wins the season might as well already be over in most cases.
Through seven weeks there are eight teams that have won twice or fewer times. Let's take a look at how the rest of their season might turn out. This is a useful exercise for bettors. The public will look at the lousy records, assume the team is lousy, and bet accordingly. By looking at each team individually you can determine whether the public is right, or if there could be value in betting on the underappreciated squad.
Still fighting the good fight
New Orleans Saints (2-4)
This record was not what anyone expected of this team. They finally have shown some spark in their last two games, though, and they have some stability now that their interim coach has replaced their interim-interim coach. They also have the top passing offense in the league.
There are some major concerns — most notably the fact that their defense couldn't look worse if it tried. They have made some major changes on that side of the ball this year, though, and with familiarity they should get somewhat more comfortable. Their biggest problem is that their schedule does them no favors going forward.
They are the most talented team on this list, though, and it is at least conceivable that they could make a run for .500 and maybe even a wild card spot if things go really well for them. I'm not betting on it, but I can't rule it out.
Tampa Bay Buccaneers (2-4)
I like this team. They have lost four games, but they have been within a touchdown in each of them and could easily be 4-2 or better with a couple of avoided mistakes and a break or two their way.
They are the only team on this list with a positive point differential, their offense is decent and balanced, and they are excellent at stopping the run. They are really coming together under this new coaching staff, and they have a much more reasonable schedule than the Saints. Frankly, I expect .500 from this team.
Could go either way
Detroit Lions (2-4)
For some reason Matthew Stafford isn't throwing to Calvin Johnson. This should be the easiest offense to run that there ever has been — you have a guy with a bullet of an arm and a superhuman receiver who can catch anything. If this team can figure that out then they can get back on track in a hurry.
There seem to be some attitude issues, though. How else do you explain their lack of focus and execution in games they should be able to win? There is no reason this team can't get back on track, but there is also a realistic possibility that four or five wins is their peak and this becomes yet another wasted season for this franchise.
Cleveland Browns (1-6)
This team probably deserves a bit more respect than they get. Don't get me wrong — they are pretty lousy in almost every aspect of the game. They have played consistently hard this year, though, and have been much tougher to beat than a team with their record and general lack of talent probably should be.
Because they do have such a talent deficit compared to virtually any opponent, it's quite possible that they will maintain this struggling pace and wind up with three wins or so. There is a chance, though, that the new ownership and new leadership can light a spark under this team — especially if they like Pat Shurmur and want to keep playing under him — and the second half of the season can be comparatively impressive.
I think this team could be a bit of a surprise in the second half.
Counting the seconds until it's over
Carolina Panthers (1-5)
It is never a good sign when a team is assigning blame and making big changes six games into the season. It's hard to believe that the GM was really to blame here, though. After all, he's not the one on the field making lazy plays and foolish mistakes.
It will be very interesting next year — and the rest of this year as well — to see if Cam Newton can get back on track and rediscover the magic that made him so special last year. He's obviously still physically capable, but I'm not sure how quickly you can flick the mental switch that he needs to.
The problems he has had with teammates is the most concerning aspect of his play, and the biggest reason I have little hope for the rest of this season.
Jacksonville Jaguars (1-5)
Can we officially accept that Blaine Gabbert is not the answer for this team? Surely that has been proven by now. He doesn't have a lot of help around him, and the coaching has been lousy, but he certainly has not risen above his circumstances in any way. He's not at all good, and right now all this team is playing for is a high draft pick so they can try again with selecting their QB of the future.
Hopefully this time they don't pick one that seems like a lousy idea from the second they call his name.
Oakland Raiders (2-4)
Darren McFadden is a bust. I'm officially supporting that opinion. For a while it looked like both he and the Raiders were going to turn a corner and shed the often ugly Al Davis era for good. For each step forward, though, they take six steps back.
Carson Palmer has been okay, but the team just can't get out of their own way, and they need to basically blow it all up and start over because there isn't enough on their current roster that is worth keeping around for the long term.
This team has been so frustratingly bad for so long that, impossibly, I'm actually wondering if maybe they should have kept Lane Kiffin around as their coach after all. If Kiffin seems like a good idea then you know things are really bleak.
Is that a mushroom cloud over their stadium?
Kansas City Chiefs (1-5)
Brady Quinn. That's all I really need to say. This team is now starting Quinn not because they are forced to, but because they think it could make them better. That's when you know you have really hit rock bottom.
This team has some special talent on both sides of the ball, but they are totally incapable of working together and executing even a simple game plan. They are running ball very well — largely because Jamaal Charles is a freak — but that's not enough to save this offense, or lift the team off the depths of despair.
They could be better than they are. They should be much better. Their issues are mostly mental, though, and I have no faith in their ability to get back on track this year. Scott Pioli has not proven himself to be the genius he was supposed to be, and this team needs to be rebuilt from the ground up — again.
This is a totally lost season. Luckily, that means that the question of how to replace Matt Cassel will be easy thanks to the draft.