NFL Futures: Offensive Rookie of the Year Odds
by CarbonSports - 7/23/2014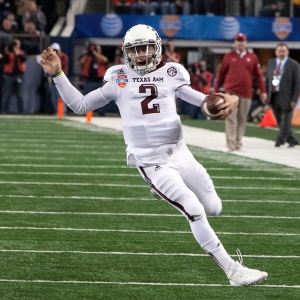 The 2014 NFL draft was loaded with offensive playmakers and big names. The biggest of those names (Johnny Manziel) slid in the draft but ultimately went to the team many thought he would (Cleveland) it just happened with their second 1st round pick. He is going to be locked in a QB battle during training camp and will likely be the 'popular' play for those betting this future. Although he comes in as one of the favorites at +600, I don't think his situation or the division he plays in (AFC North) is conducive to letting the undersized Manziel succeed right off the bat and is someone I think you should ignore on this future wager.
Other guys you should ignore are offensive lineman like Greg Robinson (+2500), Jake Matthews (+4000) and Taylor Lewan (+5000). Dating all the way back to 1967 when the Associated Press started giving out this award, it's always gone to a skill position guy. Running backs lead the way with 30 of 45 wins during that time (66%) while WR's lead 8-7 over QB's. Those are the only positions that have ever claimed this award so even TE's like Eric Ebron +800 (Lions) could be taken off your list too.
QB's may be bringing up the rear historically with only seven victories, but with the NFL changing into a QB-driven league and rookies are expected to do more than ever .Only once between 1967 and 2003 did a QB win the Rookie of the Year award and that was Dennis Shaw of Buffalo back in 1970. It was a different era and brand of football back then as rookie QB's sat on the bench and learned the game that way. Running backs dominated the award then, but over the last 10 seasons it's been the rookie QB who's dominated the award. Since Ben Roethlisberger took it home in 2004, six of the 10 winners during that span have all been QB's, with a string of three straight being snapped last year when Green Bay RB Eddie Lacy took home the honor.
This year rookie QB's with the best chance include Manziel, Teddy Bridgewater +900 (Vikings), Blake Bortles +1200 (Jaguars) and Derek Carr +2000 (Raiders). Bridgewater will likely be the starter in Minnesota while the others will have to compete for time with others. I've already said I wouldn't touch Manziel and Bortles has been told he's likely to sit on the bench for the majority of the year. Jacksonville doesn't have many weapons to help him out anyways and Carr will have to hope Matt Schaub struggles continue in Oakland to see enough playing time to be a front-runner for this award. Bridgewater may be the only one starting the majority of his games, but with him handing the ball off to Adrian Peterson more often than not, +900 doesn't give you enough value to take him.
That leaves us with plenty of RB's/WR's to look at in this field with three WR's leading the way in Sammy Watkins +550, Mike Evans +600 and Brandin Cooks +650. Watkins and Evans have situations where they can stand out in Buffalo and Tampa respectively, but it's Cooks in New Orleans that could really grab the lead in this race by the throat and run away with it.
Cooks is the prototypical slot receiver in the NFL, small, quick, elusive and fast and will fit right in from day 1 in the Saints offense. He's got one of the best QB's throwing him the ball in Drew Brees and with his ability to spread the ball around the field to the open man, Cooks will receive plenty of targets. Defenses will already be shading their coverage towards TE Jimmy Graham, so Cooks will have a lot of room to work with out there. Other WR's that are worth a strong look are Odell Beckham Jr +1000 (Giants) and Kelvin Benjamin +1500 (Panthers). Both are big body receivers that will be great redzone targets for their respective teams.
I believe it will be one of these five WR's who end up with the Offensive Rookie of the Year award this season as they are the beneficiaries of being in a passing league and not having the weight of a franchise on their backs like the QB's do.
$100 FreeBet up for grabs on your next deposit at CarbonSports if you use this promo code: FREE100
(You must Make a deposit of $25 or more and enter the promotion code: FREE100 in the promotion code field, 50% bonus value of your deposit up to $100). Click here to take advantage of this offer!