Expert NFL Handicapping: New York Jets Moves Make Team Much Improved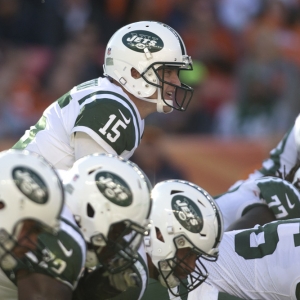 You can't accuse the New York Jets of being inactive this offseason. Last year wasn't as much of a disaster as it seemed like it could have been on the field, but it was still a long way from good. However, the team had a pile of cap space and has been wildly aggressive in overhauling this team. There is still a lot of time left before the season, and the draft is going to be a big day for this team - as they have clearly signaled.
This is going to be a much different looking team next year - and clearly a better one. Likely not one that has improved enough to make that +5000 Super Bowl futures price at BetOnline attractive, but they should be less of a doormat than they were last year. While we wait for the next round of fireworks once the draft rolls around, let's look at some of the key moves they have made and what it does for this team going forward:
Overpay for the move up?: I hate the deal the team made with the Colts to move up to the third pick. If I was a Colts fan then I would love it. In order to move up three spots they gave up their sixth pick this year as well as two second-rounders this year and another next year. Second rounders often become starters, so that is a huge price for a team that has gaps to fill. And the problem for me is that they still have no control of their destiny. Cleveland will either pick a QB first or trade the pick to someone who will- unless they do the unthinkable and pick a running back first overall, which would be a bad choice. And someone is going to take a QB in that second spot, likely through a trade. So the Jets gave up three prime picks for the chance at the guy who two teams don't want. It doesn't feel smart - not at a time when all four of the top potential QB picks have question marks.
Quarterback log jam: On top of the intention to draft a QB at a serious price - and serious pressure as a result - the team has been aggressive with free agent quarterbacks. They signed Josh McCown for one year and $10 million and Teddy Bridgewater for $15 million. That seems like a crowded and overpriced QB room, but this isn't as bad as it looks. McCown is 38, but he's the devil they know, and he was good last year. And they don't owe Bridgewater any real money unless he makes the team, so the risk is low. At the very least the combination of these two and, say, Baker Mayfield, puts them in such an improved position from the last couple of years that it is hard to quantify.
Jeremy Bates: After a year as quarterback coach, Bates was elevated to offensive coordinator while also remaining as QB coach. I don't like the move. First, with a new guy coming in I'd like a full-time QB coach. More significantly, I have issues with Bates. He is young - just 41 - but he has an odd past. He came to Seattle from USC with Pete Carroll and was made OC there despite his youth in 2010. He lasted only a year before being fired. Then he was out of football for a year before coaching QBs at Chicago for a single season. Then he spent four more years out of football, hiking and hanging out, before returning again last year. That's a spotty track record, and I'd like more stability for a team that hasn't had much at the position - predecessor John Morton was there for only a year, and the prior two coordinators each served just two years. I don't like this move at all.
Cut Mo Wilkerson: This was a no-brainer. He has life left, but his contract was just crippling, and they simply had to get out from under it. Unconditional win.
Running back shuffle: Matt Forte has retired, and Isaiah Crowell was brought in from the Browns. It's hard to either get excited about this or to get down on it. It's a relatively cheap move and a fine one. Crowell is no superstar, but he hasn't missed a game in four years with Cleveland, and his numbers are sound enough.
Trumaine Johnson: This is the kind of scary deal that can happen when you have a lot of cap space. They paid Johnson handsomely, but it will be a fine move as long as he plays up to his $5 million in guaranteed money. If he doesn't then it could be another Wilkerson-esque anchor. But they needed corner help, and Johnson was the best guy on the market, so they get credit for that - at least partial credit.
Doc's Sports has had a winning tradition for more than four decades. Don't believe us? Try us out for free, and we are convinced you will be a believer. Get $60 worth of free sports picks - members' picks just like our paying clients get - here .
Read more articles by Trevor Whenham