Free NFL Props Predictions - Week 5
by Jay Horne - 10/9/2009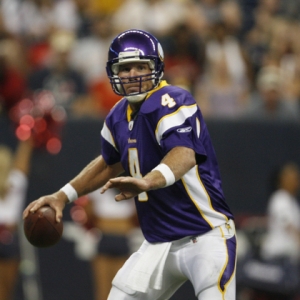 Brett Farve had a big Monday night performance that kept us from sweeping on our weekly prop selections. However, we were still good enough to get back in the green for the season and look forward to some more action heading into week 5. There have been some big storylines during the week including Braylon Edwards trade to the New York Jets along with the signing of Michael Crabtree is San Francisco. We will now try to bring some of those storylines to the betting table to give you some options at some interesting betting lines. Take a look as we break down the best "side" bets to profit from heading into the weekend.

Prop Bet No. 1 - Braylon Edwards Total Receiving Yards Week 5 vs. Miami Dolphins

Over 50 ½
Under 50 ½

Rookie QB Mark Sanchez will now have the luxury of targeting WR Braylon Edwards, who was acquired through a trade earlier in the week. Edwards adds a big play threat to a receiving corps that lacked any explosiveness. Edwards got his first taste of action in learning the new system at his first practice session Thursday and will get to start in Monday night's battle with Miami. However, there may be too much expectation here for him to have a big night out of the gates.
Sanchez has averaged just 157 yards per game over the last three weeks. The Jets offense remains focused on their ground game with Thomas Jones and Leon Washington making it hard for any receivers to have big games. When there are plays made expect WR Jerricho Cotchery to be the recipient over Edwards and the rest of the receiving corps. Cotchery is the only receiver outside of the Jets thrashing over Houston to capture any performance of more than 50 yards due to Sanchez's less-than-explosive numbers Also, The Jets are not going to keep Edwards on the field when he gets confused about the play calling, meaning some time will be spent on the sidelines. There is no way he will have enough time to learn the entire playbook and it safe to say this will be a "learning" experience. Go with the under.

Prop Bet No. 2 - Total Points Minnesota will Score vs. St. Louis Rams

Over 25.5
Under 25.5

The Vikings look to avoid any type of letdown performance after a big win over Green Bay on Monday night. Luckily the Vikings get a meeting with St. Louis, who should also help avoid any type of letdown. The Rams are not only 0-4, but likely the worst team in the league. Adrian Peterson is poised to bounce back after his worst rushing performance of the season. Peterson had just 55 yards against the Packers during the "Brett Farve Show." However, Peterson is going to have a big game against one of the worst rush defenses in the league.
The Rams allowed 135 yards per game on the ground already this season and those numbers are against rushing offenses that rank 14th, 19th, 20th, and 22nd. St. Louis has allowed opposing offenses to reach more than the 25.5 points in three of four contests this season and now face perhaps the best offense they have seen to date. Brett Farve is coming off a brilliant performance, displaying deadly accuracy by completing 24 of 31 passes with 271 yards and three scores. If Farve can just keep up a little of that momentum going along with an expected big day from Peterson, the Vikings should be able to reach the "over" here despite the letdown situation. Take the "over".

Prop Bet No. 3 - First Half Odds

Washington Redskins +2
Carolina Panthers -2

The Panthers have yet to score a win this season after dominating the NFC at 12-4 during the regular season in 2008. QB Jake Delhomme has been flat out horrible, throwing seven interceptions on the year with just two touchdowns and the offense just has not produced any beneficial results. However, the Panthers have the perfect opportunity to get back in the wins column this week.
After some much needed time off to work out the misfires, the Panthers get to take on Washington at home. The Redskins have not been very impressive either and their 2-2 record does not indicate how bad they are playing. Washington has two wins on the season against the pitiful talents of St. Louis and Tampa Bay. To make matters worse, those two less-than-convincing wins were by a combined five points. Remember, the Redskins were responsible for succumbing to the Detroit Lions and ending their 19-game losing streak.
The Redskins offense just simply is not putting up any points, averaging only 14 points per game and they are worse than perceived. Delhomme is going to have a solid game in this situation given his starting job is in jeopardy and that means wide receivers Steve Smith and Muhsin Muhammad are going to have a solid game against a weak secondary.
The Panthers are still just as talented as they were a year ago, but simply have gotten off on the wrong foot against good football teams. The Panthers are in their biggest "must win" situation they possibly have ever faced and they will jump on Washington quick and stay there. The Redskins have only scored first in one instance this season in their four games. Expect the Panthers to not only score first, but to lead at the break and for the rest of the way. Take the Panthers laying the points.