Passing Yards Key to ATS Success for NFL Teams
by Nicholas Tolomeo - 11/18/2009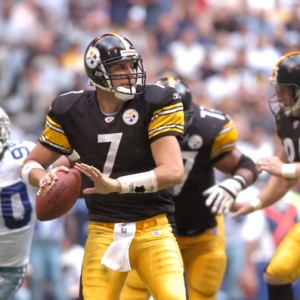 It used to be in the NFL that if you could run the ball you could dominate your opponent. The teams atop the NFL rushing leaders list were the same team atop the NFL rankings. Things have certainly changed.
Looking at the NFL team rushing leaders this season looks like a list of the biggest disappointments in the league.
The top four rushing teams in the NFL are the New York Jets, Tennessee Titans, Carolina Panthers and Miami Dolphins. All four teams are exactly 4-5 ATS through 10 weeks of football. Straight up they are all 4-5, except for 3-6 Tennessee.
It's clear this league is becoming more about what you can do through the air and less with what you can do on the ground. The only team in the top seven in terms of team rushing with a winning SU or ATS record is the New Orleans Saints
It's no coincidence that the Saints are also the fourth best team in terms of passing yards per game. The top six passing teams in the league are the Colts, Patriots, Texans, Saints, Cardinals and Cowboys. All six teams have a winning record ATS and SU.
The Colts and Saints are both 9-0 SU and five of the teams are 6-3 ATS with the sixth being the Patriots (5-4 ATS).
With the proliferation of pass-happy offenses and the ability of more and more defenses to slow down rushing attacks, the NFL has changed and so should your betting habits. No longer is controlling the clock and pounding the ball the recipe for success. Even a team like the Pittsburgh Steelers, long a stalwart of the run first and run second offensive attack, has changed the way they play offense.
Ben Roethlisberger has thrown the ball 302 times this season. Rashard Mendenhall has rushed the ball 113 times. In year's past those numbers would be unheard of but it has become the norm involving the defending Super Bowl champions.
The combined record of the top four passing teams in the league is 30-7 SU and 24-13 ATS. The top four rushing teams are 15-21 SU and 16-20 ATS.
Two games this week where you can take advantage of this trend are the New York Jets at New England (-10) and Tennessee Titans at Houston Texas (-4.5). Give the points with the Patriots and Texans and their potent passing attacks against the successful running games of the Jets and Titans.