NFL Power Rankings - Preseason Edition
by Robert Ferringo - 8/31/2009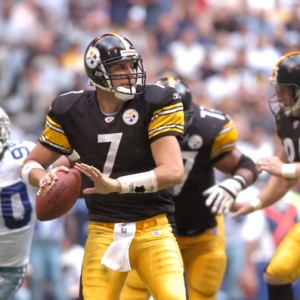 The NFL war drums are sounding in the distance and echoing over the hills. But we're still a full week-and-a-half away from any meaningful action. However, I felt like it was time to unveil the first version of my NFL Power Rankings for Doc's Sports.
A lot of bobbleheads throughout the Interweb have already offered up their own NFL Power Rankings this year. But I will say that I'm probably the only one to admit that mine are trash. By Week 3 these will be a thing of the past. However, after a month of training camp the teams below are rated based on what I've seen. But, again, no one wins any banners in August.
With that in mind, here is a look at my Doc's Sports Power Rankings:
1. Pittsburgh Steelers (0-0) - They are the champs so they get the top spot. Besides some, in my opinion severely underreported, off-field issues concerning Big Ben things have been smooth this preseason for the Steelers. They have had some of their depth chipped away at and their shaky offensive line play could be a cause for concern. But after two Super Bowl wins in the last four years and after dominating the NFL last year despite the league's toughest schedule there is nothing not to like about this team's prospects.
2. San Diego Chargers (0-0) - San Diego's value is going to be a bit inflated due to the fact that they are playing in a division with a bunch of morons. They are virtually guaranteed six wins - and at least five - playing in the West. Depth is my concern with this group. Every year they just have one or two weak spots - be it at defensive end, along the offensive line, or the secondary - that always comes back to bite them. I am not sure if it will be different this year. But I do know that this team has had as much talent as New England, Pittsburgh and Indy over the last six years and are the only team without a ring. Think the coach has anything to do with that? Me too.
3. Minnesota Vikings (0-0) - As much as I hate to say it, Brett Favre has elevated this team. His bad karma is undeniable. He has already turned their training camp into a circus. But anyone that thinks the Vikings would be "just as good" with Sage or T-Jack under center this November is kidding themselves. But this team isn't good because of Brett Favre. Not even close. It is good because they dominate both lines of scrimmage. The lingering issue involving the possible suspensions of Pat and Kevin Williams for four games would be a huge blow and could be the difference in a tight NFC North race.
4. Indianapolis Colts (0-0) - I really don't feel great about this team right now but there is one thing I do feel great about: Peyton Manning. He is a football god and can carry this team. But I don't like that he might have to. The Colts have not looked good this preseason. I know that they always mailed it in under Tony Dungy and turned it on when the games counted. But Jim Caldwell isn't Tony Dungy. And if he is going to pretend to be then this team is in trouble. We have seen this defense with and without Bob Sanders. And this year it looks like they will be without. That's not a good sign. I'll start the Colts here but they are already sliding in my opinion.
5. New England Patriots (0-0) - The Patriots are another team that is going to have an inflated record this year. I know that Tom Brady is back (and my gut tells me his shoulder is a little sore but will be fine). But the No. 1 thing this team has going for it is that they have nothing but ass-clowns on their schedule. The East is its typical mess and the Pats crossover with the AFC West, which is a wasteland, and the NFC West, which has been the worst division in football just about every year for the past decade. So the Pats are going to look like heroes. But the bottom line is that their defense is not good - at all. They have very little leadership on that side of the ball and Bill Belichick's scheming can only do so much. Don't believe the hype with this team - even with its likely 12 or 13 wins.
6. Green Bay Packers (0-0) - I can't say enough how high I am on the Packers this year. They met a load of criterion that I have for teams' performance against their Vegas NFL season wins totals and they have been dominating this preseason. I will say this: they have not played anyone this preseason. None of the teams that they have beaten down are going to the playoffs, so their value might be a little inflated. But the defense has been a turnover machine, it's been aggressive, and it's been effective. And the Packers offense is legit. Before Favre went to Minnesota I had Green Bay winning the North.
7. New York Giants (0-0) - The Giants are really an interesting team to me right now. You win in the NFL by running the ball and playing good defense. The Giants can do both as well as anyone and they have dominating offensive and defensive lines. OK. But this team just isn't as good as the 2007 and 2008 versions. They aren't. They are breaking in a new defensive coordinator and things have not gone well on that side of the ball. Little nagging injuries are already starting to mount. And they enter the year with a receiving corps that has a pretty low ceiling. The Giants have proven that they know how to win in the NFL. But the talent level on this team is going in the wrong direction.
8. Tennessee Titans (0-0) - Again, they run the ball and they play good defense. The Titans have looked good in their elongated preseason. The defense has stayed healthy and has been physical. The offense has been creative and effective. And the core of what this team has done well - pound the rock and play D - is still intact. However, the Titans, like the Giants, are really limited by their receiving corps. They have no difference makers in the passing game. And after catching absolutely every break that they could last year you have to expect a big of a regression in terms of "luck" and close wins this year. Oh, and keep eyes on Javon Ringer this year. That kid is serious.
9. Philadelphia Eagles (0-0) - I think I'm being generous here. Philadelphia's preseason has been a disaster. But Andy Reid has never been much of a preseason savant. I actually think that the Mike Vick situation really has set this team back a step. In dedicating time to working him into the offense (and he looked REALLY slow in his only appearance) I think the Eagles have overlooked some other aspects of their game. But, again, they have one of the NFL's elite quarterbacks and that will cover a lot of this team's shortcomings. But the core of this defense - DC Jim Johnson, MLB Stew Bradley, and S Brian Dawkins - have moved on so I still don't see how this group will be better.
10. New Orleans Saints (0-0) - The Saints are right there with Green Bay in terms of teams that I absolutely love this year. Their offense looks ridiculous - as long as they can keep running the ball. But the thing that I keep coming back to is the four-game suspensions for Charles Grant and Will Smith to start the year. Those are two of their three best defensive players and that's a hit. But the Saints don't play any divisional games during the suspensions, which is big. Defense has been thriving on turnovers this preseason. But my only question about this team is if they can make that key stop against a good team when they absolutely have to have it. Because turnovers are not reliable.
11. Baltimore Ravens (0-0) - I have kind of rolled my eyes at all of the love for Joe Flacco. For most of last year he looked just awful. But I gotta say, I may be starting to come around. Also, I was raving about Ray Rice from the moment the Ravens drafted him and he is just one piece of an exceptional rushing attack. The defense has looked good. But I remember hearing grumbling last year about John Harbaugh. And then recently Bart Scott was heard popping off about last year Baltimore was really Rex Ryan's team. I don't know. Just throwing it out there. I'm still wary of the Ravens this year because their win totals over the last five - 9-6-13-5-13 - suggests a letdown. However, stop me if you've heard this one, they run the ball and play good defense so they get the benefit of the doubt. For now.
12. Atlanta Falcons (0-0) - The only reason that this team isn't rated higher is their defense. I'm not sold on that unit at all and I think they are going to have big time problems. They have allowed a league-high 6.0 yards per play this preseason and teams have converted 22 of 44 third downs. But man-o-man is Matt Ryan good. This is one of the best offenses in the NFL and that kid is just a winner. Absolutely hate betting against him even though I'm sure I'll have to bite that bullet more than a few times this year.
13. Dallas Cowboys (0-0) - I seesaw back and forth with this group. Their defense was among the best in the league last year…but I think their secondary is awful. They have one of the strongest offensive lines in the NFL…but I'm not sold on their running game. I like the Romo-Williams-Witten threesome…but the drop-off after that is severe. Are the Cowboys going to be any good this year? I can't tell yet. I do know that they will remain overrated and will still face inflated lines. But this team is kind of in limbo right now and Wade Phillips does not instill much confidence.
14. Miami Dolphins (0-0) - All of the stars absolutely aligned for the Dolphins last year. They were an absurd 7-1 in games decided by a touchdown or less. Tom Brady got injured. They were +17 in turnovers. They had a cupcake schedule. I just don't see all of those things working in their favor again this year. But Bill Parcells is a shogun and you can't ignore his skills.
15. Chicago Bears (0-0) - I have been getting more and more impressed with this team each week. Mainly because they have been getting better on defense. I know that's odd to say that the Bears - who have boasted the second-best defense of this generation over the past 10 years - have question marks on D. But after back-to-back seasons not finishing in the Top 20 that's just a fact. Right now they are playing well. But that secondary is still a tremendous liability. Cutler is getting sharper but I still don't know how much I trust him. His numbers are looking good but if you watch the games he is good for three or four throws a game that should be intercepted.
16. Arizona Cardinals (0-0) - Super Bowl Hangover. Bank it. It's just not even a question any more. The Cardinals are sluggish and lackadaisical on both sides of the ball right now. And let's not forget: before their playoff run this was a 9-7 team in the worst division in football. This is no juggernaut and I have a feeling that this is going to be a team to either bet heavy against or just stay away from altogether.
17. Seattle Seahawks (0-0) - I have been high on Seattle this preseason. But the more I watch them the more I don't like. Their offensive line has been shredded by injury and is a big problem. And this defense just doesn't stop people and doesn't inspire any confidence. That is except for Nick Reed. This kid has been one of the best stories of the entire NFL preseason. (Too bad ESPN has been too busy with notorious scumbags Favre and Vick to notice). Love that kid and it's a great decision to start him. I think that they should be poised to seize the West this year. But I still feel like something might be missing.
18. Washington Redskins (0-0) - We can all agree that the Redskins offense has looked pretty piss-poor this preseason. However, let's not forget that they have faced the Ravens defense, the Steelers defense and the Patriots defense. So they deserve some slack. Washington's roster is finally getting younger - but they need to prove that the young guys can play. This offense isn't going anywhere until either Devin Thomas or Malcolm Kelly can become a factor. But Washington's defense is still one of the best in the game. I have not completely given up on Jason Campbell. But even I am running out of patience.
19. Carolina Panthers (0-0) - Right now I see the Panthers as a sinking ship. They are soft against the run and their offense is still way too one-dimensional. They can run the ball on anyone. But this team is No. 32 this preseason in third-down conversions. Basically, this offense is at its worst at third-and-six and third -and-eight. And if teams are blanketing Steve Smith Carolina is going to have a really hard time if they have to overcome deficits. This is another team that was pulling close wins out of its ass most of last year and in the NFL that doesn't happen two years in a row.
20. San Francisco 49ers (0-0) - I really like the moxie that this team is playing with. They are flying all over and knocking people around on defense. This team has a really positive vibe around it right now and I think that they will be able to run the ball effectively, especially against the terrible defenses in their division. However, their passing attack is awful. I understand that they are willing to let Mike Crabtree sit and pout for as long as he wants. But in the meantime they needed to go out and get some people that can actually play receiver in this league.
21. Houston Texans (0-0) - Once again the Texans are a team that a lot of people have high hopes for. They are rapidly becoming "Everyone's Sleeper" which, let me tell you, never, ever works out well for that team. The Texans are soft. Heading into Monday's game against Minnesota the Texans are allowing 23 first downs per game and a robust 5.5 yards per play. It doesn't matter how good their offense can be if they can't stop people. And until I see them do that I'm still going to treat them like a team that's averaged six wins per year over the last five years and has started each of the past two years 5-8 (2007) and 3-7 (2008) before making "meaningless" late-season pushes.
22. Cincinnati Bengals (0-0) - This is a team that I really liked coming into the year. And I've said this before: I think that being on "Hard Knocks" has zapped some of their value. The spotlight has been on them so a lot of square bettors are going to feel like they "know" this team and secretly be rooting for them this year. The defense is getting better and better every day. And with Carson Palmer upright they should be able to move the ball. But the offensive line is going to submarine any chance this team has of really making a push in the North, especially if Baltimore falters. They have to hope that Andre Smith can get himself caught up by Week 4 or so and then hope he can have the same impact that guys like Jake Long and Joe Thomas have had recently.
23. New York Jets (0-0) - Rex Ryan may be brash but he's making a difference. The Jets have 11 sacks (tied for No. 2 in the NFL) and they are only allowing opponents to complete 54 percent of their passes so far this preseason. Really solid work there. But as the season goes on the small receivers aren't going to work out. This team can definitely run the ball. But I don't see them being better than Miami or New England so I think that a middle-of-the-pack season (think 7-9) is about the best they can hope for.
24. Cleveland Browns (0-0) - Everyone has been focusing on the "quarterback race" but no one seems to be asking the right question: are either of these guys any good? I say no. I say it doesn't matter who starts for the Browns because neither quarterback is going to be any better than mediocre. (And before any Browns fans point out Derek Anderson, Pro Bowler, I just have to say that if your guy was really a Pro Bowl-level quarterback he wouldn't be embroiled in a position battle with The Next Rick Mirer.) The defense is schizophrenic. It can look like a Top 10 or Top 15 unit for three or four series and then look like a sieve for the next three or four.
25. Jacksonville Jaguars (0-0) - Jack Del Rio is a guy on the hot seat heading into the season so I would have expected to see a focused, disciplined football team. Instead, their 32 team penalties is tied for the worst of teams that have only played three games. I like the athleticism that I'm seeing from this team on defense. But they have no discipline and this team really seems like it is lacking an identity.
26. Denver Broncos (0-0) - This team is a wreck. Their defense is still pathetic and watching the Broncos play this preseason I have an early verdict on Josh McDaniels - he's going to be as good as all of the other juggernaut former New England assistants. That is to say that McDaniels will be coaching in the Sun Belt within the next four years. That guy is a joke. This team is a mess, and this is going to be a long, long season for one of the proudest fan bases in the NFL.
27. Kansas City Chiefs (0-0) - The loss of Matt Cassel for any amount of time is bad news for the Chiefs. And now Todd Haley has canned Chan Gailey as the offensive coordinator and will now be calling the plays himself. I think that it's a big enough adjustment for Haley as a first-year head coach. But trying to be a rookie coach and the OC is likely going to overwhelm him. The Chiefs were really sloppy and undisciplined in Week 3. And while I think they are better than this rating any time you have Tyler Thigpen prominently involved in anything you aren't doing so well.
28. Buffalo Bills (0-0) - Buffalo has gotten three points out of its first team offense. I don't care if they have played a killer preseason schedule. If the Bills aren't going to be a joke this year they have to at least be able to compete with those teams. But the average drive for the first-team offense through four preseason games has been five plays for 17 yards. They have the worst offensive line in the NFL and they just cannot overcome that.
29. Tampa Bay Bucs (0-0) - I couldn't be more thrilled that Byron Leftwich is the starting quarterback for Jacksonville. For every 15-yard laser that he completes to keep a drive going on third-and-long he misses three throws that force third-and-long in the first place. This defense is the shell of what we've come to know as Bucs football. I think that Joe Public is going to have a hard time adjusting to that fact and playing the Bucs 'over' could be a sharp way to go. Even with Leftwich at the helm. We will see.
30. St. Louis Rams (0-0) - Let me come out and say this right now: Steve Spagnuolo is going to be a good NFL coach. He has "it" and he will get this team going. But even Spags can't make up for their significant talent deficit. If you want some insight into his impact on this team here you go: so far this preseason they have 40 points scored off nine turnovers. Through 16 games last year the defense managed just 45 points off turnovers. I have to say though: I think this team has an opportunity to move up the ladder quickly. Especially if they can steal a win over banged-up Seattle in Week 1.
31. Oakland Raiders (0-0) - I'm not going to waste any space on this team. They are pathetic. Their defense is terrible and is undermanned. Their quarterback is a worse Byron Leftwich. Their terrible draft picks and awful free agency decisions have gutted this team of any talent. There is no identity and no execution. Their coach is punching out assistants. And the bottom line is that the Raiders will continue to be one of the worst organizations in all of sports until Al Davis is no longer involved.
32. Detroit Lions (0-0) - Just like the Steelers get the benefit of the doubt at No. 1 because they are the defending champions the Lions are relegated to No. 32 until they win a game. And I will say this: they are closer than you think. Their offense has been No. 5 in the NFL through the preseason and that was playing the first two games without most of their best receivers. The offensive line is still shaky. And even though I am a notorious Dante Culpepper-basher I have to say that he has looked good this preseason. They revamped the defense and those guys may be thin on depth but they are playing hard. Lions could be a real sneaky ATS team this year.
Robert Ferringo is a professional handicapper and you can purchase a full season's package of his football selections for just $25 per week! Click here for details.