NFL Power Rankings Week 17
by Robert Ferringo - 12/30/2010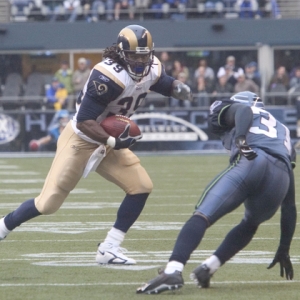 Week 17 in the NFL is kind of the mutant stepchild of the sports betting calendar. Gambling is chaotic enough. But the final week of the pro football season is even more of a shit show than normal, And as of yet I've found only two acceptable approaches to making a profit in this week:
1. Don't play. A 'push' is a win in my book, and not losing money on third-string quarterbacks, resting starters, and absurd "Why not?" coaching decisions has to be considered a 'push'.
2. Bet on the most ridiculous outcomes you can think of.
Up is left and down is right in Week 17. Teams you think have nothing to play for decide to let it all hang out. Teams that you think will be sharp in must-win situations come out and lay an egg. There is no certainty – as if there was any other week – and there is no rational way to explain a week that is one part exhibition, one part pre-bar and one part Super Bowl.
Whatever you decide to do, tread lightly. But I can assure you that while I spend dozens of hours each week handicapping the following Sunday's games I won't be spending more than a couple hours working on this week's card. There is no point. Because Week 17 is like quicksand; the more you struggle against it and the more you try to outthink it the worse off you are going to end up.
With that in mind, here is my "resting my starters for the playoffs" version of Doc's Sports NFL Power Rankings.
1. New England Patriots (13-2) – Even though this team has "nothing to play for," would you be stunned if Bill Belichick left all of his starters in and just buried the Dolphins just for the fun of it? I wouldn't.

2. New Orleans Saints (11-4) – If you ask me, this team is in the toughest spot. They have a tiny shot at the No. 1 overall seed and that is a big enough carrot to get them to come to play in this game. But at the same time, they are in a letdown spot against a precocious team that has revenge. I'm sure most of the Saints regulars would rather just rest up for next week. But, again, they have to prep for things just in case Carolina pulls the upset. It's just a tough motivational situation for this team.
3. Baltimore Ravens (11-4) – If the Ravens don't beat the Bengals and get some help from Cleveland then they could be on a collision course with the Patriots. And after all of the trash they have had to talk about the Pats this year I would like nothing more than to see that matchup.
4. Pittsburgh Steelers (11-4) – The Steelers dominated the first meeting with the Browns at Heinz Field, 28-10, and they have absolutely owned Cleveland for the past decade. This is a critical game for the Steelers. They are just 2-4 this year against teams with winning records and they definitely need a home game and a bye. Their average margin of victory in their last nine wins over Cleveland is 17.9 points. But four of the last 10 matchups would have fallen within this number for the Browns.
5. Atlanta Falcons (12-3) – I actually thought that the line on the Carolina-Atlanta game was a little short at 14.5. The line should be 16.5 or 17.0 because the books have to know that every swinging dick with a pick is going to be getting on the Falcons. Atlanta is in a letdown spot. And they manhandled Carolina so easily in the last game that they could completely take this one for granted. But even if they did, I still think Carolina is awful enough to lose by three touchdowns.
6. Philadelphia Eagles (10-5) – Losing to the Vikings definitely isn't a positive for this team, which will now have to play three games in 12 days. But they at least get a chance to rest their starters this week without repercussion or concern about "losing their edge". Mike Vick is going to sit this week. But if they do have the offensive starters in don't overlook just how good Kevin Kolb is.
7. Green Bay Packers (9-6) – I was hoping the Bears would still have to play this game straight up for a shot at the No. 2 seed. Green Bay is a team picking up steam right now. They also have revenge for a B.S. game at Chicago this year where they outplayed the Bears but lost.
8. Chicago Bears (11-4) – I know that Lovie Smith has said he wants to play all of his starters this week. I actually think that would be a great idea and beneficial to this team. They have a shot to knock the Packers out of the playoffs and I think they should take a stab at it. Also, they have a week off so if they mail this game in it will have been three weeks in between games they had to get "up" for. We've seen in the past that most teams don't respond well to that.
9. New York Jets (10-5) – There is backing into the playoffs and then there is what the Jets are doing. I can't tell anymore if this team is overrated or underachieving.
10. Indianapolis Colts (9-6) – I know everyone is just kind of writing this team off right now because of their struggles. But they are getting healthy and they still have the best player in the NFL under center. Beware the Colts. Remember: the year they won it all they did so as a team that had to win four games.
11. Kansas City Chiefs (10-5) – This right here is the tragedy of Week 17. The Chiefs have a legit revenge spot in this game for their stunning loss in Oakland earlier in the season and this is a situation where the Chiefs would have just demolished the visitors.
12. San Diego Chargers (8-7) – This team is the epitome of Week 17 NFL handicapping. Are they going to mail it in? Are they going to quit because their season ends after Sunday? Or are they going to want to lay into a division rival? Your guess is as good as mine.
13. New York Giants (9-6) – Eventually, if you are a playoff-caliber team you have to beat some winning teams. The Giants haven't done that the last two years.
14. Jacksonville Jaguars (8-7) – David Garrard is out and Trend Edwards is in this week. And I don't know if there is a more crestfallen team playing this week. Just about 12 days ago they were headed to Indianapolis with a shot at clinching the AFC South title. Now they are virtually eliminated.
15. Oakland Raiders (7-8) – The visitor is 19-7-1 ATS in the Chiefs-Raiders series and the underdog is a perfect 7-0 ATS in the last seven meetings. The Chiefs have next to nothing to play for this weekend and I can see both teams just kind of going through the motions.
16. Miami Dolphins (7-8) – I think it is ridiculous to suggest that Tony Sparano be fired after this season. I 100 percent pegged this team in August because they were obvious. They were too young and lacked the depth to hold up against the absolutely killer schedule they had to play. If you ask me, 8-8 would be a major accomplishment for this team with this schedule.
17. Tampa Bay Buccaneers (9-6) – It will be interesting to see if this young core can commit to the offseason and work to grow into something or if this team was just the beneficiaries of a lot of luck and a soft schedule. They are 10-1 ATS as a road underdog. But they did lose Aurrelius Benn to a torn knee. I wouldn't expect him back for next season, either, because of the timing of the injury.
18. Washington Redskins (6-9) – I am still numb to this team. I think they could pull the outright upset this week against the Giants and love a play on them on the moneyline. But I have vowed to never again bet on Rex Grossman so I will be staying away from this game.
19. St. Louis Rams (7-8) – The Rams are not ready for primetime. But they are better than the Seahawks. They are actually 10-4 ATS overall and 4-0 ATS as a road favorite. But they are 1-6 ATS in the last seven against the Seahawks and just 1-4 ATS in their last five trips to Qwest.
20. Houston Texans (5-10) – Time to blow this team up and start over. They need a new philosophy. And here's a hit: let's maybe start in the secondary. You know, that group of players you have ignored for a decade.
21. Dallas Cowboys (5-10) – Last week's loss due to a missed extra point completed Incompetent Football Bingo for the Cowboys. They were big winners in that game this year. This team will never accomplish anything meaningful as long as they are PR machine first and a football team second.
22. Cleveland Browns (5-10) – I have no idea what justification could be given for bringing Eric Mangini back. Those wins over New Orleans and New England were flukes and this team is that close to having the No. 2 pick in the draft.
23. Minnesota Vikings (6-9) – Thank you, Joe Webb. However, anyone that thinks that he is a realistic option for next year has got to be joking. The window is closed and I am interested to see how this team gets broken up in the offseason.
24. San Francisco 49ers (5-10) – Good riddance, Mike Singletary. That was an embarrassment. This team still needs some work. But they could be set up for a Year After bump. They were the "it" team heading into this season. They could get forgotten about heading into next year. But a new quarterback and a new coach could inject some new life and they could take a step forward.
25. Tennessee Titans (6-9) – After watching the Titans and Jeff Fisher mail it in last week why wouldn't we expect the same this week?
26. Seattle Seahawks (6-9) – Charlie Whitehurst seemed like a good idea to someone, eh? If this team wins and makes the playoffs they will be the worst playoff team of all time. I am not one for making those types of outrageous, ESPN-style claims. But in this instance it would be applicable.
27. Buffalo Bills (4-11) – The Bills are Charlie Brown and the Patriots are Lucy.
28. Detroit Lions (5-10) – I have no idea why they wouldn't bring back Jim Schwartz. I also have no idea why they would bring back Gunther Cunningham. That guy has been a loser in every stop he's taken.
29. Arizona Cardinals (5-10) – The Kurt Warner Era is what we call "an anomaly". It really didn't take long for this team to revert back to one of the worst in the league. But then again, outside of one three-game stretch in 2008-09 were they ever really that good?
30. Cincinnati Bengals (4-11) – It looks like the Bengals will be without both Terrell Owens and Chad Johnson this week due to injury. The Bengals are 9-3 ATS in the last 12 meetings with Baltimore but I think that this team will be set to mail it in after doing their "spoiler" damage last week to San Diego.
31. Denver Broncos (4-11) – I have no interest in Tebow Mania. I am really unmoved either way. I do know that playing with/for him gives the Broncos an excuse not to mail it in.
32. Carolina Panthers (2-13) – The books have been overvaluing Carolina all year, as indicated by their 2-7 ATS bumbling through the last two months. I don't think people get just how awful this team is.
Robert Ferringo is a writer and a professional sports handicapper for Doc's Sports. He has banked profit for his clients after five of seven winning football weeks and is rolling out more predictions this week. You can sign up for his college football and NFL picks and get more information here.