NFL Power Rankings Week 7
by Robert Ferringo - 10/20/2010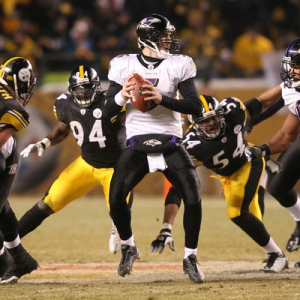 Save the violence.
The big buzz in the NFL this week is the "outrage" over the vicious and savage play that we witnessed on the field last week. It was as if members of the bobblehead media suddenly realized: wow, football is a violent, angry, masochistic sport full of pain and punishment. And naturally, they had to bitch about it.
I am 100 percent against any change of the rules or any "softening" of the game. It may not be the politically correct view, but the reality is that football has reached the levels of popularity that it has for three reasons: gambling, it's ritualistic, and because of the violence. People may try to dispute that, but it's absolutely true on all counts. And any sort of attack on any one of those attributes is the first step in the weakening of the game.
I wrote about this at greater length at Doc's Sports Blog and was much less, well, reserved, in my opinions. I don't want to repeat everything from that post, but the bottom line remains: people watch football BECAUSE it's violent. No one may want to admit it, but that is reality. Further, not only does the bobblehead media exploit that violence (some of the loudest bitching has come from the ESPN bobbleheads, the same guys that run a weekly segment called "Jacked Up"), but the league has used the ferocity of the sport as a selling point in the past as well. (In fact, a site associated with the NFL is selling photos of the "controversial" hits by James Harrison and Brandon Meriweather online.)
All of the interviews I've heard this week featuring a former player have basically contained the same tone: football is a violent sport, but it's their sport, and they think it is ridiculous to try to over-regulate it (even further than they already have). Rules on things like receiver contact down the field and contact on the quarterback have already gotten to the level of absurd. To try to make the game even softer is just another step towards completely altering it. And you should only take the opinion of whiny, bitchy, weak bobblehead commentators so seriously.
So this week I am hoping for more hits. I'm hoping for more violence. I'm hoping for more pain and punishment. Not because I'm some sadistic madman. But because I'm a football fan. That's what they signed up for and that's what people love about the sport. So I think everyone that ALL OF A SUDDEN realized that football is dangerous should sit down, shut up, and let the grown ups enjoy their national pastime.
Here is my Week 7 NFL Power Rankings:
1. Pittsburgh Steelers (4-1) – Big Ben came back and inspired this club to a nice blowout victory. However, even his return couldn't mask the issues that this club still has on offense. And if it weren't for a few late, turnover-aided scores this team would have been vulnerable. The Steelers are 11-5 ATS against a team over .500 but they are just 3-7 ATS as a road favorite and just 7-20-1 ATS as a favorite of less than a field goal. The Steelers head to Miami this week for the fourth meeting between these clubs in the last five years. Pittsburgh has won the previous three and going back to 2000 they bring a six-game winning streak in this series to the table.
2. Baltimore Ravens (4-2) – Baltimore stays where they are by virtue of their performance and their schedule. This group has played four of six games on the road and here are the teams they had to visit: Steelers, Jets, Patriots and Bengals. Wow. This week they get Buffalo. The Ravens are 43-18-1 ATS as a home favorite and 13-6 ATS in their last 19 home games. They are also 5-1 ATS as a double-digit favorite, but they did sleep walk through their home game against Cleveland this year.
3. New York Jets (5-1) – The Jets made it through what was by far their toughest slate of games with a 5-1 record. Looking ahead I don't see how they aren't 10-1 when they head to Foxboro for a Monday Night Football rematch with the Patriots on Dec. 5. The week prior they have to play Houston on Sunday and then the Bengals on Thanksgiving, which is tough. But both games are at home. I didn't believe this team was a true Super Bowl contender, but they probably have the easiest path to the No. 1 seed in the AFC.
4. New Orleans Saints (4-2) – When you've been to the heights that the Saints have it gets pretty simple: the playoffs and "big games" are like heroin, and the rest of the games are like smoking cigarettes. New Orleans found itself in an awkward and unexpected "big spot" last week in Tampa and they performed accordingly. But this week I think they'll just go back to being bored and in a funk. They had a great performance last week and then after this week's game with the lowly Browns they welcome Pittsburgh to town. Of course they are looking ahead. The Saints are 1-7 ATS after a win and 1-5 ATS as a double-digit favorite.
5. New England Patriots (4-1) – I'm telling you, this is too high to rank this team. But their only loss was on the road to the Jets – in a game they were leading – and they just topped the Ravens. This is essentially a franchise that I am trying to stay far, far away from betting on or against. I just don't have a great feel for where they are at. I do know that I have predicted that their defense is going to collapse when it goes on the road. The Patriots allowed only 14 points in Miami, but they were actually outgained by 135 yards in that 27-point win. Three of the last four meetings with the Chargers have gone 'under'. The Pats are 23-11-3 ATS as an underdog and 13-6-2 ATS as a road dog. But they have only been posted as an underdog five times in the last four years (57 games) and are just 2-3 ATS in those games.
6. Indianapolis Colts (4-2) – The Colts have two weeks to prepare for Houston. How many times do you think that Peyton Manning and Jim Caldwell are going to show the team the tape of the Colts getting just tossed around in their first meeting? I have the 'over/under' at about 16.5 times. This is also a much-needed respite for a team that was starting to get very banged up. Of course, the distraction of having their punter busted for being drunk and disorderly certainly isn't a good start to the bye.
7. New York Giants (4-2) – Last week I praised the Giants for not letting teams back in games and not giving up garbage touchdowns. Naturally, they do both against Detroit last Sunday. That was an obvious letdown/look ahead spot for the Giants last week after their devastation of Houston and with a huge Monday Night Football test at Dallas this week. The G-Men are back in one of their favorite roles as a road dog. They are 19-7 ATS on the road, 12-5 ATS as an underdog and 11-4 ATS as a road dog. But while they seem like an easy take this week the red flags have to be going off over the fact that they are dogs against a 1-4 team.
8. Atlanta Falcons (4-2) – I know that Dunta Robinson is taking a lot of heat for his hit on DeSean Jackson. But the reality is that Robinson knocked his own ass out and he will now likely miss a couple games. Isn't that punishment enough? Isn't that enough of a deterrent? Atlanta has a big problem, especially with T.O. and Chad Johnson coming to town. Their secondary is clearly their biggest weakness and without Robinson they are scrambling back there. They were No. 28 in pass defense last year, and even with Robinson, they had only moved up to No. 25 this season. The floodgates could open, and that could also turn one of the league's most reliable 'under' teams into an 'over' machine.
9. Tennessee Titans (4-2) – Allegedly, ESPN, via the officials, tried to get the Titans and Jaguars to keep calling their timeouts to squeeze in some extra commercial breaks during the Monday night game. Whether they did or they didn't, there is no way that Chris Johnson should have been lugging the rock that late in a blowout. No, he didn't get injured. But I think that every back has a certain number of carries in him for a season and for his career. Why waste them there? Over the course of the last 10 years the Titans are an outstanding 29-14 ATS against NFC teams. More immediately, they are 2-0 ATS against the NFC and over the last three years they are 9-2 ATS, with their only two losses coming in games that they won.
10. Minnesota Vikings (2-3) – I am definitely not ready to get back on board with this team or claim that, "They're back." However, they have a great opportunity to get in the NFC North race this week in Green Bay. Last year they blasted The Pack in Lambeau, but there is no way that this team has the confidence or the momentum that they did last year. The Vikes are 5-1-1 ATS in their last seven divisional games. But they are just 1-5 ATS on the road and 3-12-2 ATS as an underdog of three points or less. Last week the Vikes put forth a very conservative game plan, throwing the ball nine less times than they ran it. I would expect that trend to continue and the Vikes could become a strong 'under' bet.
11. Philadelphia Eagles (4-2) – Andy Reid's club is a stellar 3-0 SU (and 2-1 ATS) this year on the road. But all three of those road games came against weaker sisters (San Fran, Jax and Detroit). Also, everyone is gaga over Philadelphia's passing game. However, Tennessee will be the sixth (of seven) teams this year to face the Eagles with a pass defense rated No. 17 or lower and the fourth rated No. 23 or lower. But don't kid yourself: the loss of DeSean Jackson should have a big impact on that passing attack. Also, I said a few weeks ago that Mike Vick should miss at least a month. I still think that's the case.
12. Washington Redskins (3-3) – The wild and weird saga of the 2010 Redskins continues. I hate to keep beating a dead horse here but this team has the sixth-fewest rushes per game in the NFL despite a solid 4.1 yards per carry average. They have been outgained by an average of 83 yards per game and have been outgained in all six contests. They have played three straight games against serious, pass-heavy offenses (Philly, Green Bay, Indianapolis) and have performed better than the numbers suggest. They should have their way with Chicago's feeble offensive line this week.
13. Green Bay Packers (3-3) – They lost yet another defender, Brady Poppinga, to a knee injury. By my count, in the fourth quarter they were without six defensive starters. The good news is that Clay Matthews will be back this week and that Al Harris will be back after a stint on the PUP list. Hopefully those two guys can help this D-unit get off the field. They have faced 216 snaps the last three games (two OT) and are simply worn out. This team is a shell of itself and before the end of the year I wouldn't be surprised to see them slip five or six spots lower than this. The stunner: they are two OT losses away from being 5-1. Another stunner: they have just three TDs in 19 fourth quarter and OT drives this year.
14. Houston Texans (4-2) – The 11 worst pass defenses in the NFL all belong to teams that are currently .500 or better and 10 of the 11 teams have an outright winning record. So just because the Texans couldn't stop me from throwing for 300 yards that doesn't mean that they can't still have some success. That said, this team lost DeMeco Ryans for the year and that is one of the most important injuries of the season. Ryans is one of the best four or five MLBs in football and his absence could be the last straw for a defense hanging on by fingernails. This team is worse than its ranking. Duane Brown returns to start at left tackle after a four-game drug suspension. He was sorely missed.
15. San Diego Chargers (2-4) – This team has outgained its opponents by almost 1,100 yards through its six games this year. That is one of the highest totals in NFL history and, according to stats compiled at the New York Times football blog that makes the Chargers the "best" 2-4 team in NFL history. Smarter men than I have said it: Norv Turner is a disaster. Just like Marvin Lewis and Wade Phillips, Turner is a proven loser who can take one of the most talented rosters in football and turn them into mush. San Diego is 1-3 SU against the Patriots since 2007 and just 3-7 against them since 1994. The home team has won three straight in this series, but I just don't know how anyone could have any confidence with this team.
16. Cincinnati Bengals (2-3) – The Bengals are just 10-for-22 in converting downs of third-and-two or shorter so far this year and they are No. 24 in the NFL in overall third down conversions at 25-for-74. For a team with serious pass rush problems, the news that Antwan Odom would be suspended for four games (for inadvertently taking his wife's weight loss pills) is a significant blow. This week Cincinnati is back in its preferred role, as they are 10-3 ATS as an underdog. They have covered after a bye week in each of the past two years. However, they are just 1-5 SU and 2-4 ATS in their last six games after a week off.
17. Miami Dolphins (3-2) – That was a real nice win for the Dolphins last week and this team is now 2-0 SU and ATS on the road against the two best teams in the NFC North. Good stuff. However, I still think that Chad Henne is too erratic throwing the ball to be consistent against top defenses. Miami is still just 15-41-1 ATS at home and they lost their last two home affairs by 28 and eight points. The Dolphins are an exceptional 8-1 ATS as an underdog and they are 5-2 ATS against a team with a winning record.
18. Chicago Bears (4-2) – Hilarious. It is hilarious that people are suddenly stunned by the fact that Mike Martz, Jay Cutler, and one of the worst offensive lines in the NFL haven't worked out. If you think it's bad now just wait until Martz tries to throw the ball nearly 50 times in Soldiers Field in early December. Chicago has been getting destroyed in the local and national media all week, but they are still favored against a more talented Washington team. I actually think the Bears are going to come out and play one of their best games of the season. That is how they roll, and that's how things normally go in the NFL.
19. Dallas Cowboys (1-4) – Call Bill Cowher. Immediately. There is just nothing about this team that I can add right now that either A) I haven't already said, or B) someone in the national media hasn't said. They are a bunch of losers. A very talented bunch of losers, but they are losers nonetheless. They have been their own worst enemy. But when the same mistakes, errors, penalties, bad bounces, and tough losses keep happening to the same team time and time and time again there comes a point where you just have to accept who and what you are.
20. Kansas City Chiefs (3-2) – I know I am still underselling this team with this ranking. If they played Houston at home this week they would beat them by two scores. This week's game against Jacksonville is one they have to get. This is one that 5-10 years ago they would get just because it was Arrowhead. They haven't had that sort of home field edge in a while (hence a 7-16 ATS mark in the L23 at home) and blasting a sagging Jags team would be a step back in that direction.
21. Arizona Cardinals (3-2) – The Cardinals have been outgained by an average of 191 yards per game in their last four games and they have lost their two road contests by a total score of 82-17. All that said, I think that they are being a bit undersold this week. They are 6-1 ATS in their last seven games against the Seahawks and have won four straight against them. They've had two weeks to prep and I am sure they are going to have a little extra bounce in their step with a new quarterback. I still think this is the best team in the division. We'll see if they can hold it together for a full 60 minutes. A win here would give them road wins over the Rams and Seahawks and really give them the inside track toward another division crown.
22. Denver Broncos (2-4) – Looking back at Denver's season they have already let two games get away – at Jacksonville and against the Jets – that they absolutely should have won. I have no idea how they are doing it with the personnel that they have but the Broncos defense impresses me more and more each week. Their six opponents so far this year have combined to go 23-12 for a .657 winning percentage. That means the Broncos have played the toughest schedule in the NFL to this point. Much like Kansas City, Denver went from having one of the biggest home field advantages in football to being "just another team" in Mile High. They are just 9-23-1 ATS in their last 33 home games.
23. Jacksonville Jaguars (3-3) – This team was definitely exposed on Monday night and it will be interesting to see what kind of a carry over effect that will have. The quarterback situation is a mess now. David Garrard has a concussion and I'm betting he's out this week. Apparently Trent Edwards is now banged up as well. Regardless, the Jags signed Todd Bouman this week and he will likely suit up in Kansas City. There has been no announcement on the starter yet. The Jaguars are just 2-7 ATS when playing on a Sunday after a Monday Night Football game. They are also just 1-4 ATS on the road and 5-13 ATS overall.
24. Tampa Bay Buccaneers (3-2) – The Bucs were completely exposed last week by the Saints and I wonder if that one is going to have a lingering effect. This week is when we're going to learn a lot about where Raheem Morris has this team and this locker room. They are just 5-11 ATS after a loss and now they are just 3-13 ATS in their last 16 home games. Another adjustment they will have to make this week is playing without the "buzz" in the stadium that they had last week (which obviously didn't help). If they have one-third of the crowd they did last week I'll be stunned.
25. St. Louis Rams (3-3) – This team shook off an ass-maiming the week prior and played its second-best game of the year last week. St. Louis has been tough at home, physically and mentally. And what a lot of people forget is that they've basically been doing this with a banged up Steven Jackson. Jackson looked healthy and nasty last Sunday, though, and he appears close to 100 percent. Naturally, after raving about Sam Bradford's accuracy he is now completing just 56 percent of his passes for just 5.8 yards per attempt. He is facing a horrid Tampa Bay secondary this week, though, and I would love to see him open it up down the field.
26. Seattle Seahawks (3-2) – I will admit, this team is building. Their offensive line looked passable against a decent Bears pass rush. And the main thing about their win over Chicago was that they looked really well prepared for it. I had concerns about Pete Carroll as an NFL head coach. I know we're only five games in but so far, so good. Matt Hasselbeck has been crafty and the defense has been perky at times. Lofa Tatupu remains one of the best and most underrated linebackers in the league and his return from injury has really settled that unit. Seattle is 5-1 ATS in its last six home games and they are 10-4 ATS as a home favorite.
27. Cleveland Browns (1-5) – This team fights and they will put up a fight this week. But their team is half-dead. They already had one of the worst collections of skill players that I can remember. And that was before they lost their starting quarterback and two best receivers. Look for plenty of Peyton Hillis this week. Also, Eric Wright is the new Jason David. Wright just cannot cover, anyone, at all, in this league. The Browns are 9-4 ATS in their last 13 games and a solid 7-3 ATS as an underdog. But after a host of grinding divisional games I wonder how much they have in the tank heading off surface to New Orleans this week.
28. San Francisco 49ers (1-5) – I'm sorry, but Mike Singletary has to go. I love the guy and he'll be a fine coordinator and a great guy to have in a locker room. But he's not an NFL head coach. He has no control, no game management skills, and generally no idea what is going on with the rest of his team. I mean, I've never in my career seen a team line up for a field goal with just nine guys. Ridiculous. San Fran is again in the dreaded West-Coast-Team-Playing-Early-Game-In-Eastern-Time-Zone, and they are off a rivalry game. This all screams for a sluggish start. I think a first-half 'under' bet might be the play in this one.
29. Oakland Raiders (2-4) – It seems completely counterintuitive, but there are a lot of things lining up in Oakland's favor here. They have covered four straight meetings in Denver, are 6-2 ATS in the last eight meetings, and the road team, overall in this series, is on a 4-0 ATS run. All that said, the Raiders actually went into the season thinking that a quarterback core of Jason Campbell, Bruce Gradkowski and Kyle Boller would get it done. I have to say, even I was suckered into the J.C. train a little bit. But he's a lost cause and this team has nothing to lose by going with Boller. Well, except about 10 more games. Worst part: the Raiders outplayed San Fran. And had they gotten any – ANY – semblance of a passing game they win this one. Mix in the Arizona game that they let get away and it is realistic that this team could be 4-2 right now. But they are the Raiders. So they aren't.
30. Detroit Lions (1-5) – There are so many teams – Green Bay, Houston, even New England and Indianapolis – that I really don't believe are as good as I have them rated. But the Lions are one of those teams that I don't think that they are as bad as I have them ranked. This group is 5-1 ATS so far this year and, dipping back to the preseason, they are 8-1 ATS in their last nine lined situations. And in case I haven't made my feelings on the issue known, just go ahead and give Kong Suh the Rookie of the Year Award. That guy is an absolute beast.
31. Carolina Panthers (0-5) – Mercifully, the Panthers have gone back to Matt Moore. I'm actually pretty disappointed because I have been looking forward to a long and lucrative career of betting against Jim Clausen. These teams have only met twice since the division realignment (in 2007 and 2004). Carolina won both meetings, for whatever that's worth. The Panthers are actually 9-1 ATS in the last 10 meetings.
32. Buffalo Bills (0-5) – Would you believe that this team is earning nearly 4.8 yards per rush? They are also still one of the best pass defenses in football. You would think with those two solid core groups they would at least be competitive. They are not. They had two weeks to prep and are catching Baltimore in a letdown spot. But they are also just 5-13 ATS against teams over .500 and the road team is 0-4 ATS in this series. Buffalo is also just 1-6 ATS as an underdog.
Robert Ferringo is a writer and a professional college football and NFL handicapper for Doc's Sports. He has banked $6,000 in profit for his football picks clients after four straight winning football weeks and is rolling out an NFL Game of the Month prediction this week. He has brought in over $14,000 in overall profit in all sports over the last two-plus months. He has a Big Ten Game of the Year on the card this week and he's looking for more profit today. You can sign up for his college football and NFL picks and get more information here.