NFL Predictions and Picks for Week 1: Cowboys vs. Redskins Betting Odds
by Trevor Whenham - 9/12/2010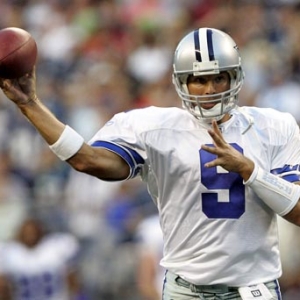 Dallas and Washington certainly don't get to ease into the regular season. They start things off with a brutal NFC East contest that could have repercussions right through to January. Dallas is hosting the Super Bowl this year, and the pressure couldn't possibly be higher for the Cowboys to play in it as well. The Redskins have gone through a major overhaul - new coach, new QB - and have had a training camp far too heavy in drama, so they will be looking to make a statement to start things off on the right foot, and a win here would certainly be a statement.
No Dallas player faces more pressure than QB Tony Romo. He's surrounded by great receiving talent (including rookie Antonio Bryant, who is ready to play after missing much of camp with an injury), he has the support of a strong running game, and his offensive line is strong. His offensive coordinator is talented and familiar. He has no excuses. Or at least he should have no excuses. Right now, though, there is one significant cause for concern - the offensive line that is supposed to be a strength. Both right tackle Marc Colombo and left guard Kyle Kosler are injured and out of action. That won't be a death blow for the Cowboys, but it's not ideal. Despite that, though, it's not that hard to have faith in Romo here - his issues typically arise in December, not September.
One thing Romo has going for him here is that he's not the QB that all eyes will be on. Donovan McNabb is a guy who some love and others have no time for. After years of excuses and falling short in Philadelphia, he got traded in the division and now he's being viewed by some as a savior. He has to get used to a new coach, new receivers and a new system, though, and he's dealing with an ankle injury he suffered against Baltimore on Aug. 21. He's been practicing, but he's not at 100 percent by his own admission.
McNabb shares the pressure evenly with Head Coach Mike Shanahan in this one. Shanahan was mostly successful in Denver, and he has the aura of a legend around him. He could have ridden that reputation into retirement and done TV work, but he has instead chosen to prove himself again. That doesn't always go well. He has to deal with an aging QB that can be difficult, and who will always be compared to John Elway as long as he works with the coach. He also has to deal with the continuing fallout from this ridiculous Albert Haynesworth war. Haynesworth and Shanahan have been at each other's throats since the start. Shanahan escalated things by playing Haynesworth for virtually all of the fourth playoff game - something that veterans just aren't asked to do. Haynesworth is supposedly going to play in this opener - if he isn't traded back to Tennessee first. If he's here he'll be a distraction.
Another interesting sidenote with Shanahan is his relationship to Dallas Head Coach Wade Phillips. The two worked together for Dan Reeves in Denver, with Phillips on defense. The Dallas defense has been very effective recently, but Reeves knows it better than most because of that connection.
Cowboys vs. Redskins Betting Odds and Line Movement
The game opened months ago with the Cowboys favored by 3.5, and it hasn't showed any real desire to move from there - though it can be found at the key number of three at a couple of places now. Nearly 70 percent of bets placed have been on the Cowboys. The total opened at 43.5 and has fallen as far as 39.5, with 40 widely available.
Cowboys vs. Redskins Betting Trends
The Cowboys are the better starters - they are 4-1 ATS in week one the last five years, while the Redskins are 0-3-2 ATS. The Cowboys aer also 9-3 ATS in their last 12 September games.
The road team is 4-0 ATS in the last four meetings between these teams.
Dallas has failed to cover four of their last five played on natural grass.
NFL Predictions for Week 1: Cowboys vs. Redskins Betting Picks
It's hard not to like the Cowboys here. I am concerned about the offensive line - especially because Romo was sacked far more than he should have been in the preseason. Still, they are an established team that has stayed largely intact, and they have an edge in most places on the field - QB, receivers, the running game, defense as a whole. Washington's record last year was no fluke, and while they have improved it is still a work in progress. Dallas should leap out of the gate about as good as they can be. I think that the Cowboys are going to make fairly easy work of this one. The total doesn't hold a lot of interest to me here - it's pretty tight - but in a pinch I would take the 'over'. Dallas is going to be able to score, and I expect Shanahan to have a trick or two up his sleeve to add a few points.
Allen Eastman is back with his 99 System for NFL predictions in 2010 and before he even came across this system he was considered one of the best NFL handicappers making picks against NFL point spreads in the nation – now he is even better with this wining NFL betting system. Last season the 99 System was 27-13 ATS and this system not only helped his clients make a ton of money, but also helped Eastman to third place in the prestigious Las Vegas Hilton NFL Contest. Call Doc's Sports toll-free at 1-866-238-6696 to get a free week of Eastman's picks or any of the other fine NFL handicappers at Doc's Sports (new customers only).