NFL Preseason Betting: Handicapping the Third Game
by Trevor Whenham - 8/26/2010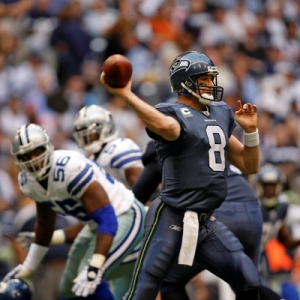 The third game of the NFL Preseason is a unique beast. In my eyes it's really the only preseason game worth playing close attention to. You can gain knowledge about team depth and backup quarterbacks in the early games, but Game 3 is when you can learn the most. It's not an exaggeration to say that the game is fundamentally different than the two that came before it, or the game that comes after it (the fourth preseason games, by the way, are unquestionably and absolutely the stupidest sporting events on the planet).
Here's a look at four ways that the third preseason game is different than any other, and four things you will want to be cautious about when you are thinking about handicapping and betting on these games:
Changes
Starters are going to play longer - For a lot of teams you could simply say that starters are going to play. Veteran quarterbacks, star receivers and running backs, and proven defensive players have barely seen the field so far in the preseason. That will change in this game. That doesn't mean that they are going to play the whole game, though they will in some cases. What it does mean, though, is that for the only time in the preseason the first string players on a team can be relied upon to have a significant impact on the outcome of the game. Up to this point it made no difference how the starting offense for one team match up to the starting defense for their opponents, because they were only going to be on the field together for a couple of series at most. Now they will face each other for at least the first half, and often much longer. Obviously that changes how these games have to be handicapped.
Playbooks are going to be deeper and more complex - This goes hand in hand with the last point. Because the starting players are going to play more we are going to see more intricate playbooks used. The players are just more capable and comfortable with what is being asked of them, so it is inevitable. That doesn't mean that we will see the same playbook that we will see in the regular season - teams won't give all of their tricks away now - but it does mean that we can rely on the offense to offer a truer test to the defense, and the defense to throw some creative wrinkles at the offense.
Players on the fringes of a starting role are going to get a long look - Starters are going to get their playing time, but what we are especially going to see in this team is players who may or may not be able to start. If a team has two players fighting for playing time at a key position then the coaches are going to want to see both of them match up against the opposing first stringers. If the players in question are both strong and talented then the competition could elevate the play for both of them, and could give bettors an edge. If the players are weak, though, then the platooning could give the opponents more chances to shine.
Some coaches will be more motivated to win than they otherwise are - Some coaches play every preseason game like it is the Super Bowl. Most don't. Some coaches, in fact, play the preseason like it's an annoyance that has to be persevered. The third game is when most coaches are going to be the most focused on playing the best game possible, and the most concerned about the outcome of the game. A coach who has seemed uninterested through the first two games could step his game up here, and that could give his team an edge.
Cautions
Game still doesn't matter - This game will be taken more seriously than the rest by the players and coaches, but they still know that it isn't a real game. Nothing meaningful is decided in August, and there is very little real advantage to be gained by beating another team now. Players and coaches will care about this game far more than any preseason game, but they will care about it far, far less than any regular season game. It's important to keep that in perspective.
Easy for coaches to value other things more than winning - Winning these games matters for coaches, but it's far more important to them that they prepare their teams as well as they can for the regular season. That means that winning will likely not be the most important goal for coaches. More significantly, some of those goals that are more important may actually work against the team's attempt to win. For example, it may be more important to a coach that a suspect running game gets a good test to try out the changes that have been made than it is for the offense to be at the most productive.
Starters are going to play longer, but still aren't likely to play it all - No matter what the starters are going to play less in these games than they well in almost any regular season game (with the possible exception of the last couple of weeks if a team has already clinched a playoff spot). It's harder to get a good feel for this game than for any other, then, because second- and third-rate players will be playing more than is ideal. Further, for most teams it's hard to know in advance how long the starters will stay in, so it's hard to adjust your handicapping accordingly.
For many starters this is their first significant action, so it won't be perfect - The top-level quarterbacks have played only a handful of series in the preseason. They also aren't going to be particularly motivated by this game. As a result it is very dangerous to assess players based on what we know they are capable of, because it is very likely that their play will not reach that level. Peyton Manning will still likely play a good game, for example, but he hasn't seen much game action and he really doesn't seem to care about the preseason, so his effort will likely not be close to what we will see in a few weeks.
Allen Eastman is back with his 99 System for NFL predictions in 2010 and before he even came across this system he was considered one of the best NFL handicappers making picks against NFL point spreads in the nation – now he is even better with this wining NFL betting system. Last season the 99 System was 27-13 ATS and this system not only helped his clients make a ton of money, but also helped Eastman to third place in the prestigious Las Vegas Hilton NFL Contest.