NFL Handicapping: The Haley and Sparano Firings
by Trevor Whenham - 12/14/2011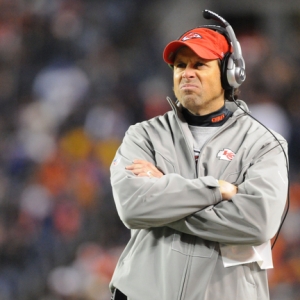 Monday was a bloody day of carnage in the NFL. It seemed likely that both the Dolphins and the Chiefs would be making coaching changes at the end of the season, but both organizations decided that it was time to end the suffering now.
Tony Sparano was fired in his fourth season. In his first year he became the first NFL coach to lead a one-win team to the playoffs the next year, and one of only two to pull off a 10-game turnaround. That was his only winning season, though, and he finishes his almost four-year stint with a 29-32 record.
Todd Haley had one fewer season to show his stuff with the Chiefs. He lifted the team from 4-12 in his first year to 10-6 and the playoffs last year, but he couldn't carry that momentum forward into this disastrous year and he leaves at 19-26.
The two coaches worked together in Dallas under Bill Parcells, so maybe they can console each other.
NFL handicappers face similar challenges figuring out how to deal with these two teams the rest of the way this year. Both teams have nothing significant to play for, both have been hit hard by injuries, and they both face tremendous uncertainty going forward.
In a perfect world you would just ignore the teams and the games they play in until next year. They both play some very interesting games, though — Kansas City plays Green Bay and potential playoff eliminators with Oakland and Denver, while Miami has dates with high-profile divisional rivals New England and New York.
In all of those games there could be opportunities to bet on the Dolphins or Chiefs if they are likely to be better than people expect, or to cash in by betting against them if their short term future is as bleak as it seems to be. But which is it? Let's take a look:
The short-term replacement
The Chiefs have the clear edge here. They have tabbed defensive coordinator Romeo Crennel as the interim head coach.
Crennel has head coaching experience in Cleveland, and should be able to command the respect of the players and institute a system that could work in the short term. He also has a history with Scott Pioli that should give him the support he needs.
He would be a lousy choice over the long term, but is a great interim choice.
Miami has chosen to go with secondary coach Todd Bowles as their interim leader. This is just the second team he has worked for — the first was the Cowboys with Sparano and Haley — and he has only been a secondary coach.
His inexperience and the fact that he clearly and obviously is only around for the short term will make it much harder for him to pull off anything impressive down the stretch.
The longer-term prospects
There are lots of names flying around in both places — Josh McDaniels figures prominently in the K.C. search, and the usual suspects like Bill Cowher have been thrown around in both places. Nothing is certain at this point, though, and isn't likely to be for a while.
What is clear in both places, though, is that frustration is high in the front office and the owner's suite. That means that the potential for change is high, and players on both teams are likely to be on edge.
The challenge is to determine whether that will be a motivating factor — if the players will be playing hard in an attempt to impress the next coach — or if they will be overwhelmed by the situation and use it as an excuse to quit.
My personal feeling is that Miami is a tougher team that is more likely to stay motivated despite their lesser coaching, so the uncertainty there concerns me less than it does in Kansas City.
The Dolphins have also known that they are certain to face a coaching change for a lot longer than the Chiefs have, and they have played well at times despite that.
The QB situation
Both coaches were brought down this year in large part by quarterback issues.
In Miami Chad Henne was hurt, and was inconsistent while healthy. Matt Moore has been solid in replacement, including a nice 4-2 run in his last six games. He would be far easier to trust that the situation in Kansas City, but of course it can't be that easy.
Moore suffered a concussion in his last game, and there is a good chance that he will be out of action and replaced by J.P. Losman. Losman hasn't played any meaningful time since leading the Las Vegas Locomotives to the UFL Championship in 2009, and he only joined the team on Oct. 25, so he's hard to get excited about.
Kansas City's problems are well documented. Matt Cassel failed to consistently impress, and then he was hurt. Tyler Palko was truly awful.
Crennel's first, decisive move as head coach was to name Kyle Orton as his starter. Orton has the unique advantage of already having started against the Packers once this year, but he hasn't been with the Chiefs for long and he doesn't have a lot of healthy parts left to work with, so it's hard to get excited about him, either.