NFL Odds for Green Bay Packers to Go Undefeated
by Darin Zank - 11/17/2011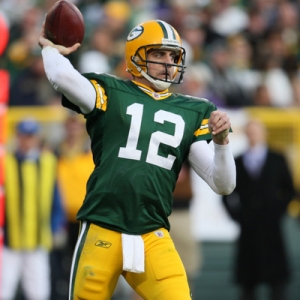 The Green Bay Packers are 9-0, and now they must deal with all the baloney that comes with making a run at perfection. That's their problem.
On our end, their situation opens up a betting opportunity. Namely, that online sportsbooks like TopBet are offering NFL odds on whether Green Bay can finish the regular season undefeated.
TopBet is offering odds of +400 on Green Bay going 16-0 this year, and a -600 price on the Packers finishing something other than perfect.

The question bettors must ask themselves is not whether the Packers can go 16-0, but will they? Well, they've looked awfully good in starting 9-0, although there are concerns about their defense. Then again, it looks like QB Aaron Rodgers and that Green Bay offense should be able to simply outgun anybody who gets in their way.
Here's a quick look at what lies ahead for the Packers, and the prospects for someone out there to prevent perfection:
Packers vs. Tampa Bay, This Sunday
The Buccaneers beat Green Bay the last time these two teams met, two years ago in Tampa Bay. QB Josh Freeman, in one of his first starring roles as a pro, brought the Bucs back from down 28-17 in the fourth to a 38-28 victory.
However, this Tampa Bay team comes into Sunday having lost three in a row to fall to 4-5, and the Bucs might be in the process of revealing that last year was a bit of a fluke.
What would it take for the Buccaneers to win?
Tampa Bay could try to run and hold the ball with LeGarrette Blount, and use Freeman's mobility to convert on third downs and in the red zone.
Defensively the game plan is probably to hold on and just try to withstand the barrage.
A couple of turnovers would help, as might some sloppy weather.
The Call
The Packers are favored by 14.5 points over the Bucs at TopBet. Over the last two seasons NFL double-digit favorites are 36-8 straight-up (although only 18-25 against the pointspreads). So we'll give Tampa a solid 18 percent chance of winning this game.
Packers at Detroit, Thanksgiving Day
The Lions beat Green Bay the last time these two teams met, and they knocked Rodgers out of action with a concussion. And with Detroit off to a 6-3 start you know the Lions and the Ford Field Thanksgiving crowd will be fired up for this one.
What would it take for Detroit to win?
If the Lions hit Rodgers at least several times, which is entirely possible, and if they get some increased production out of the 27th-ranked rushing game, which is much less likely, Detroit can stay in this game. But if this game goes into full-tilt shootout mode, which is also very possible, the Packers have the advantage.
The Call
Green Bay outrushes the Lions and wins, 40-30.
Packers at Giants Dec. 4
Green Bay has at least three games left with teams you'd expect to match up well against them, and this is one of them. And it's on the road.
The Giants lead the NFC East, so they'll have plenty to play for. The atmosphere at the new Meadowlands should be electric.
But in a big game for both teams late last year the Packers pounded the Giants at Lambeau, 45-17.
What would it take for the Giants to win?
Again, a balanced approach on offense and the ability to keep the ball away from Rodgers & Co., is crucial. So the G-Men will need to run the ball for more than the 89 YPG they're averaging right now.
As the league leaders in sacks New York should be able to pressure Rodgers and maybe get a pick or two. They will want to keep it close and the Giants have shown they can win games late.
The Call
This is probably Green Bay's biggest hurdle from here on out. But the Packers will be playing on three extra days off, after playing on Thanksgiving, while New York will be on a short week, after playing at New Orleans the previous Monday night.
We have to go with Green Bay here.
Packers vs. Oakland, Dec. 11
The Raiders are a tough team to figure out. They rank fourth in the league in rushing at 156 YPG, but 25th vs. the run. They can beat the Jets and Chargers but lose to the Chiefs and Broncos.
They're 5-4 and in first place in the AFC West, but they've been outscored on the season by 25 points. And now they're going through a transition as new QB Carson Palmer takes over.
What would it take for the Raiders to win?
Oh, 150 yards rushing, zero turnovers (ahem, Mr. Palmer?) and a minor miracle.
The Call
Green Bay by two touchdowns.
Packers at Kansas City, Dec. 18
This may have been a larger potential hurdle for the Pack had the Chiefs not suffered so many key injuries. KC almost looked like it had righted its ship after an 0-3 start, but the Chiefs have scored a total of 13 points in losing their last two games, and now might be without QB Matt Cassel the rest of the season.
What would it take for Kansas City to win?
Maybe Chiefs fans could slip Rodgers some extra-spicy barbecue, if ya know what I mean.
The Call
Green Bay's ball-hawking defense vs. an inexperienced QB like Tyler Palko is advantage-Packers.
Packers vs. Chicago, Christmas Night
If Green Bay gets to 14-0 they play their last two games at Lambeau. The first is another meeting with their good friends, the Bears. I say "good friends" because it's easier to be friends with someone you've beaten three times in a row than with someone who's been beating you.
Actually, though, Chicago has played the Packers fairly tough those last three meetings, and we expect more of the same for this game.
What would it take for the Bears to win?
Three things: zero turnovers from QB Jay Cutler, some open spaces for RB Matt Forte, and one big play from Devin Hester.
And scoring first wouldn't hurt. In two of the last three meetings in this series Green Bay jumped out to 14-0 leads, and held on from there.
The Call
Packer fans will be bawling in their beers if the chase for perfection is ruined by the Bears. And it could happen. At the very least we'll probably take the points in this game.
Packers vs. Detroit, Jan. 1
Detroit has lost 20 times in a row in the state of Wisconsin. And a team that can't run the ball or stop the run is going to have problems playing at Lambeau in January.
What would it take for the Lions to win:
Is "divine intervention" going too far?
The Call
We took the Packers to win in Detroit on Thanksgiving, so why wouldn't we take them to win this one, too?
Packers vs. Perfection: The Pick
Basically what you're betting on here is whether Green Bay can win a seven-game moneyline parlay, at odds of 4/1. Is that worth a wager? Some might say "yes," most would probably say "no," and a few of us might just make a play for the fun of it.
And there's no other way to play this prop than to take the odds and cheer on the Pack.