NFL Player Props Odds and Predictions: Chad Ochocinco and Plaxico Burress
by Alan Matthews - 8/3/2011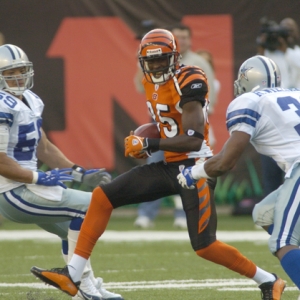 With Santonio Holmes returning to the New York Jets, Braylon Edwards still unsigned (as of this writing), Terrell Owens drawing no interest from anyone and Randy Moss apparently retiring (no chance he's gone for good – but that's a prop story for another day), the two biggest-name receivers to change teams so far this offseason have to be Chad Ochocino and Plaxico Burress. I'm not saying they are the two best receivers to change teams – I'd rather have Sidney Rice and Mike Sims-Walker, for example – but they are the two most "famous."
So among the NFL player props that Bodog has started to roll out, let's look at the options on both Ochocinco and Burress. Of course, the former was stunningly acquired in a trade by the New England Patriots from Cincinnati, while Burress signed a free-agent deal with the Jets, having last played for the Oneida Correctional Facility intramural team – save the "Longest Yard" jokes, I have no idea if Burress played any football while in prison. Of course, he hasn't played in the NFL since shooting himself in a nightclub during the latter part of the 2008 season with the Giants and eventually going to the clink on a gun charge.
Ochocinco got a restructured three-year deal to agree to head to New England. The 33-year-old, 10-year veteran caught 67 passes for 831 yards and four touchdowns last season. That was a drop-off from 2009, the last of his six Pro Bowl years, when Ochocinco had 72 receptions for 1,047 yards and nine TDs. He has seven 1,000-yard receiving seasons, leading the league with 1,369 in 2006.
Cincinnati's Carson Palmer might be a fine quarterback, but Ochocinco now has the reigning unanimous MVP and future Hall of Famer Tom Brady throwing to him. Ochocinco's 'over/under' totals on Bodog are: 850 yards, 65.5 catches and six total touchdowns. If Ochocinco behaves himself, and he has promised to blend in with the no-nonsense Patriots, I see no reason why he can't exceed all of those totals. His numbers went down last year because he moped a lot because Owens was getting more balls. Wes Welker will still be Brady's top target, but Welker is just a short-yardage receiver. I'm not comparing Ochocinco to Moss, but remember what Moss did when he got out of Oakland and landed in New England in 2007.
As for Burress, the good part about prison, I suppose, is that he didn't take the pounding of an NFL season for two years. However, he did look like he was slowing down in 2008 when he had just 35 catches for 454 yards and four touchdowns in nine games. Burress, 34 next week, will be very motivated contractually as he only got a one-year deal for about $3 million. Burress said he's in terrific shape, claiming he'll surprise people. He will essentially take over Edwards' role in the Jet offense. Last year, Edwards had 53 catches for 904 yards and seven TDs. Burress' 'over/under' totals are: 650 yards, 50.5 catches and five TDs.
Needless to say, the Jets are a running team first although Coach Rex Ryan says the team plans to throw it around more this season. I do love the 'over' five TDs because Burress can outjump just about anyone in the end zone at 6-foot-5. Mark Sanchez can throw some jump balls or high fades in the red zone, much like how Burress caught the winning touchdown to beat the unbeaten Patriots in Super Bowl XLII. By the way, Burress will wear Edwards' No. 17 this season.
I'm not sure that Burress tops the 50.5 catches because the Jets throw to their backs a lot, plus obviously Holmes, Jerricho Cotchery and tight end Dustin Keller will steal catches. But I do believe the 'over' yardage and touchdowns are a good bet barring injury.