2011 NFL Power Rankings - Week 11
by Robert Ferringo - 11/15/2011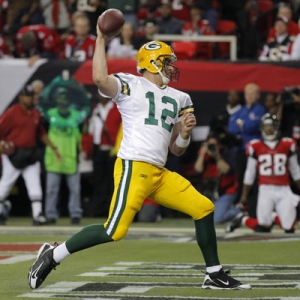 The weather is getting colder, the hits are getting harder, and the games are getting more critical as teams ride the elevator of expectations and expanded standings. In my opinion, November is the most crucial of months on the NFL schedule because it really sets the tone for the stretch run: some teams gain momentum and find the will for a strong finish, while other have dirt thrown on their graves and decide to mail it in.
No one is mailing it in yet and everyone is still playing for either pride or the postseason. With that in mind, here is my Week 11 version of Doc's Sports NFL Power Rankings:
1. Green Bay Packers (9-0) – Green Bay should maim Tampa's Cover-2 defense this weekend. They see a much better version twice a year with Chicago, so nothing the Bucs do will surprise the Packers. Green Bay is now 6-1 ATS in its last seven games but they have lost three straight to the Bucs, including a fluke 38-28 in Tampa back in 2009. Also, always beware of home favorites off a MNF win.
2. Pittsburgh Steelers (7-3) – Big Ben has a broken finger on his throwing hand, but it didn't seem to bother him last week. Having a late bye week like this is really a big boost for an older team like Pittsburgh. Also, the way Hines Ward has handled his demotion shows why he is a Hall of Fame guy and why this is a class franchise and why they are the standard-bearers for the NFL.
3. Baltimore Ravens (6-3) – These huge road letdowns from the Ravens have officially become an epidemic. For as well as this team has played, it is still pretty young and inconsistent from top to bottom. And for all the solid work they have done they will be fighting for their postseason life for the next seven weeks. Baltimore has been an excellent bounce-back team (they are 4-1 ATS after a loss) and they are dominating at home (48-23-1 ATS at home).
4. New England Patriots (6-3) – I absolutely do not expect Bill Belichick to take it easy or call off the dogs on Monday night against Kansas City. Remember: there are a lot of players and front office personnel with the Chiefs that defected from Foxboro and you know that Belichick is the kind of guy that holds a grudge. The Patriots are 7-3 ATS in their last 10 "Monday Night Football" games, but they are just 3-15 ATS when laying 10.5 or more as a favorite.
5. New York Giants (6-3) – Everyone has been making such a big deal about New York's schedule down the stretch. And there is some good reason for that, as they do have a killer closing slate. But if this team is as good as its rating suggests then teams should be more afraid of them then they are afraid of other teams. Remember: the Giants always thrive in the underdog role. That said, the G-Men are just 17-37-2 ATS in November and 2-5-1 ATS as a favorite, and late-season collapses have been a theme the last few seasons. Proceed with caution with this group.
6. San Francisco 49ers (8-1) – What can I say? I am still not 100 percent sold on this team, but there is no doubt that they are playing elite football. They have taken advantage of every situational edge they have had on their schedule, and you have to respect the physical nature that this team brings every Sunday. Also, elite players like Patrick Willis, Justin Smith and Frank Gore have been playing up to their reputations this year and that has made a huge difference. I don't see them slowing down. San Fran is 8-0 ATS as a favorite and has covered five straight against Arizona (winning the last four outright).
7. New Orleans Saints (7-3) – Offensively, obviously this team is good enough to win a Super Bowl. But I still have serious issues about their ability to get stops against more physical teams like the Giants and the 49ers. They have a big edge getting a late bye week and they will now have two weeks to prepare for a key NFC game against the Giants.
8. Chicago Bears (6-3) – Is there a hotter team in the NFL right now? I say no. Their defense is just ripping people to shreds and they are physically dominating inferior opponents right now. That said, Chicago has only beaten one team with a winning record since Week 2. Chicago is 6-1 ATS in its last seven games as a favorite.
9. New York Jets (5-4) – Having a short week this week will either be a blessing or a curse for the Jets as they try to put that loss to New England behind them. And I think we'll find out within the first 10 minutes of their game at Denver how it will impact them. Do the Jets have the will – the sheer will and toughness – to bang heads with Denver for 60 minutes? New York is 6-2 ATS as a road favorite, but they are just 1-4 ATS on the road.
10. Houston Texans (6-3) – Matt Schaub's injury is just a killer for this franchise, which was just starting to get things figured out. I don't think Matt Leinart will be as bad as people expect him to be. And if you look around the NFL right now quarterback play isn't exactly sparking, with a lot of pretty bad signal callers under center each week. No team in the NFL has had a more perfectly placed by week this season.
11. Atlanta Falcons (5-4) – Atlanta is right there with the Jets this week as the two teams that really have questions to answer, mentally, as they try to bounce back from a brutal loss. This team really needs Roddy White to play like the guy that was eating people alive last year. He has been a big underachiever this season and is kind of a microcosm of this team's struggles. Also, unless Deion Sanders comes out of retirement I don't see this team's pass defense improving and that is just killing them right now. Atlanta is 18-5 ATS after a loss and 18-7 ATS after failing to cover a spread.
12. Detroit Lions (6-3) – Detroit has talked the talk, but they are still a sloppy football team. Jim Schwartz needs to crack the whip on this team and reign in some of that wild, unbridled talent or this team will keep sinking like a stone. Matt Stafford's accuracy issue is starting to rear its ugly head. We will find out a lot about this team this week at home against Carolina. We need to see if they are just a fluky team that is going to play up or down to its level of competition.
13. Dallas Cowboys (5-4) – This team seems to have nine lives. Also, there is no way that they would be in the position that they are in right now if Wade Philips was still in charge. I would be wary about pounding the Cowboys this week against the overmatched Redskins. Dallas is just 2-8 ATS in the last 10 meetings and more than six points have decided just two of the last 10 meetings. The average margin since 2006 is just 6.4 points.
14. Cincinnati Bengals (6-3) – As little as I think of what the Bengals have already accomplished this year – they have played one of the easiest schedules in the league – the more tape I watch on this team the more I like them. They also match up very well with Baltimore and have actually beaten the Ravens six of the last nine meetings. The Bengals have won three of four with Baltimore and they are 7-2 ATS in the last nine meetings.
15. Tennessee Titans (5-4) – Did anyone have a better weekend than the Titans? Chris Johnson finally got things going, albeit against a pathetic Carolina defense. The Titans got a much-needed blowout win to regain their momentum and bounce back from that tough loss to Cincinnati. And finally, this team is the biggest beneficiary of Houston's quarterback quandary. My sleeper playoff team is alive and well! This has been an easy team to bet this year: they are 1-3 ATS as a favorite and 3-1-1 ATS as an underdog.
16. Oakland Raiders (5-4) – The fact that Oakland – with all of its issues – is the top team in the AFC West just goes to show how terrible it is. You still cannot trust this team laying points. They are 8-23 ATS as a favorite and 16-36-1 ATS when playing a team with a losing record. However, more than 83 percent of all the early betting has come in on Oakland this week.
17. Buffalo Bills (5-4) – This team definitely peaked a couple weeks ago and they are on borrowed time. Center Eric Wood, their most important offensive lineman, is out for the year. Kyle Williams, perhaps their most important defensive lineman, is also done for the season. This team's paper-thin lines are now a mess and are the biggest reason they have been outscored 71-18 in the last two weeks.
18. Tampa Bay Buccaneers (4-5) – I am furious with myself for how I have played this team this year. After last season I felt their 2010 had been a fluke and that they were due for a regression. I haven't bet them that way, but this is a team I will be looking to go against the rest of the year. They have been outscored by nearly 70 points on the season, and without LeGarrette Blount at full strength they are a weak offensive team.
19. San Diego Chargers (4-5) – As much as people want to think that the Chargers are still a good team, the reality is that they simply are not. Along with the Eagles, this is the most overhyped, overvalued team in the NFL. If you look at the roster of guys from 2008 or 2009 and look at it now you'll see that the talent level has taken a nosedive. There is a reason they didn't make the playoffs last year and they will not make it this season as well. The Chargers are 2-7 ATS on the year and just 1-6-1 ATS in their last eight road games.
20. Philadelphia Eagles (3-6) – Wait, so the Eagles aren't going to the Super Bowl? I have been saying for weeks that this team isn't any good. Their defense is a disaster and they just make too many mistakes. Weird how sloppiness, discontent, and negativity just seems to follow Michael Vick around, eh? Good thing Philadelphia isn't stuck with him for the next five years. Oops.
21. Denver Broncos (4-5) – I actually love what Denver is doing offensively. Let's not pretend that smash mouth football hasn't been around for 100 years. And with defensive personnel and schemes more and more constructed to handle pass-happy attacks I think Denver's offensive philosophy (which fits John Fox's general approach) can remain somewhat successful against certain teams. Denver is just 7-19-2 ATS in its last 28 home games.
22. Miami Dolphins (2-7) – I do not see this team quitting down the stretch and I am holding firm that this is going to be a team to watch the rest of the year in terms of ATS success. That said, I don't know if I trust them as a home favorite this week. The Fins are just 16-35 ATS when laying points and 18-48-1 ATS at home.
23. Kansas City Chiefs (4-5) – Matt Cassel and his noodle arm (actually, it is his hand that is hurt) are out this week and this team is a wreck right now. It was only a matter of time before that wretched offensive line got him injured. Tyler Palko was a disaster in the preseason and he absolutely is not ready to play at this level.
24. Seattle Seahawks (3-6) – I will give the Seahawks credit: they are as tough, physically, as any Seattle team I have scouted over the past five years. They are getting quality play out of Tarv Jackson – I am as surprised as you are – and outside of their disgusting 6-3 loss in Cleveland this team hasn't lost a single game to a team below .500. In fact, they have only played two teams (Arizona and Cleveland) that don't currently have a winning mark. Seattle is 7-1 ATS in the last eight meetings with the Rams and has won nine of 10 in this series outright.
25. Jacksonville Jaguars (3-6) – Jacksonville just keeps plugging along. The Jags overcame five turnovers last year to get a come-from-behind win against the Browns last season. That game was at home but they were clearly the more physical, more talented team in that game last November. They lost Rashean Mathis to a torn ACL, and that is a big blow to the secondary. The Jaguars are 6-1 ATS in their last seven games as a favorite and are on a nice 3-0-1 ATS push.
26. Minnesota Vikings (2-7) – The Vikings have not lost to a team with a record worse than 4-5 right now. And their two losses to sub-.500 teams came on the road at San Diego and at Kansas City. Both losses were by less than a touchdown. What I am saying is that this team is much better than its record. They did lose Antoine Winfield for the season on Monday and that will not help the leaky pass defense. The Vikings are just 4-11-1 ATS as an underdog and 7-20-3 ATS as a dog of a field goal or less.
27. Carolina Panthers (2-7) – Some of the luster has to be wearing off Cam Newton, who just continues to be way too cavalier with the ball. Regardless of his turnover issues, the main problem with this team is that I believe they have the worst defense in the NFC and the second-worst in the NFL (barely ahead of the Colts). These guys cannot stop anyone unless it is by accident. The Panthers are 4-10 ATS as an underdog.
28. St. Louis Rams (3-6) – The Rams should be 4-5 right now, on a three-game winning streak, and showing some growth, were it not for their collapse against Arizona. St. Louis has had no luck with Seattle, but this is a revenge game for the Rams after losing in the Emerald City in Week 17 last year. That game cost the Rams a trip to the playoffs. The favorite is actually 6-2 ATS in this series and the home team is 6-3 SU when they square off.
29. Arizona Cardinals (3-6) – I never, ever understood the idea that someone shouldn't lose their starting job because of injury. This is another great example of why that thinking is outdated and simple-minded: the Cardinals are 2-0 with John Skelton under center. Kevin Kolb was terrible and he isn't a very good NFL quarterback. Skelton is not very good, either, but Arizona is starting to show signs of life. Why would they mess with their momentum by starting Kolb again this week?
30. Washington Redskins (3-6) – Karma is a bitch, Mr. Snyder. One of the most soulless owners in sports is getting exactly what he deserves and I am not alone in wondering if this team will ever return to prominence under his watch. The offensive line is regressing and Washington doesn't have the skill players to compensate. That is putting pressure on the defense and this team is crumbling. That said, they should've beaten Dallas in the first meeting this year and the underdog is 22-6 ATS in the last 28 games in this rivalry series.
31. Cleveland Browns (3-6) – Honestly, I have nothing interesting to say about the most dull, boring, uninteresting team in the NFL. Pat Shurmur's completely unimaginative, passive approach to play calling and offense are directly responsible for this team losing last week. This team should remain a solid 'under' play, as four of their last five have stayed under the total.
32. Indianapolis Colts (0-10) – Yes, this team is hopeless. Their personnel is pathetic. Their veterans look like they have mailed it in. Their coach is way over his head. Their system is feeble. This team will absolutely make a run at going 0-16. The year Detroit did that they did go 3-1 ATS to close the year, but was just 3-3 ATS in its final six games.
Robert Ferringo is a professional NFL handicapper and is coming off an exceptionally profitable 2010-11 football season (college and pro). He is looking forward to building on his stellar football handicapping resume again this fall and you can check him out here.