This Week in NFL Betting By the Numbers
by Darin Zank - 12/28/2011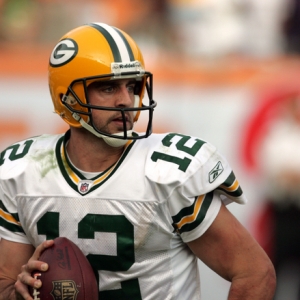 With one week to go in this regular season NFL schedule, nine playoff entrants have been decided, three are yet to be, as are numerous NFL Playoff seedings. Five teams are fighting for the last two spots in the AFC, and two teams will go head-to-head for the last playoff spot in the NFC.
Unfortunately, this also leaves us just one more week of a full schedule of games for NFL handicapping. So with that goal in mind, here are a few other numbers Doc's Sports readers might be interested in.
31st - The league rank of the Green Bay defense in allowing 401 yards per game this season. In fact, the Packers have now allowed more yardage than their fifth-ranked offense has gained (395 YPG).
12th – The ranking of the Packers defense in allowing 21 points per game. That's what leading the league in interceptions with 29 will do for you.
1 – Green Bay's seed in the NFC playoff bracket - the only number that really matters. That's other than, maybe, the 10-5 they are against the point spreads this season. In fact, the Pack is 31-21 ATS (including the playoffs) since Aaron Rodgers took over at quarterback. Unfortunately for Packers backers, no team can keep that up. As for this Sunday, with that top seed already wrapped up, oddsmakers are expecting Green Bay to rest starters against Detroit. As of Tuesday PM Bookmaker is listing the Pack as a 3 1/2-point home underdog vs. the Lions.
12 – Number of games this weekend with playoff implications of one degree or another. However, bettors should be aware of the exact circumstances surrounding a game before getting down on it. Last Saturday Dallas found itself in the somewhat strange situation of having its game with Philadelphia rendered basically meaningless when the Giants lost an early game to the Jets. The Cowboys then, knowing the NFC East title would be decided by their game with the G-Men this Sunday, phoned in a lackluster performance and lost. This week Atlanta is already in the playoffs and could be playing to avoid rival New Orleans in a wild card game. Then again, the Falcons may have nothing to play for vs. Tampa Bay if Detroit beats Green Bay early on. Bookmaker is listing Atlanta as a 12-point favorite over the Bucs, and the Giants as three-point favorites over Dallas.
4-0 – The ATS record of the Indianapolis Colts with Dan Orlovsky as the starting quarterback. The former UConn Husky, who once led the NCAA in TD passes, has performed well in mop-up duty with the Colts the last month or so, picking up back-door covers vs. the Patriots and Ravens, then leading Indy to its first two victories of this season, over Tennessee and Houston. What the last few weeks have done for the Big O's long-term future is uncertain; the Colts hope Peyton Manning can play next year, and they're still in the running for first draw in the Andrew Luck sweepstakes. But Orlovsky looks like he might be able to play in this league. For this week Bookmaker is listing Indy as a 3 1/2-point underdog at Jacksonville.
48 – Tim Tebow's completion percentage this season.
4 – Interceptions thrown by Tebow last Saturday in Denver's 40-14 loss at Buffalo. We don't want to pick on Tebow as we're sure he's a fine fellow. We're just still dubious of his ability to throw the ball, and of his long-term future as a starting quarterback. Oh, yeah, the Broncos went 2-for-13 on third down last week vs. the Bills 24th-ranked defense. For this week Bookmaker is listing Denver, which can win the AFC West with a victory, as a three-point favorite over Kansas City.
95 – Percent chance that Norv Turner's days as head coach in San Diego will end this weekend. I was a bit surprised to see that the Chargers are 48-31 under Turner, which is respectable. And he's regarded as a fine offensive coach. But despite all the talent the Bolts have had in recent years, they haven't won a single playoff game for Norv. So they've got to make a change. For this week Bookmaker is lining San Diego, which will miss the playoffs for the second straight season, as three-point dogs at Oakland in what should be Turner's last game.
1,000 – Approximate number of hairs I pulled out watching the Baltimore Ravens piss away a cover last week vs. the lowly Cleveland Browns. And that's not good for either my physical appearance or mental well-being. Baltimore was favored by 11 points last Saturday, and led Cleveland, 20-0, late in the third quarter. The Ravens then gave up a long punt return for a score, and allowed Seneca Wallace – Seneca Wallace, for cryin' out loud – to throw a touchdown on a third down, spoiling my four-team parlay. Easily one of my worst beats of this season. For this week Bookmaker is listing Baltimore as a two-point favorite at Cincinnati.