This Week in NFL Betting By the Numbers
by Darin Zank - 11/16/2011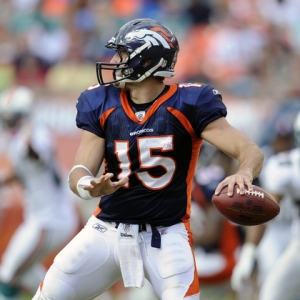 What did we learn from some NFL Week 10 numbers? Well, for starters, that you can complete two passes and win a game. And we learned that the NFC North might be taking over as the best division in the game. And we're reminded that we shouldn't let our liking of a team on a personal level get in the way of making good wagering decisions.
Here's a quick look at some numbers from Week 10 in the NFL, and a preview of some numbers for Week 11.
2 – Number of pass completions for Denver's Tim Tebow in the Broncos 17-10 win over Kansas City on Sunday. Tebow threw for a total of 69 yards Sunday, 56 of which came on one play. That play, however, was a long scoring hook-up with former Minnesota Gopher Eric Decker that clinched the victory for Denver.
3-1 – Denver's ATS record in Tebow's starts this season.
1-4 – The Broncos' ATS record in games not started by Tebow. For this week 5Dimes is listing Denver as a 4.5-point home underdog vs. the New York Jets Thursday night.
3 - Number of NFC North teams that would make the playoffs if they started today. The Packers lead the division at 9-0, while the Bears and Lions are tied for second place at 6-3. And those latter two teams lead the NFC wild-card race by a game over Dallas and Atlanta. For this week 5Dimes is listing Green Bay at -16 over Tampa, Detroit at -8 over Carolina and Chicago at -3.5 over San Diego.
4 – Number of NFC West teams that won Sunday, which is all of them. Sure, San Francisco's win over the Giants wasn't unexpected, but Arizona's upset of Philly and Seattle's shocking of Baltimore sure were. And St. Louis won a battle of attrition over Cleveland when the Browns botched a late field-goal. Same old Brownies. At 16-20 the NFC West is the second-worst division in football, ahead of only the AFC South (thanks to Indy) at 15-23.
5 – Weeks in a row NFL 'unders' have outnumbered the 'overs'. Last week the totals leaned toward the 'unders' by an 8-7-1 margin, as games averaged just 40 points per. So over the course of the last five weeks NFL 'over/unders' have gone 24-44.
9 – The number of teams that could be operating this weekend with a starting quarterback other than the one they began the season with. It's getting to be a rough year on QBs. Miami lost Chad Henne to injury and is now being quarterbacked by Matt Moore; Indianapolis lost Kerry Collins, who was subbing for Peyton Manning, and is now going with Curtis Painter; Oakland lost Jason Campbell, and so traded for Carson Palmer; Denver benched Kyle Orton in favor of Tebow; Minnesota dumped Donovan McNabb in favor of rookie Christian Ponder; and the Arizona Cardinals have been starting John Skelton in place of the injured Kevin Kolb. After last weekend we add to this list the Houston Texans, who lost Matt Schaub and will now apparently go with Matt Leinart; the Chiefs, who lost Matt Cassel and will now go with Tyler Palko; and the Philadelphia Eagles, who might have to go with Mike Kafka or even Vince Young this week vs. the Giants after Michael Vick broke a couple ribs Sunday.
2002 – The last year the 49ers made the playoffs. This year the Niners are 8-1, own a five-game lead in the NFC West, and have five games remaining with Arizona, St. Louis and Seattle. And they're only a game back of the Packers in that battle for the best record in the NFC. They've also been the best team in the league to bet on, going 8-0-1 ATS. San Francisco will probably be favored in five of their last seven games, although the other two are tough ones at Baltimore and at home vs. Pittsburgh. But if Green Bay should stumble, the Niners could be in very good position to steal away home-field advantage for a Packers-Niners playoff game. Maybe, say, for the NFC Championship? For this week 5Dimes is offering San Francisco at -11 over Arizona.
99 – Percentage of "experts" who called Atlanta coach Mike Smith's gamble to go for it on fourth-and-inches in overtime vs. New Orleans Sunday a bad move.
99 – Percentage of "experts" who would have hailed Smith's decision as "gutsy" and/or "genius" had the Falcons made it. For this week 5Dimes has Atlanta lined at -5.5 over Tennessee.
1 – Wagers I lost Sunday by betting with emotion and taking Cincinnati, rather than going with my head and backing Pittsburgh. I've had my eye (and more) on the Bengals this season, and they've been good to me, going 7-2 ATS. They're only giving up 18 points per game, so they're in every contest, and yet I don't think they've earned much trust among either linesmakers or the betting public. So Cincy could still be underestimated. But the Steelers fit as bounce-back plays after losing to Baltimore, and I should have known better.