NFL Combine: Biggest Storylines
by Trevor Whenham - 2/21/2012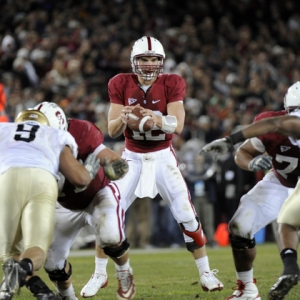 With the NFL Combine starting on Wednesday in Indianapolis it's a good time to check in on some of the bigger — or at least more interesting — storylines to keep an eye on during the action:
The top two quarterbacks
By this point everyone knows that the top two guys are Andrew Luck and Robert Griffin III, and that no other pivot is even close. Most people also know that Luck is very well positioned to go first overall to Indianapolis.
There isn't going to be a whole lot of significant drama in Indianapolis this week — neither guy is expected to be an active participant in quarterback drills. Still, it will be interesting to see how both guys carry themselves, and if either does anything to seize momentum.
Both guys are very polished and professional, so there isn't likely to be anything dramatic, but you never know.
Griffin already made one small move this week that was at least a bit of a sign that he is conceding status to Luck — both of their pro days were scheduled for the same day, so Griffin shifted his to avoid conflict. That's not something you would necessarily worry about if you weren't concerned that you had ground to make up.
The other quarterbacks
There is a big gap between the top two and the rest of the pack, and there isn't a lot of clarity regarding who the next guy deserves to be. That means that a lot of those guys have a lot on the line this week, and they'll be looking to take the opportunity to shine while they have the chance to be briefly outside the shadow of the top two.
Ryan Tannehill of Texas A&M seems to be sitting third in most people's lists at this point. Can he maintain that, or will he falter? Can Brock Osweiler of Arizona State have a particularly good week and close the gap? How about Nick Foles of Arizona?
At least as interesting as that, though, will be seeing if some of the guys who aren't gaining any traction can find some in Indy.
Michigan State's Kirk Cousin has the tools, but he needs to show them off and impress scouts with accuracy that he didn't always display in college. No one doubts the talent of Wisconsin's Russell Wilson, but he'll have to blow people away to overcome the biggest knock against him — he's too short for the NFL in most eyes. Kellen Moore of Boise State has done nothing but win games, but many doubt whether he has the physical tools for the next level, either. Brandon Weeden needs to impress enough for a team to take him despite the fact he's already 28. B.J. Coleman of Tennessee-Chattanooga is getting some buzz and could climb the rankings with a big showing.
The second wide receiver
There is absolutely no doubt that Oklahoma State's Justin Blackmon will be the first receiver off the board. He's an absolute freak, and could go as high as second to St. Louis. Behind that, though, there is a real dog fight to be the second pass catcher off the board.
The second choice is likely a war between the undersized Kendall Wright of Baylor, and the much bigger Michael Floyd from Notre Dame. Wright seems to have a slight edge — in part because of Floyd's off-field issues in the past — but the gap isn't wide, and a clearly superior performance here could be decisive.
Can Riley Reiff shine?
There is no better candidate among guys likely in the top half of the first round already for a breakout performance than the offensive tackle from Iowa. Matt Kalil of USC is almost universally seen as the top OT in the class, but Reiff isn't far behind. The Hawkeye has the body and athleticism to shine in the Combine setting, and he has been working very hard in preparation . He may not be able to pass Kalil with a big showing, but he certainly can secure a Top-10 pick and a huge payday.
Make or break time for trouble-makers
There are a lot of guys who have to overcome some real off-field issues in their past if they want to secure the high pick that their talent would indicate they deserve. Luckily for them, some guy named Cam Newton had some major issues in his past, but picking him first overall worked out alright for the Panthers.
Four guys stand out as guys who need to prove to teams that they can similarly put their past in the past and be model NFL citizens.
Cornerback Janoris Jenkins was kicked out of Florida after three arrests, and finished his career at North Alabama. He is exceptional in coverage, and can be an every down contributor. Cornerback Janzen Jackson was booted out of Tennessee after an arrest and other personal issues. He moved to McNeese State last year. If he can convince teams that his drama is in the past then he'd be very handy — especially because he is versatile enough to play corner or safety. Yet another corner with issues to overcome is Dre Kirkpatrick of Alabama. He's quite probably the second best corner in this class, but he was stupid enough to celebrate his National Championship by getting arrested for a drug charge. Needless to say, he'll have some explaining to do. To close out the theme, corner Trumaine Johnson of Montana is a big guy with incredible natural talent. He also has an incredibly lousy attitude, and repeatedly has had issues getting along with teammates and with going beyond his natural ability. He needs to show that he won't be a wasted pick.