NFL Home Underdogs: Valuable Betting Option?
by George Monroy - 12/13/2012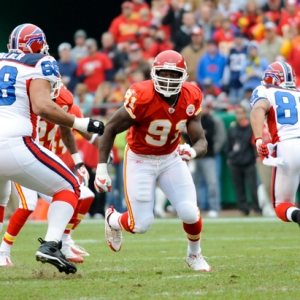 As sports bettors, we have all heard about the value of betting NFL home underdogs. The smart bettor is never afraid to take the points on a home underdog, which is usually the opposite of the general public, who love to bet the favorites as often as possible. And while it might seem like a logical thought process to take a NFL home team plus points, how much value do they really have?
If you were to look at the stats online, what you would most commonly find is that NFL home underdogs win at a 54 percent rate, which is about one percent over a standard break-even point. But the trouble is there are very few in-depth studies that break down the stats and really show what a 54 percent rate really means. Generally, what you will find online is something to the effect of "over a 20-year period NFL home underdogs win at a 54 percent rate". While that stat can be helpful, it really does not help a bettor figure out how profitable betting a home underdog is at moment.
So, while home underdogs have been a profitable wager in the past, let's take a minute and examine how they have fared this NFL season and find out how much value they really have.
Home underdogs during the 2012 NFL season
Heading into Week 15 of the 2012 NFL season there have been 76 games that have featured a home underdog. Overall, there have been 208 games at the conclusion of Week 14, and 36 percent of them have featured a home underdog — so around one in every three games.
Home underdogs have not fared well during those games, and they have a straight up win-loss record of 29-47 — which is exactly what you would expect since the better team should come out on top regardless if the game is played at home or on the road. However, what happens when you add the spread into the mix? In order for this season's games to win at a 54 percent rate they need to have a record of 41-35.
Unfortunately, this season's home underdogs only have an ATS record of 34-39-3, for a 44 percent win rate. The average spread has been 3.5 points, and the general outcome has been that when home underdogs lose, the spreads do not really come into play. The home team has won 29 games SU as an underdog, and adding the spread has only accounted for five extra wins for a six percent difference. Here is a quick breakdown of the spreads and their records.
+7 points or more: 6-6-1; 46 percent win rate
+3.5 to 6.5: 9-12-1; 40 percent
+1 to 3: 19-21-1; 46 percent
After taking a look at the home underdog lines, we see that the most common spreads are from one to three points, and that happens 53 percent of the time. We also notice that spreads ranging from 3.5 points to 6.5 points are covered the least. In general, home underdogs have not provided much value over the course of the season, and betting them blindly would definitely be a losing proposition.
Conclusion:
Home underdogs may have a winning record over the past 20 years, but they have not been a positive expected value bet this season. However, the question still remains: are home underdogs a good bet? It would be naïve to discount the value of getting a home team plus points, but this season the home underdog has been running well below expectations. Your best bet would be not to add any extra value on a home team getting points and go about your standard pre-game analysis when placing a wager. Remember to bet wisely, and may the spread be with you.
Quick Facts: 76 home underdogs /SU record: 29-47 /ATS Record: 34-39-3 /Average spread: 3.5 points
Week 1: Four Games
Eagles vs. Browns +7.5 (17-16)
Patriots vs. Titans +6.5 (34-13)
Falcons vs. Chiefs +1 (40-24)
Panthers vs. Buccaneers +3 (10-16)
Week 2: Six Games
Vikings vs. Colts +1.5 (20-23)
Saints vs. Panthers +3 (27-35)
Raiders vs. Dolphins +2.5 (13-35)
Texans vs. Jaguars +7.5 (27-7)
Cowboys vs. Seahawks +3 (7-27)
Redskins vs. Rams +3 (28-31)
Week 3: Nine Games
Giants vs. Panthers +1.5 (36-7)
49ers vs. Vikings +7 (13-24)
Lions vs. Titans +3 (41-44)
Jets vs. Dolphins +3 (23-20)
Bills vs. Browns +3 (24-14)
Eagles vs. Cardinals +4 (6-27)
Texans vs. Broncos +3 (31-26)
Steelers vs. Raiders +5 (31-34)
Packers vs. Seahawks +3.5 (12-14)
Week 4: Five Games
Patriots vs. Bills +4 (52-28)
49ers vs. Jets +4.5 (34-0)
Chargers vs. Chiefs +1 (37-20)
Seahawks vs. Rams +3 (13-19)
Bengals vs. Jaguars +2 (27-10)
Week 5: Six Games
Cardinals vs. Rams +2 (3-17)
Falcons vs. Redskins +2.5 (24-17)
Packers vs. Colts +7.5 (27-30)
Ravens vs. Chiefs +5.5 (9-6)
Bears vs. Jaguars +5.5 (41-3)
Texans vs. Jets +9 (23-17)
Week 6: Three Games
Steelers vs. Titans +6 (23-26)
Bengals vs. Browns +3 (24-34)
Patriots vs. Seahawks +3 (23-24)
Week 7: Fours Games
Packers vs. Rams +6 (30-20)
Cowboys vs. Panthers +2 (19-14)
Saints vs. Buccaneers +3 (35-28)
Steelers vs. Bengals +3 (24-17)
Week 8: Four Games
Patriots vs. Rams +7 (45-7)
Chargers vs. Browns +2.5 (6-7)
Giants vs. Cowboys +1.5 (29-24)
49ers vs. Cardinals +7 (24-3)
Week 9: Five Games
Broncos vs. Bengals +4 (31-23)
Dolphins vs. Colts +2.5 (20-23)
Ravens vs. Browns +3.5 (25-15)
Lions vs. Jaguars +4 (31-14)
Bears vs. Titans +4 (51-20)
Week 10: Five Games
Colts vs. Jaguars +3 (27-10)
Giants vs. Bengals +4 (13-31)
Broncos vs. Panthers +3.5 (36-14)
Falcons vs. Saints +2.5 (27-31)
Lions vs. Vikings +2 (24-34)
Week 11: Four Games
Packers vs. Lions +3.5 (24-20)
Buccaneers vs. Panthers +1.5 (27-21)
Bengals vs. Chiefs +3.5 (28-6)
Saints vs. Raiders +4.5 (38-17)
Week 12: 10 Games
Texans vs. Lions +3.5 (34-31)
Patriots vs. Jets +7 (49-19)
Seahawks vs. Dolphins +3 (21-24)
Titans vs. Jaguars +3.5 (19-24)
Falcons vs. Buccaneers +1 (24-23)
Steelers vs. Browns +1 (14-20)
Broncos vs. Chiefs +10 (17-9)
Ravens vs. Chargers +1 (16-13)
49ers vs. Saints +1 (31-21)
Panthers vs. Eagles +3 (30-22)
Week 13: Seven games
Patriots vs. Dolphins +7 (23-16)
Panthers vs. Chiefs +5.5 (21-27)
Texans vs. Titans +7 (24-10)
49ers vs. Rams +7 (13-16)
Bengals vs. Chargers +1 (20-13)
Browns vs. Raiders +1 (20-17)
Giants vs. Redskins +2.5 (16-17)
Week 14: Four games
Broncos vs. Raiders +10 (26-13)
Bears vs. Vikings +1 (14-21)
Jets vs. Jaguars +3 (17-10)
Falcons vs. Panthers +3 (20-30)