2012 NFL Power Rankings - Week 11
by Robert Ferringo - 11/14/2012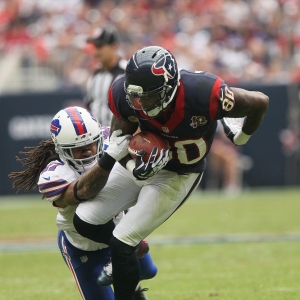 It was another strong week for the betting public last week, as the most heavily bet favorites on the board – Indianapolis, Denver, Tampa Bay and Dallas – came through again. That now makes back-to-back profitable weeks for the bettors…but anyone that has been around NFL betting for any length of time knows that it is a matter of "when" and not "if" the books are going to turn the tables and get it back.
This is an awkward week in the NFL. This is the final schedule with any bye weeks factored in. And there are a plethora of teams either playing on a short week (Miami and Buffalo) or preparing to play on a short week with the annual Thanksgiving games.
When you factor in some emotional clashes last week, such as Atlanta-New Orleans and Houston-Chicago, as well as the fact that several teams (Carolina, Philadelphia, etc.) essentially had their playoff hopes crushed by crippling losses last week, I would say that trying to handicap the mental focus and well-being of teams is the top priority of any bettor this week.
Here are Doc's Sports Week 11 NFL power rankings:
1. Houston Texans (8-1) – The tape says one thing. The numbers say another. Houston has not played great football this season. They truly haven't. But they have still been able to dominate weaker opponents. They are 16-point favorites this week, but this is a tough spot coming after an emotional Sunday night winner and with a Thanksgiving game in Detroit on deck.
2. San Francisco 49ers (6-2-1) – If I had to guess, I think that Alex Smith is going to play on Monday night. I base this on nothing but the fact that I don't think that Jim Harbaugh will hold a guy out if that guy is vertical. The favorite and the home team has gone 5-1 ATS in the Bears-Niners series, and San Francisco is an awesome 21-6 ATS in their last 27 "Monday Night Football" games.
3. Pittsburgh Steelers (6-3) – I know that Big Ben is a tough dude that is perpetually playing through some kind of "nagging" injury. (It is kind of a running joke in the Steelers locker room about how dramatic he is about his injuries.) But he has a separated shoulder and I will be very surprised to see him on Sunday night against Baltimore. If that is the case, the Ravens and the "under" has to be the call because Byron Leftwich is a disaster waiting to happen.
4. New England Patriots (6-3) – I recently compared betting on the Patriots to that old ex-girlfriend that you would call when you were wasted at 2 a.m. You know that you shouldn't do it. But they are just so inviting and it's just hard to say no when the booze and the adrenaline get the best of you. The Patriots defense has completely regressed after a promising opening month. Right now they can't stop anyone and their pass defense is a disaster.
5. Denver Broncos (6-3) – As I have pointed out, this team is only getting better. D.J. Williams – the team's best defensive player – is back in the fold after missing the first nine games due to various suspensions. The home team in the Chargers series is just 1-6 straight up. But I expect the Broncos to pick up right where they left off in their amazing second half comeback at San Diego on MNF.
6. New York Giants (6-4) – No one should be surprised by New York's midseason lull. The G-Men will take November off, put themselves in a backs-against-the-wall situation in December, and then start their annual postseason march. The word on the street is that Eli Manning has a "dead arm". I don't know if that is the case. But I know that this team needed a bye several weeks ago. They need to regroup but are still an elite team.
7. Atlanta Falcons (8-1) – This might seem like a harsh drop for the team I had No. 1 last week. But the thing that bothers me most about Atlanta is their lack of depth, especially on defense. Atlanta's starting 22 is awesome. But the physical toll of the NFL season is starting to wear this team down a bit. And their inability to convert crucial, critical fourth-and-short situations is now as much mental as it is physical.
8. Chicago Bears (7-2) – When the defensive touchdowns and special teams touchdowns dry up – and those "fluke" scores usually aren't there against quality opponents – the Bears are vulnerable because their offensive line is still suspect. Any team with a semblance of a pass rush is going to throttle this unit. Jason Campell is better than at least a dozen starting quarterbacks in the NFL right now so the Bears offense shouldn't suffer too much with him at the helm.
9. Green Bay Packers (6-3) – Clay Matthews is expected to be doubtful this week for the Packers. Without him and Charles Woodson this Green Bay defense is a sieve. (Heck, even with those two this D was porous.) The under is actually 4-2 in the last six meetings between these two teams. The total is 51.5 right now, but I will be surprised if it isn't around 54.5 or 55.0 by kickoff.
10. Baltimore Ravens (7-2) – We can only be so impressed with Baltimore's evisceration of Oakland. After all, it's the Raiders. But the Ravens have shown increased focus after their bye week and have covered two straight. The underdog is 7-2-1 ATS in the last 10 games with the Steelers. And if you kick out Baltimore's 35-7 maiming in Week 1 of last year then the average margin of the last 10 meetings is just 4.2 points per game, with six of 10 being decided by just a field goal.
11. Seattle Seahawks (6-4) – A bettor would have won nearly 63 percent of their wagers over the last 10 years by simply betting on the home team in all Seattle games (96-57). That is simply stunning over a 153-game sample size.
12. Minnesota Vikings (6-4) – This bye week came at a perfect week for the Vikes. They were able to steal a game last week without Percy Harvin. But their offense can't survive without him in the long term.
13. Tampa Bay Buccaneers (5-4) – The Bucs have covered three straight and seven of nine games so far this season. They beat Carolina in their Week 1 meeting, but the Panthers actually outgained the Bucs in that contest. The favorite is 8-2 ATS in the last 10 in this series. But Tampa Bay is catching points in this one mainly because they have been on such a killer ATS run, not because the oddsmakers feel they are the clear-cut better team in this game.
14. Cincinnati Bengals (4-5) – All of the focus in the AFC North is on the battle between the Steelers and Ravens. But does anyone else think that Cincinnati is in the position to make a move against its battered rivals? Or was last week's home upset of the Giants simply a tease from a team that hasn't beaten an opponent with a winning record in nearly three seasons.
15. New Orleans Saints (4-5) – Everyone is back on the Saints bandwagon. But I have to say that I am still skeptical. I know I have them No. 14, but look at the five teams behind them and tell me how you decipher which team is going to play each week? New Orleans is catching nearly 90 percent of the early betting this week in their game at Oakland, and this contest could be setting up for a classic public burial. The Saints are 10-2 ATS after a win and 5-2 ATS against a sub-.500 team.
16. Dallas Cowboys (4-5) – Just for the record, I'm not buying into Dallas. I only have them rated this high because, like New Orleans, the teams behind them are that hopeless. Dallas is off a tough road win over division rival Philadelphia. And they host bitter rival Washington next Thursday for a Thanksgiving game. In between they are massive favorites against a seemingly helpless opponent. You see where I'm going with this? This week is a huge letdown spot for Dallas, which has five of its next six games at home.
17. Washington Redskins (3-6) – Mike Shanahan's best role has always been coming out of a bye week. He is 0-2 ATS in his last two shots at it with the Redskins. But Shanahan went 10-2 ATS in his last 12 games with an extra week of rest while he was coaching Denver. The Redskins have not been a strong favorite this year, losing to the Rams, Bengals and Panthers when laying points.
18. Detroit Lions (4-5) – Quite simply: this team can't be trusted. And, truthfully, I'm not sure how they have won a game all season – with the exception being their win over joke Jacksonville. Detroit has the stench of loser, and they are playing just their fourth home game of the season this week against Green Bay. Detroit has lost nine of 10 to the Packers over the last five years and they are just 3-7 ATS in this series. Aaron Rodgers should have a field day against the same secondary that Matt Flynn hung 45 points on last January.
19. Carolina Panthers (2-7) – The coaching staff and front office of this team is such a mess that it is impacting the players on the field. This is still a young team that needs to play hard for the rest of the year in order to build for a bounce-back season in 2013. But will they? This is a dangerous team that I could see going 5-2 down the stretch. Really. They have played the most difficult schedule in the NFL
20. Indianapolis Colts (6-3) – Nope. Sorry. I am still not buying into the Colts one bit. This team has played one of the easiest schedules in the NFL, and they have a 6-3 record despite being outscored by 15 points on the season. That's right: they have been outscored on the year. I am apparently also the only one who thinks that Andrew Luck is supremely overrated right now. But we'll let the season play out and let the market decide on Indy's value.
21. Miami Dolphins (4-5) – Right when I was ready to start buying into this team they go in the tank in back-to-back weeks. We shouldn't be surprised that the Dolphins secondary has played so poorly the last two weeks. Instead, we should be stunned that it wasn't exposed earlier in the year.
22. Philadelphia Eagles (3-6) – I have said it before and I will say it again: one of the great myths in the NFL right now is that the Eagles have a lot of talent. They do not. In fact, this roster is pretty piss-poor. Outside of LeSean McCoy and some guys off the defensive line there is no one on this team that I couldn't live without. I fully expect this group to mail it in through December. But we'll get an indication of their motivation this week at Washington.
23. St. Louis Rams (3-5-1) – I really like the Rams as an underdog. That is Jeff Fisher's best role, and the Rams are 6-3 ATS this year when they are catching points. However, now they find themselves in the unfamiliar role of favorite, and that is a transition that not a lot of lower-tier teams can make. St. Louis' last four losses/ties have come against San Fran, New England, Green Bay, Miami and Chicago. Besides the loss to the Dolphins, those are four losses/ties against teams that I have securely in the Top 10 in the NFL and shows that the Rams might be better than their record suggests.
24. Arizona Cardinals (4-5) – I'm not sure what it is, but I expect a strong effort from the Cardinals this week. Yes, they have been exposed as frauds after their strong close to 2011 and their torrid open to 2012. But the Cardinals do still have some solid individual talents, and they seem better than a 10-point dog on the road this week. Don't forget: this week the Cards have to overcome the dreaded West-Coast-Team-Playing-At-1 p.m.-EST curse. But the Cards did pull the upset of the year already this season when they beat New England in Foxboro.
25. New York Jets (3-6) – I don't know why people keep trying to talk themselves into this team. They are awful. Their talent level is low, their skill position players are among the worst in the NFL, and this team is only seems to show up as a home underdog. The Jets are 4-9 ATS on the road and were noncompetitive after the first quarter last week.
26. San Diego Chargers (4-5) – Bye, bye, Norv.
27. Tennessee Titans (4-6) – The Titans earned their bye week with one of Week 10's biggest surprise performances. Stunningly, this team has four wins this year despite being ranked No. 25 in total offense and No. 29 in total defense. They have been outscored by an average of nearly 10 points per game (No. 29 in the NFL). Their metrics suggest they should be 2-7 this year, and that comes after being one of the league's bigger statistical overachievers in 2011.
28. Buffalo Bills (3-6) – This week's Thursday night home game is pretty much the last thing that the Bills and their fans have to hold onto before that harsh, unrelenting cold sets in on their town and their offseason. The Bills are 13-8 ATS the week after facing the Patriots. They are catching Miami in their third road game in four tries, but the Bills are just 2-5 ATS at home and just 5-11 ATS in conference games.
29. Cleveland Browns (2-7) – The Browns have been bad, but they haven't been hapless. Cleveland has just one loss this year by more than 10 points, a 14-point loss at New York where the Browns blew a 14-0 lead against the Giants. But Cleveland is catching Dallas at the perfect time, and if the Browns are going to spring an upset over the second half of the season this might be the spot.
30. Jacksonville Jaguars (1-8) – I know I am just being stubborn now, but I still feel like the Jaguars are better than they have played this year. However, Mike Mularkey has proven again why he shouldn't be an NFL head coach. And the problem with Blaine Gabbert – who is not even a CFL-caliber quarterback – is that he still might be better than Chad Henne, who is pathetic. If this team had a semi-competent quarterback and head coach I think they would've threatened .500 this season. But they do not.
31. Oakland Raiders (3-6) – I have said before that anyone that bets on Oakland deserves all of the bad things that happen to them, because the Raiders are a joke. And without Darren McFadden and Richard Seymour this team is completely unhinged. However, I do think the Raiders can be dangerous this week against a New Orleans team that is in a massive letdown spot. That said, there is no way I would put a single dollar down on these losers this week.
32. Kansas City Chiefs (1-8) – Matt Cassel is the Ubaldo Jiminez of the NFL. Both of them had that one season that backers point to as proof that there is talent. But the reality is that both of them have noodle arms and are among the worst in their respective sports.
Robert Ferringo is a professional NFL handicapper has banked nearly $10,000 in football profit over the last 12 months he has had football picks. He will keep it going this week and is looking forward to building on his stellar football handicapping resume again this fall. You can check him out here.