2012 NFL Power Rankings - Week 13
by Robert Ferringo - 11/27/2012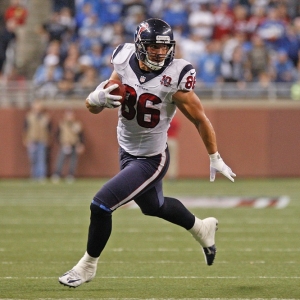 An underrated story of the last two football seasons is that we have had, nationally, back-to-back years with mild, extended falls. The weather has had little to no impact on late-season football over the last two seasons and that has helped pass-wacky favorites continue to cover big spreads deep into December.
This week we aren't going to see the cold, crisp temperatures that early December is known for. However, there is quite a bit of rain in the forecast and that could influence both the sides and the totals in games in Buffalo, Tennessee, Miami and Baltimore. Also, several warm-weather teams (Jacksonville and Tampa Bay) are heading into near-freezing climates and that could definitely be an underreported angle in each of those games.
This time of year – don't forget those weather reports. They haven't been much of a factor in awhile. But we're always just one cold front away from the next Ice Bowl.
Here are Doc's Sports Week 13 NFL power rankings:
1. Houston Texans (10-1) – The Texans, off a pair of grueling overtime wins, are at a situational disadvantage this week at Tennessee. Not only is this their second straight road game, but also they basically played 10 quarters in five days and are now facing a rival that recently had a bye week. Neither the Texans nor the Titans have swept their season series in over five years (Houston won the first meeting, 38-13).
2. San Francisco 49ers (8-2-1) – I still want to take a wait-and-see approach to Colin Kaepernick. He has been very impressive in his two starts, and there is a lot to like. He gives this team a difference-maker on offense that they haven't had before. But the NFL is an adjustments league. And we won't be able to tell what his true capabilities are until we see defenses adjust to his skill set and then measure his response to that. But he has given this offense a jolt.
3. New England Patriots (8-3) – That is now 190 points in the last four games for the Patriots. Granted, they have four defensive touchdowns in the last two games. But even without those scores we're still talking about "just" an average of 41 points per game over their last four contests. The Patriots have won 19 straight regular season games in the second half of the year. They are 37-17-2 ATS on the road and the visitor is 8-2 ATS in the last 10 meetings with Miami.
4. Denver Broncos (8-3) – That is now back-to-back weeks where the Broncos have won but not covered the spread. The oddsmakers have caught on to Peyton Manning's little game, and all the value that I was screaming out with this team early in the season has all but vanished.
5. New York Giants (7-4) – I will never, ever, ever again bet against a Tom Coughlin-led Giants team in a nationally televised game. And that goes for this week's "Monday Night Football" tilt with the red-hot Redskins. The G-Men are 4-1 ATS in their last five MNF games and are 38-16-1 ATS in their last 55 road games.
6. Atlanta Falcons (10-1) – This Thursday is a big revenge game for Atlanta. They have lost to their hated rivals four times in a row and dumped seven of eight against the Saints. They actually outgained New Orleans in the first meeting and lost the game because their Achilles heel – failure to convert short-yardage situations – was exposed again.
7. Green Bay Packers (7-4) – Arizona is the only team that has allowed more sacks than the Packers this year. Aaron Rodgers simply cannot get into a rhythm behind his offensive line. What's worse, the Packers may be without Clay Matthews and Sam Shield again this week against the Vikings.
8. Chicago Bears (8-3) – The Bears were outscored 31-0 in the second half of their game against Seattle. That game was a rematch of an NFC Divisional contest in Soldier Field from the year before, and the Seahawks dominated. This is actually Seattle's fourth trip to Chicago since October of 2010. They have won two of the first three meetings.
9. Pittsburgh Steelers (6-5) – Ben Roethlisberger's status for Sunday's crucial game at Baltimore is going to keep the line off this game all week. The Bears-Vikings game didn't have a line until Sunday morning because of Jay Cutler's status, so I would expect the same thing this week. Obviously, the Steelers need this game worse than Baltimore. And it is nearly mathematically impossible for Pittsburgh to repeat last week's eight-turnover performance.
10. Baltimore Ravens (9-2) – The Ravens are one of five teams that can clinch a playoff berth this weekend. They may have to do so by slapping down Charlie Batch and the "Gang That Couldn't Shoot Straight" on the Pittsburgh offense. If there is one team in the NFL that doesn't have sympathy for teams battling through injuries, it is the Ravens. But no matter who starts under center for either team, the odds are that just three points will decide this game; six of the last eight meetings have been determined by a field goal.
11. Cincinnati Bengals (6-5) – Here come the Bengals. I had said earlier this season that this team's defense was severely underachieving. A lot of that had to do with their banged-up secondary. But now that they are 100 percent in the back end this team is really taking off. They have won three straight games and the defense has allowed an average of just less than 10 points per game. The pass rush has been exceptional – their 35 sacks are No. 2 in the league – but a lot of that has to do with the excellent play they are getting from their corners.
12. Washington Redskins (5-6) – Right now the Redskins are definitely "The Team That No One Wants To Play". Their offense is devastating and Robert Griffin has led them to 30 or more points in back-to-back games. But the most amazing thing about this Redskins defense is how much better it has played despite losing several starters to injury. To that point, leader London Fletcher is probable this week after leaving the Dallas game with an ankle injury.
13. Tampa Bay Buccaneers (6-5) – This week the Bucs will have to deal with near-freezing temperatures, thin, high-altitude air, and Peyton Manning. But the biggest obstacle for this red-hot team to overcome will be the letdown factor from losing last week's game against rival Atlanta. That snapped their four-game winning streak both SU and ATS. The Bucs are actually taking the majority of the action so far this week, but the spread has moved from 7.0 to 7.5 at a lot of books.
14. New Orleans Saints (5-6) – Even though they lost at home to a dominating San Francisco team, you can't deny that this Saints team is still heading in the right direction and looks like a completely different group than what we saw in September. But is it too little, too late? I think they will win this game if they can protect the ball and keep Julio Jones from going bonkers in the passing game. But both of those things are easier said than done.
15. Seattle Seahawks (6-5) – If the Seahawks lose starting corners Richard Sherman and Brandon Brower, then I expect this team to go off the rails in December. Seattle will have its outstanding corner duo this week in Chicago. But they will likely be slapped with a four-game suspension after that game.
16. Dallas Cowboys (5-6) – Losers. I've used that word all season long to describe the Cowboys. And there is none better to describe this locker room. However, if they can't go out and lay about a 30-point beating on Philadelphia this week then they are even worse off than I thought. I don't know why anyone would expect or put money down on them this week. But their game with the Eagles should be a complete mismatch. It will be fun to see what interesting and innovative way they find to blow it this Sunday.
17. Minnesota Vikings (6-5) – It was fun while it lasted for the Vikings. Percy Harvin accounts for about 40 percent of the Vikings offense. So when he is out – and he is 50-50 for this week's game – they don't have anyone to make up the difference. The Vikings have held just one opponent (Arizona) under 24 points over the last six weeks, and this team was outmuscled and completely outclassed by Chicago last week.
18. Detroit Lions (4-7) – I truly have no idea what to do with this team. They are clearly undisciplined rabble that is dealing with the realization that their postseason dreams are essentially dead. But they have only been outgained by one of their previous nine opponents, and their losses to Green Bay and Houston the last two weeks easily could've gone the other way. The Lions are 4-1 ATS in their last five games against a team with a winning record. But will they really take this game as seriously as they did the marquee tilts with the Packers and Texans?
19. Indianapolis Colts (7-4) – Fili Moala, a key starter in Indy's 3-4 base defense, is out for the year. It is also somewhat of a red flag that a 7-4 team is almost a touchdown underdog on the road against a 4-7 team. But the Colts just have The Magic this year. They aren't any good. They are completely overrated. And their success has a lot more to do with Bruce Arians than Andrew Luck. But the reality is that I might just have to wait until next year to find value betting against them.
20. Carolina Panthers (3-8) – For as cocky as Cam Newton is, he still has a ways to go before I'd call him a competent NFL quarterback. Carolina rarely throws the ball more than five yards down field, choosing instead to either go with herky-jerky screen passes or short rollout tosses. They don't trust him throwing the ball down the field. Forget about his numbers: watch the tape. He still has a l-o-n-g way to go before anyone can talk about him as a Top 10 quarterback and be taken seriously.
21. Miami Dolphins (4-7) – I fully expect Ryan Tannehill and the Miami offense to try to go blow-for-blow with New England this week. The Dolphins have a very aggressive passing attack, and I don't expect them to holster that against a vulnerable Patriots secondary. The Dolphins are 10-2 ATS in their last 12 games against teams above .500, but they are an absolutely horrific 23-52-1 ATS in their last 76 home games.
22. St. Louis Rams (4-6-1) – I told myself two weeks ago, "Never bet against the moustache when it is catching points." Jeff Fisher just thrives in the underdog role. But we'll see if he can keep his rag-tag group of Rams together this week when the 49ers come calling. These teams played even in a 24-24 tie just two weeks ago.
23. Cleveland Browns (3-8) – Yes, I gave the Browns one of the biggest bumps of the week. This team still has major issues. And they are in a savage letdown spot after their lucky/fluke win over rival Pittsburgh last week. But much like Tampa Bay and Carolina, this team is better than its record suggests because they have faced such a brutal schedule. Also, in case I haven't made my position clear, Trent Richardson is an absolute stud.
24. Arizona Cardinals (4-7) – Who really thinks that Ryan Lindley is an NFL quarterback? Arizona's defense and their underrated offensive weapons are being hung out to dry. Who the hell in this organization looked at the offensive line and the quarterbacks and thought, "Yup. We're good."? Arizona has averaged just 12.7 points per game during its seven-game losing streak.
25. New York Jets (4-7) – Losers. I have nothing else to say. Too much has already been said and written about this team when it really just comes down to one word: "losers". I know Arizona is equally pathetic. But I truly have no idea how the Jets are favored over anyone these days.
26. San Diego Chargers (4-7) – The Chargers are the Cowboys of the AFC. Only without the annoying fan base. I have run out of bad things to say about these losers. The offensive line is still in shambles, the defense keeps getting hung out to dry, and they are a Philip Rivers injury away from shifting from being worse than the Raiders. San Diego is 15-6 ATS in December and they are 9-3 ATS in their last 12 conference games. But does this team have anything left in the tank? Or was that fourth-and-29 conversion last week the final nail in their coffin?
26. Tennessee Titans (4-7) – Jake Locker was injured in his last meeting with the Texans, and I don't expect things to be all that different this time around. Tennessee's offense is pathetic and Locker is just not accurate enough to sustain drives. The Titans were pushed around by Jacksonville last week, and they have yet to stand up and play well against any of the top-tier teams that they have faced this season. There is a reverse line movement on this game (the spread is dropping even though 80 percent of the action is on Houston), but I absolutely don't see the Titans as a "sharp" side this week.
27. Buffalo Bills (4-7) – I actually thought that Buffalo would step up and have a season-defining performance last week in Indianapolis to vault themselves back onto the AFC playoff fringe. They had a season-defining performance. But it was a step down. Stunningly, the Bills are 3-1 ATS as favorites this year. But they haven't been laying this many points since 2009.
28. Jacksonville Jaguars (2-9) – It's kind of ironic: last year I felt that Miami would've made the postseason if they had started Matt Moore instead of Chad Henne from Day 1. I wouldn't go that far with the Jaguars this year. But I will say that this team could probably have five wins right now if they hadn't wasted so much of the season on Blaine Gabbert (who will never be an NFL-caliber quarterback). The Jaguars are 6-0 ATS in their last six road games, but they will be playing in 34-degree temperatures and possible snow showers this weekend.
29. Philadelphia Eagles (3-7) – I haven't seen the Eagles this low in the Power Rankings in many, many years. They are a disaster. They are scared to have their quarterback throw the ball more than five yards down the field, they have five first-year starters on offense, they just dumped Jason Babin and lost DeSean Jackson to injury, and they have a lame duck coach. Other than that, things should be just fine on the road against a division rival this week.
31. Oakland Raiders (3-8) – The Raiders are essentially pulling guys off the street to start in their secondary, and they are coming off one of the worst months in franchise history. Considering how much of a joke this organization has been over the last decade that is really saying something. Oakland is just 18-4-1 ATS against teams below .500, so they somehow manage to play even worse than normal against the fellow bottom-feeders in the NFL.
32. Kansas City Chiefs (1-10) – Do you know just how bad this team has to be to continue to be ranked below the Raiders? Pretty bad. The Chiefs are 0-5 ATS in their last five games after covering the spread, but the real value on this team might be on betting them "under". The Chiefs are 6-21 against the total in their last 27 games on grass and 5-16 ATS in their last 21 home games.
Robert Ferringo is a professional NFL handicapper has banked nearly $10,000 in football profit over the last 12 months he has had football picks. He has earned back-to-back winning football weeks and three of four winning NFL weekends and will have another full card this week. You can check him out here.