2012 NFL Power Rankings - Week 14
by Robert Ferringo - 12/4/2012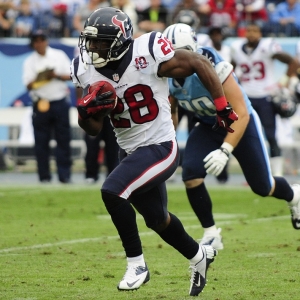 Maxing out and mailing it in. That is the theme for December football.
Each team in the NFL has its own motivation heading into the final month of the league's grueling 17-week regular season campaign. For teams in the top-tier it is all about playoff positioning and trying to secure bye weeks and home games. For teams in the second-tier it is all about just making it to the postseason and securing a spot in do-or-die January.
The third-tier of teams in the NFL is full of clubs still desperately trying to make that futile playoff push. Teams like New Orleans, Minnesota and the Jets are still mathematically alive for the postseason. But their play, their schedule, or their trajectory suggest that they will be in front of the TV next month. However, they are still motivated and will still be playing hard each Sunday.
Below that is the fourth-tier of teams. These are the clubs that know they aren't going to the playoffs but are still building for the future. Cleveland, St. Louis, and Buffalo are teams with losing records that are trending upwards. They are still competing and playing hard each week and they could be potential spoilers down the stretch.
Finally, there are the bottom feeders and the dropouts. The usual suspects like Kansas City, Oakland and Jacksonville are residents of the fifth-tier and they are "fighting" for the No. 1 overall pick in next April's draft. But to me this grouping also includes teams like Detroit, Carolina and Philadelphia – teams that started the year with playoff aspirations but are now ready to start mailing it in and waiting for 2013.
Motivation is crucial to successful NFL betting. And over the last month of the season it is important that bettors not just size up how opponents match up but also what teams are playing for.
With that in mind, here are Doc's Sports Week 14 NFL power rankings:
1. Houston Texans (11-1) – Houston is a perfect 6-0 straight up and impressive 5-1 against the spread this year on the road. They will be making their fourth primetime appearance of the season this Monday when they head to Foxboro to take on New England. Interestingly, all four of Houston's marquee national games have come on the road: at the Jets on MNF, at Chicago on SNF, at Detroit on Thanksgiving and now at New England on Monday. Houston is 9-3 ATS in its last 12 road games but are 0-4 ATS in their last "Monday Night Football" games.
2. New England Patriots (9-3) – It's time for Bill Belichick to face off against somewhat of an old nemesis, as Houston and Gary Kubiak run a version of the old Denver/Shanahan system that used to give him so much trouble. New England is just 2-5 ATS in its last seven home games but they are a perfect 4-0 ATS in their last four MNF contests.
3. San Francisco 49ers (8-3-1) – Last week I said I'd wait-and-see about Colin Kaepernick. Now I can say definitively that the Niners face a question with no right answer. I don't think they can win a Super Bowl with Kaepernick. He has no experience and, as proven on Sunday, that will kill this team in tight late-game situations in the postseason. He is a better long-term option than Alex Smith and adds dynamism to San Fran's attack. But with that defense and scheme I think the experienced, levelheaded game manger Smith is a better fit in the short term.
4. Denver Broncos (9-3) – John Fox is an exceptional coach and has outstanding control of his team. But I was somewhat bothered by his ultra-conservative approach at closing out Denver's win over Tampa Bay. With 3:30 to play, up 15, Denver was one first down away from essentially ending the game. Fox was content with three straight runs, a 15-second drive, a punt, and they let Tampa keep coming. Keep that in mind when asked to lay big spreads against the Broncos moving forward.
5. Atlanta Falcons (11-1) – People can keep questioning this team. But all they do is keep beating opponents and spreads. They have clinched their division and now they have their sights set on home field advantage in the NFC. Atlanta has been vulnerable against the run, and it will be interesting how they adjust to the Carolina offense the second time around after giving up 28 points (their second-highest allowance of the year) to the Panthers back in September. Atlanta is 4-1 ATS in the last five meetings and they are 13-5-1 ATS in their last 18 against a team with a losing record.
6. New York Giants (7-5) – I have been saying it for weeks now: it's never THAT easy with the Giants. This team isn't built to just run away with the division by winning 12 or 13 games. I think that they are vulnerable this week against Drew Brees and a Saints team that has absolutely dominated them in recent meetings. New York has been excellent in bounce-back situations, going 5-2 ATS in their last seven games after a loss, but they are just 1-6 ATS against sub-.500 teams and they are just 3-13 ATS at home against teams with a losing road record.
7. Green Bay Packers (8-4) – This is too high of a ranking for this team right now. I know that it is too high for them. But I am kind of at the point with the Packers that I was a couple years ago with Indianapolis: they are nearly impossible to bet against and they are impossible to rank lower solely because their quarterback is so outstanding. Stunningly, despite a defense devoid of playmakers, the Packers have gone "under" in four of five games. Part of that has come from facing inflated totals. Part has come from facing weak opposing offenses. But this train wreck of a defense has actually/accidentally held five of six opponents to 20 points or less.
8. Chicago Bears (8-4) – Once again, injuries are sabotaging this Bears season. And right now this team is probably stronger in theory than in practice. Tim Jennings and Brian Urlacher, who are both having Pro Bowl seasons, left last Sunday's heartbreaking loss to Seattle with injuries and both are questionable this week. Keep an eye on how the Bears offensive line handles Jared Allen this week. Allen's illegal block on Lance Louis ended Louis's season with a torn ACL two weeks ago, and the Bears are talking retribution. This one promises to be a nasty, desperate NFC North battle this week. I'm not sure the Bears have enough healthy soldiers to win this 60-minute fight.
9. Pittsburgh Steelers (7-5) – Big Ben was cleared to practice last Friday but didn't and he still hasn't been medically cleared to play this week against San Diego. I would not bank on him being under center this week against San Diego. And I actually think it would be a good thing for Pittsburgh (and its backers) if Charlie Batch gets another start. Pitt's seven-turnover disaster against Cleveland was an anomaly. And they could beat San Diego this week with 50-year-old Bubby Brister under center. But the difference between having Batch under center and Big Ben could mean the difference between laying seven points this weekend to laying 10.5.
10. Baltimore Ravens (9-3) – This is a dangerous time for the Ravens. They are in a letdown spot after a brutal home loss to Pittsburgh and now they have to face a smoking-hot Washington team in what is a major regional rivalry game. Terrell Suggs has a torn bicep and will be out this week from a defense that is being held together by duct tape. I have felt the Ravens have been succeeding thanks to smoke and mirrors the last month. They are 3-1-1 ATS in their last five games, but none of those are what I would classify as "good" wins. In fact, besides a split with Pittsburgh the Ravens haven't beaten a team projected to go to the postseason since a 31-30 Week 3 revenge win over New England.
11. Cincinnati Bengals (7-5) – Get hot, stay hot, Cincinnati. After allowing an average of 34 points per game in the first three games of the year, the Bengals defense has gotten healthy and nasty. They are ranked No. 8 in total yards and No. 10 against the pass and Cincinnati has held four straight opponents to 13 points or less. Not surprisingly, the Bengals are 0-4 against the total in their last four games and 2-7 against the total in their last nine. The Bengals are hot. But they are also just 3-8 ATS in their last 11 home games and just 2-5 ATS when laying points at home. This week's Dallas game reminds me of last year's 20-19 loss last December at home to Houston, a game that saw the Bengals favored by a field goal only to lose by getting outscored 10-0 in the fourth quarter by T.J. Yates.
12. Washington Redskins (5-6) – This is absolutely the team that no one wants to play right now. Washington is streaking and they are improving every week. Teams cannot prepare for their multifaceted offense, and Washington's defense is playing out of its mind despite being savaged by injuries. If they can get past Baltimore this week in what should be a dogfight – and remember, Washington is on a short week after their MNF win – then I truly believe this team will run the table and finish with 10 wins. But the Redskins are just 2-5 ATS in their last seven Sunday games following a "Monday Night Football" appearance.
13. Tampa Bay Buccaneers (6-6) – I can't say enough how impressed I am with Josh Freeman right now. Yes, he had a pick-six in a loss at Denver last week and only completed 46 percent of his passes. But I didn't expect the Bucs to play well in a clear letdown spot. I think Tampa and Freeman will bounce back in a big way against Philadelphia's train wreck of a secondary. Freeman has 15 touchdowns to just three interceptions in his last seven games and he should stay very aggressive against the Eagles this week.
14. New Orleans Saints (5-7) – New Orleans has won by 25, 21 and 23 in the three meetings with the Giants since 2006, including a 49-24 beating last November. The defense has shown marked improvement since David Hawthorne got healthy and Jonathan Vilma came back. Now the front seven is strength. But they need to keep the pressure off the suspect defense by running the ball more effectively and limiting Drew Brees' turnovers. (Stop me if you've heard that before.) The Saints are 20-9 ATS after a loss and 12-5 ATS in conference games. But they haven't played a cold weather road game in December since 2010 and I am curious how they respond to cold, rainy weather in the Meadowlands on Sunday.
15. Seattle Seahawks (7-5) – It looks like starting corners Richard Sherman and Brandon Browner will be able to play again this week, as both wait for their appeal to be heard regarding their four-game suspensions for allegedly taking amphetamines. It's not like Seattle would need them against Ryan Lindley and the pathetic Cardinals offense. What we need to see is if Russell Wilson and the Seattle running game can generate enough offense to cover a 10-point spread. They blew out the Jets and Cowboys at home this year, but they weren't expected to blow those teams out. It is a completely different mentality for teams to enter games they are supposed to win easily. But Seattle is 39-19-2 ATS at home so I'm not in any hurry to bet against them there.
16. Dallas Cowboys (6-6) – Losers. Losers, losers, losers, losers, losers. It is my own damn fault for betting on Dallas last week – even though they were basically facing a UFL-caliber roster from Philadelphia – and thinking that they wouldn't blow it. Sure enough, they give up a 99-yard touchdown on a punt return with 30 seconds left to blow the cover. Why? Because that's what LOSERS do. As I have said before, anyone that bets on Dallas deserves all the bad things that happen to them.
17. Minnesota Vikings (6-6) – People are acting as if it were news that Christian Ponder isn't any good. The only people that should be surprised by this are the people that drafted him about four rounds too early. Minnesota has revenge for a loss two weeks ago in Chicago, and they really should be able to take advantage against Chicago's injury-ravaged roster. However, the Vikings have lost six straight against the Bears both SU and ATS. The home team has won eight of 10 in this series but the only games the Vikings have won since Oct. 8 have been against Arizona and Detroit.
18. Detroit Lions (4-8) – The last six minutes of the Colts game represent everything that is wrong with Detroit. Dropped interceptions. Horrible play calling and game management from the coach and quarterback. Being shockingly outcoached on the final play. Penalties. I know the Lions had a shocking 2011. But it was shocking because winning was out of character for this crop of losers. This is not a good team. They don't have as much talent as people think, and they simply don't play good football. This is another team that I am expecting to just mail it in over the next four weeks.
19. Indianapolis Colts (8-4) – I am going to keep beating the drum on this, because when everyone else wakes up about Andrew Luck I want to make sure everyone knows where I stood. He had three more interceptions, two more INTs dropped, another fumble, and barely completed 40 percent of his passes against one of the worst secondaries in football. Hey, we saw this last year with Tim Tebow: the Colts have got that magic and they are on a rush. But Luck is a hell of a lot closer to Mark Sanchez as a quarterback than he is Peyton Manning. And anyone that thinks Andrew Luck is a Top 15 quarterback right now is delusional.
20. Carolina Panthers (4-8) – Who didn't see a letdown out of the Panthers coming? Carolina is on the verge of mailing it in. Ron Rivera admitted after Sunday's loss that he will be playing young guys and evaluating for the future. Obviously, that's the direction the team is headed. But this is a weak, rudderless locker room and I think they are on the verge of Operation Shutdown. They have a revenge game with rival Atlanta this Sunday. But they close with two of three on the road, and they know changes are coming. Don't count on this group for anything.
21. Miami Dolphins (4-8) – Joe Philbin's decision to kick a 42-yard field goal on second down with 36 seconds to play of a 10-point game cost Patriots bettors an otherwise winning bet. It was also the right call and another example of why I think Philbin is going to be an excellent coach in this league. He is razor sharp. Miami just lost Jake Long for the year. The word has been that his play has declined (I don't know if I believe that), but the fact is he is a locker room leader and his presence will be missed this month.
22. St. Louis Rams (5-6-1) – This team is right there with Washington and Tampa Bay as teams that I wouldn't want to play right now. Since their debacle in London this team has played very well for all but one quarter (against the Jets) of the 18 that they have played. The Rams are 6-3 ATS in their last nine games, and even though you can see the talent limitations you can tell that Jeff Fisher's system is clicking with this group.
23. Cleveland Browns (4-8) – The Browns are a tough overtime loss in Dallas away from having won four of their last five games. This team is finding a tough, hard-nosed identity. Somehow, this team is favored this week. (That tells you just how bad Kansas City is.) But I am not in too big of a hurry to lay points with this team. Cleveland is 4-1-1 ATS against fellow sub-.500 teams. But they are just 2-6-1 ATS at home against teams with a losing road mark. Oh, and I wouldn't be getting too googly-eyed about quarterback Brandon Weeden just yet, even though he threw for 364 yards against Oakland's patchwork secondary. Weeden has completed over 57 percent of his passes in the last two games, but he still has just four touchdowns to five interceptions over his last five games.
24. Arizona Cardinals (4-8) – Wow. That's all I can say about Arizona's offense. Just, wow. But this all goes back to what was obvious to everyone else in the free world coming into the season: Arizona could not win with any of the quarterbacks on its roster and they could not win going into the year with that offensive line. The tragedy is that they have been wasting a decent year from the defense. Arizona is 0-8 SU and just 2-5-1 ATS in their last eight games overall. And things are going to get worse before they get better, as evidenced by the fact that DE Darnell Dockett allegedly spat in safety Kerry Rhodes' face at the end of the game last week.
25. New York Jets (5-7) – Only the Jets and their deluded fan base, coaching staff, locker room and front office would take any solace in that 7-6 win over Ryan Lindley and Arizona. New York plays three of its last four games on the road. And even though I will be betting against them, I almost hope that they win out and go 9-7 on the year. All that will do is up the hype on them next year and keep them as a profitable team to wager against. New York is 1-4 ATS in its last five games against a team with a losing record and 1-4 ATS after a win.
26. San Diego Chargers (4-8) – As if things could get worse for the San Diego offense, the Chargers are going to be down three offensive line starters this week. It's a good thing they aren't facing a great defense like the Steelers. Oh, wait… I know a lot of people are piling on Philip Rivers right now. And I have to say that his decision-making has been ridiculous (to the benefit of myself and a lot of other people betting against him). But right now it is comical what Rivers is trying to work with on offense.
26. Tennessee Titans (4-8) – Two more key pieces from an already underachieving offensive line were injured last week. Right tackle David Stewart is out for the rest of the season and left guard Steve Hutchinson is likely done for the year (and perhaps his career). The Titans are 0-7 ATS in their last seven divisional games and they are 7-19-1 ATS against a team with a winning record. As of Tuesday morning the Titans were garnering just six percent of the total number of bets in their game against the Colts. If their spread doesn't get up over 6.0 this week then that is a major red flag.
27. Buffalo Bills (5-7) – This is another team that you should be very wary of down the stretch. They have three of four games at home to end the year and they have covered three of their last four outings. They have the offensive capabilities to put pressure on opponents and the defense, which is ranked No. 29 in points allowed (28.1), is showing sings of life and has held four of five opponents to 21 points or less. They are favored again this week, and the Bills are 4-1 ATS when laying points this season, with the one loss coming in the last minute at home against Tennessee.
28. Jacksonville Jaguars (2-9) – Just when it looked like things were looking up a bit for the Jaguars, Cecil Shorts and Rashad Jennings both left last week's game with injury. Jacksonville actually has a slight revenge angle this week. They were blasted 32-3 last September up in New York, and after the game some Jags talked about being angry about chippy play from the Jets. The Jaguars are 6-1 ATS in their last seven against the Jets and are 5-2 ATS the week after failing to cover a spread.
29. Philadelphia Eagles (3-9) – Bryce Brown runs like an animal. He can definitely be a player in this league. Obviously, his fumbles have been a major issue (except for those people betting against the dead-stick Eagles) but this kid runs HARD. It is the right decision to go with Nick Foles for the rest of the year but I really wish, as a gambler, they would go back to Mike Vick. Vick had one more five-turnover game in him this year, I could feel it.
31. Oakland Raiders (3-9) – The Raiders are on a 0-5 ATS slide, and four of their last five losses have come by double-digits. If you think that they could be an active home underdog this Thursday against Denver, don't. The Raiders secondary has been ravaged by injuries. They are playing practice squad-level players in their sub packages, and right now this team can't stop anyone. Also, I expect a lot of trick plays and gadgets out of Oakland this week against Denver as they pull out all the stops to not get humiliated on national TV.
32. Kansas City Chiefs (2-10) – My condolences to everyone impacted by the Jovan Belcher tragedy. I do know this, it is bad karma to be a Tragedy Profiteer in gambling, and I make it a rule never to bet on or against teams that have undergone a traumatic experience. All those people that tried to pile on and bet against the Chiefs last week got their karmic comeuppance.
Robert Ferringo is a professional NFL handicapper has banked nearly $10,000 in football profit over the last 12 months he has had football picks. He has earned four of five winning NFL weekends and will have another full card this week. You can check him out here.