2012 NFL Power Rankings - Week 3
by Robert Ferringo - 9/18/2012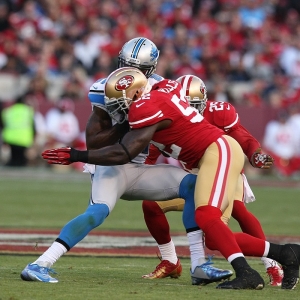 It was a better week for first- and second-year starters at quarterback, with the young signal callers going 3-3 against the spread when matched up against a veteran quarterback. However, that was not a profitable week and over the first two weeks these young bucks have gone 5-9 ATS when facing a quarterback with three or more years of experience.
Home underdogs were the play last week, with the home puppies going 5-1 ATS and all five teams that covered pulling off the outright upset. That was in keeping with the Week 1 success of home dogs (3-2), and so far this season the home teams with the points (8-3 ATS) have far outperformed home teams in general at the window (11-9-1 ATS).
It may still be too early in the year to discern any profitable long-term trends. But these are two that are worth tracking over the next several weeks.
Here is Doc's Sports Week 3 NFL power rankings:
1. San Francisco 49ers (2-0) – I don't think there is any doubt who the best team in football is right now. The Niners physically dominated two 2011 playoff teams, Green Bay and Detroit, and they did so with a brilliant mix of technical precision and raw aggression. They are touchdown favorites on the road this week and will be bet heavily. But they are also facing a team that plays a similar physical, grind-it-out style this week. The Niners also have a road game in New York on deck against the Jets and they need to be careful of looking ahead. The Niners are 18-7-1 ATS in their last 26 games overall.
2. Houston Texans (2-0) – The last two weeks the Texans have really been able to sleepwalk through their games and still win by three touchdowns. They are completely comfortable in their systems on both offense and defense right now. It also helps that they faced two incompetent quarterbacks and two of the seven worst teams in the NFL. The Texans are now 12-2-2 ATS on grass and 12-3-2 ATS in their last 17 games against the AFC.
3. New England Patriots (1-1) – I am not even sure what to say about the Patriots. This team is not playing with any passion and there are obviously chemistry issues on offense and in the locker room. This team is not clicking at all. Brady and Belichick are 5-1 straight up in their last six games against the Ravens and the underdog is 3-1-1 ATS in the last five meetings. However, going back to last year (and including the preseason) the Patriots are just 1-8 ATS in their last nine games overall.
4. Baltimore Ravens (1-1) – I said in this space just last week that it is ridiculous that the Ravens are trying to remake themselves as some pass-happy, high-octane team. It is a joke and it runs counter to everything that has made them successful over the past decade. It just reeks of someone trying way too hard to be something that you know that they are not. Baltimore lost to Philadelphia because they didn't pound them into submission with the running game in the fourth quarter. We'll see how much longer the Ravens stick to their ill-designed new offensive formula. I think a 1-2 start could be just the thing that snaps them out of it.
5. Green Bay Packers (1-1) – Ho-hum. Green Bay is still a dominating force in the NFC because of Aaron Rodgers and the Packers offensive capabilities. And if their secondary plays as well as it did against Chicago then the defense will be a force as well. But they still don't run the ball and they can be pushed around on both sides of the ball. Green Bay opened as a 6.5-point favorite at Seattle next week for "Monday Night Football". However, the sharps have pounded the Seahawks, cutting the line nearly in half to 3.5. Be wary.
6. Atlanta Falcons (2-0) – Michael Turner's arrest for DUI early Tuesday morning is a huge distraction for this team, which has to fly cross-country to face a streaking San Diego team this weekend. That is a shame because I was looking to hop right back on the Falcons train after their undeserved win on Monday night. Now I'm not so sure. Atlanta has made three West Coast trips over the last three years and is 3-0 SU and 2-1 ATS, with the one loss at the window coming via a Seattle backdoor cover last season.
7. New York Giants (1-1) – There is absolutely, positively no way the Giants should've beaten Tampa Bay last Sunday. But they showed once again what the true strength of this team is: its receiving corps. The Giants are back on the road, where they are at their best. New York is 36-15 ATS in its last 51 road games and the Giants generally thrive away from home in marquee, nationally-televised situations.
8. Pittsburgh Steelers (1-1) – Everything is still very much a struggle for this offense because its offensive line is so horrific. They just have to labor to sustain drives and it really takes some superhuman efforts for these guys to make plays. I do not think that the offense can sustain their early effort, especially as injuries (which are increasingly likely) start to creep into the picture. The public is jumping all over the Steelers on the road in Oakland this week, with 90 percent of the early action going to Pittsburgh. But the Steelers are just 1-3 ATS in this series since 2004 and they lost outright in Oakland as a nine-point road favorite back in 2006.
9. Chicago Bears (1-1) – I said that Jay Cutler was lucky that he didn't have more than one INT in the first game. He doesn't take care of the ball and is a poor decision maker. This is not news. And his problems in the locker room should come as no surprise to anyone either. Finally, I said before the year that Brandon Marshall is good at two things: dropping touchdowns and beating women. He has dropped TD passes in back-to-back weeks. Women of Chicago beware. The Bears are 4-1 ATS in their last five meetings with the Rams.
10. Denver Broncos (1-1) – The Broncos really should've beaten Atlanta on Monday night. If you simply change two plays – the interception returned to the one-yard-line and the phantom turnover – then Denver gets that win. Peyton Manning did look confused early in that game against the Falcons. But if he had gotten one more possession I don't think there is any doubt that Denver would've won that game. Denver is just 15-34-2 ATS in its last 51 home games. They need to get that turned around in a hurry with Houston coming to town.
11. Dallas Cowboys (1-1) – Just a vintage road meltdown by this loser team. Some things never change. And you can count me among those that just don't think Jason Witten should be on the field right now. He looks hesitant and soft – and, let's be honest, he has every reason to be with a lacerated spleen – and I just don't think he's helping them right now. Dallas also lost two safeties to injury so look for teams to test their secondary over the top the next two weeks. Oh, and Felix Jones is an official loser and another bust that Jerry Jones is solely responsible for. Losers.
12. Philadelphia Eagles (2-0) – I am still not all that impressed with this team, which is 2-0 for the first time since 2004. And those people that think that Mike Vick has somehow turned a corner or that he has figured it out are kidding themselves. He already has six turnovers and the team has committed eight turnovers in two games. That is an unsustainable rate. The unsung heroes on this team have been on defense. The secondary is playing much better, but this group still has major issues with its linebackers in coverage.
13. Detroit Lions (1-1) – People seem to be piling on the Lions after getting handled in San Francisco. I was actually somewhat encouraged. Detroit tried to run the ball 26 times against the best rush defense in football. They need to sustain that commitment and need to try to be as physical on offense as they are on defense. I said in my season preview of this team that I am not NEARLY as impressed with Matt Stafford as everyone else is. You are starting to see why. He is erratic and he looks for his receivers to bail him out too much.
14. Cincinnati Bengals (1-1) – I don't know that I would be completely concerned with the Bengals defense just yet. Unlike teams like Kansas City and New Orleans, the Bengals have talent on that side of the ball – they just haven't played well. But they are No. 30 in yards allowed and points allowed so far this season, so it is a situation to monitor closely.
15. Carolina Panthers (1-1) – Focus and maturity. Those are the two things that we are going to be looking for out of the Panthers on this short week. They are at a disadvantage here because this will be their third game in 12 days (the Giants had extra rest after their Thursday night opener) but Carolina has built a nice home field edge lately (7-3 ATS). This Panthers team is coming off a revenge win over a hated division rival. But this Giants game counts the same in the standings. How focused with the young Panthers be in prime time?
16. San Diego Chargers (2-0) – I don't know if you can have a softer 2-0 start than the Chargers have had this year. Beating the Raiders and Titans is not impressive to me at all. The Chargers are 6-1 ATS in their last seven regular season games, however, and they do appear to be playing with a chip on their collective shoulders. But this team is still woeful on the offensive line and I think that their defensive stats are warped thanks to the fact that they have faced two comically bad offenses to this point in the season. Remember: Norv is lurking. Do not ignore Norv.
17. New Orleans Saints (0-2) – I may still be being optimistic with this team because of the offensive weaponry. But the reality is that this defense is pathetic. It isn't scheme and it doesn't have to do with bounties. They just don't have many guys that can play. The Saints have given up 460 yards and 37 points per game, and they have allowed seven touchdown drives of 55 yards or longer. Seven! Might be time to start blindly betting that 'over'.
18. Washington Redskins (1-1) – The jury is still out on this team. They are converting less than 30 percent of their third downs and most of their points have come off big plays, not methodically, well-executed drives. The Redskins are the last team in the league to have their home opener and they should get a nice boost from the crowd this Sunday. But cheering can't make up for the fact that they lost Adam Carriker and Brian Orakpo, severely weakening a defense that had not played that well to begin with.
19. Minnesota Vikings (1-1) – Ninety-five percent of the early action on the Vikings game this week is coming in on the 49ers. That is not all that surprising. But the Vikings have shown that they will stay dedicated to their methodical, physical, grind-it-out style of play each week. They matchup very well with San Fran and the home team is 5-2 ATS in the last seven meetings. A quick scan of Christian Ponder's numbers may make it seem like he is taking a big step forward. He isn't. Ponder is still overmatched and is still the main liability on this team.
20. Arizona Cardinals (2-0) – Maybe I am still undervaluing this team. They are now 9-2 straight up in their last 11 regular season games and they are 9-3 ATS in their last 12 games. You can tell that this team is rallying around Kevin "Happy Feet" Kolb, despite his flaws. They are winning with special teams excellence and an underrated defensive front four. It is ugly but it is winning. Is it sustainable? Right now I am still saying "no". But over the last 11 games I have been wrong.
21. Seattle Seahawks (1-1) – Again, the 27-7 score made it look like Seattle dominated Dallas last week. They did not. They outgained the Cowboys by just 20 yards and were gifted 10 points in the first five minutes thanks to special teams miscues by the idiot Cowboys. Russell Martin looked better. But this offense really didn't do much of anything and didn't look that impressive – outside of Marshawn Lynch's power running – against the Cowboys. Seattle is 5-0 ATS in its last five "Monday Night Football" games and their home field edge (8-3 ATS run) is undeniable.
22. Tampa Bay Buccaneers (1-1) – That loss in New York definitely hurt. This team should've been leaving the Meadowlands at 2-0 with a key road win under their belt. Now they are just 1-1 and have to be dragging a bit. I still really like this team's weapons. And its secondary is much better than it played in the second half last week. Tampa Bay is just 1-4 ATS on the road but they are 14-3 ATS in their last 17 games on turf. This is a crucial swing game for both the Bucs and the Cowboys this week and I expect it to be a battle.
23. St. Louis Rams (1-1) – The Rams have essentially resigned themselves to the fact that once a game Janoris Jenkins is going to get beaten for a long touchdown. The rookie has shown flashes of excellence. But he is also horrendously inconsistent. It was a pattern in the preseason and Jenkins giving up big plays has been the case in St. Louis' first two games. Also, it should come to no surprise to anyone that reads my power rankings that Sam Bradford is actually really, really good and that no quarterback in the NFL is asked to do more with less. St. Louis is 2-9 ATS in its last 11 road games and 4-11 ATS in conference games. But Jeff Fisher is back in his best role of large underdog.
24. Jacksonville Jaguars (0-2) – Is Blaine Gabbert really making strides? Was Sunday just a case of the Jaguars being overmatched by a much better team or was I wrong to think of the Jags as a potential AFC South sleeper? They are essentially in must-win territory this week in Indianapolis. They won a pair of low-scoring games against the Colts last year and the Jaguars are 6-3 ATS in the last nine meetings. The road team is 7-3 ATS in the last 10 meetings and the Jaguars are 4-1 ATS in their last five at the RCA Dome.
25. New York Jets (1-1) – The Jets cannot get off the field on third down. They have allowed opponents to convert 58 percent of their third downs through the first two weeks of the season and that isn't all just because they played without Darrelle Revis. This defense is simply not as talented as it was two years ago. The Jets have dominated the Dolphins over the last decade. They are 19-7-2 ATS in the last 28 meetings and are 11-3 ATS in their last 14 trips to Miami. However, the Jets are just 2-8 ATS in their last 10 road games and their talent level isn't vastly superior to Miami's. This is not a "gimme" game for the Jets this week.
26. Buffalo Bills (1-1) – I think the Bills are already at a critical point in their season in Week 3. They are road favorites against the lowly Browns this week. If Buffalo is going to shake off the "loser" label that they have earned over the last 15 years then they need to win this game. No excuses. Buffalo is just 3-8 ATS in its last 11 games overall and they are just 1-7 ATS following a win of 14 points or more. Let's see what this team is made of.
27. Indianapolis Colts (1-1) – There is no way that the Colts should've beaten the Vikings last week. They were outgained by 50 yards and benefitted from another 105 (questionable) penalty yards from the Vikings, yet they escaped with a three-point win in a game they were in control of. The Colts are 0-11 ATS in their last 11 games against a team with a losing record. However, they are on a 5-2 ATS upswing and they are making up for the fact that they really should've performed better against the spread, statistically speaking, last season.
28. Cleveland Browns (0-2) – The Browns have shown signs of life in the first two weeks of the season. But don't confuse effort with ability. This is still a bad football team. However, Pat Shurmur's keep-it-close style of football is going to keep the Browns in games throughout the season. Cleveland is now on an 8-1 ATS regular season run spanning back to last year. They have also beaten the Bills, a regional rival, in three of the last four meetings.
29. Tennessee Titans (0-2) – Jake Locker is a loser. I can't believe no one sees this. The guy was an overrated loser in college and he is an overrated loser in the NFL. The Titans "brain trust" won't back away from him because they don't want to admit their failure in drafting him. But they really should. And it was equally ridiculous that this organization didn't look at Tennessee's early schedule – their first six games are probably the toughest in the NFL – and decide to go with perpetually underrated veteran Matt Hasselbeck instead of inexperienced and overmatched Locker. Also, if anyone is still unsure about why Chris Johnson is struggling it is simple: he is a pussy. He is frightened of contact and is running like a little girl. He is not willing to grind out three-, four-, and five-yard gains and is never tackled falling forward. Right now he should not be starting.
30. Oakland Raiders (0-2) – I think it was two years ago when I posted Oakland at No. 32 every week of the season, regardless of actual results. I may have to go back to that. This organization is a farce. I can understand how someone could stay off Pittsburgh this week because the line and the line movement are sketchy. But I have no idea how anyone can put money down on this loser franchise.
31. Kansas City Chiefs (0-2) – Romeo Crennel's ineptitude should be a surprise to no one. And I still chuckle at the fact that so many people had the Chiefs pegged as their "sleeper team". This team massively overachieved last year (and showed their ceiling as mediocrity) and then made a horrible decision to retain Crennel after his interim stint. What did they think was going to happen?
32. Miami Dolphins (1-1) – Yes, I know Miami won "going away" last week. But that situation – facing a team off a MNF game, travelling across country, for an early start, in the Miami humidity – really was perfect. This team still has the look of about a 2-14 or 3-13 group to me. Miami is just 22-49-1 ATS in its last 72 home games and they have been the worst home bet in football over the last decade.
Robert Ferringo is a professional NFL handicapper and has posted two of three profitable winning weeks to start the year. Robert nailed his 7-Unit NFL Game of the Year last week and picked up $2,000 in profit with his college and pro selections in NFL Week 1. Robert has banked $9,400 in football profit over the last 10 months he has had football picks and will keep it going this week. He is looking forward to building on his stellar football handicapping resume again this fall and you can check him out here.