This Week in NFL Betting by the Numbers
by Ricky Dimon - 10/18/2012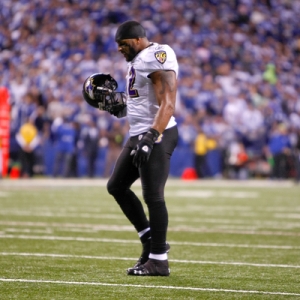 From replacement refs, to wild finishes, to impossible comebacks, to standings turned upside down, this NFL season has been even crazier than usual.

"Everything just starts snowballing and that's a great feeling," Denver safety Jim Leonhard said after his team erased a 24-0 deficit to beat San Diego 35-24 on Monday night. "There's no better feeling in sports when you know you have completely stole the momentum from a team and it's going to be very hard for them to come back from. You can't beat it."

You also can't understand it. How do you explain that game? Or that the 49ers outscored two teams 79-3 only to get outscored, themselves, 26-3 one week later? Or that every team in the AFC East is in both first place and last place? Or that the Pittsburgh Steelers are 2-3?

I think it's time to crunch some numbers to find out just what the heck is going on.

(All odds provided by Sportsbook.ag)

2 – Season-ending injuries suffered by the Baltimore Ravens last Sunday. And they aren't small ones. Lardarius Webb is one of the best cornerbacks in the league, and Ray Lewis is the most inspirational team leader in the league, if not in all of sports. The Ravens managed to beat Dallas last Sunday, but at what cost? We'll begin to find out when they visit the Texans as +6.5 underdogs in a Week 7 showdown.
4 – Combined number of wins for the three challengers in the NFC South, two fewer than the Atlanta Falcons have by themselves. To put it another way: Atlanta has zero losses; Carolina, New Orleans, and Tampa Bay have a combined 11 losses. Two of those bumbling franchises are facing each other in what is basically a must-win situation for both (especially the Saints) just seven weeks into the season. Drew Brees and company are a -3 favorite at the Bucs.
5 – Turnovers in the second half by Philip Rivers during Monday night's epic collapse against the Broncos. "When you watch the tape, we can be awesome," Rivers said afterward. "Whether we do that is left up to us. But there's definitely a lot more good than bad on the field." If there's been a lot more good than bad on the field, I'd really hate to see what it's like when there's actually more bad than good. And clearly Rivers has different definition of "awesome" than most. Rivers is +3000 to win NFL MVP (insert LOL here) and San Diego is +150 to win the AFC West.

13 – Seasons spent by Juan Castillo as Philadelphia's offensive line coach prior to being promoted by Andy Reid to defensive coordinator. Nope, that is not a misprint. He was Philly's offensive line coach. Reid, under plenty of pressure himself, gave Castillo his pink slip on Tuesday. The Eagles, who luckily have a bye week to regroup, are still the second favorite behind New York to win the NFC East at +250.
40 – The age that Eminem turned on Wednesday. Can you imagine Eminem as a 40 year old? I can't, either. Anyway, it's also the number of consecutive seasons without a Super Bowl appearance that the Browns will have reached after this one (the draught is currently at 39). But hey, at least they finally won a game last week! Cleveland is a +2.5 underdog at Indianapolis on Sunday.
76 – Yards scampered by Robert Griffin III to the endzone in a game-clinching touchdown run against Minnesota. The play, and his overall performance through six games, led Redskins' teammate Fred Davis to dub him "Black Jesus." Okay, RG3 may not be able to turn water into wine, but it looks like he could turn a moribund franchise into a contender. Washington is a +5.5 underdog at the Giants on Sunday.

1995 – The first year that Jason Hanson was on my fantasy team. That's right; 1995. He actually entered the league as early as 1992. Now in his 21st season, Hanson is still going strong at 42 years old. He has connected on 16-of-17 field goals (with a long of 53) and 10-of-10 extra points. Hanson was named NFC Special Teams Player of the Week after going 4-for-4 on field goals against Philadelphia, including the game-winner in overtime. Detroit is a six-point underdog on Monday at Chicago.

8,000,000 – Dollars the Seahawks are paying quarterback Matt Flynn to ride the pine this season. That's a $6M signing bonus plus a $2M base salary in 2012 (it's safe to say he won't be earning his possible $2M in incentives!). Flynn won't get a shot if Russell Wilson keeps playing like this. The rookie has led Seattle to a 4-2 record and has engineered two last-minute comebacks (well, two if you ask replacement refs; one if you ask Green Bay). The Seahawks hope to keep the magic going as seven-point underdogs on Thursday at NFC West foe San Francisco.

RAPID FIRE

13 – Touchdown passes in his last three games for Aaron Rodgers, who will play vs. St. Louis on Sunday despite a minor calf injury.

15 – Passing touchdowns allowed by the Patriots, tied for most in the NFL. They have allowed at least 275 passing yards in four straight games and have surrendered 33 completions of at least 20 yards (most in the NFL).
28 – NFL-high sacks allowed by the Cardinals, who have given up 22 in their last three games.
33.33 – Jacksonville's touchdown percentage in the red zone, better than only Kansas City.