Comparing NFL and NCAA Football: Betting Tips and Expert Advice
by Chris Vasile - 7/31/2018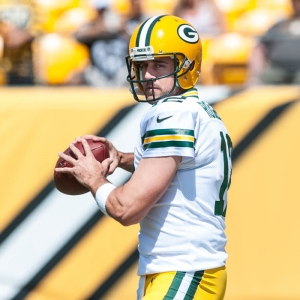 Ladies and gentlemen, we have officially reached the "dog days" of summer. The World Cup just ended, the excitement of NBA/NHL free agency has come and gone, and so we are just left with Major League Baseball and the Canadian Football League. Now, don't get me wrong, I enjoy both leagues very much, but I will be eagerly counting down the minutes until Week 1 of the NCAA Football season (Aug. 25) and Week 1 of the NFL season (Sept. 6).
While there may still be more than a month for bettors to prepare for both seasons, I would recommend getting on top of things ASAP if you haven't already. That month will sneak up on you fast, and with over 100 D1 teams and 32 pro teams to study and handicap you will need to make use of every single minute you have.
If you think you can just lump both leagues together and handicap them at the same time, you are greatly mistaken. The NCAA and NFL may look and feel similar, but they are two completely different games - especially to bettors. The NCAA schedule is a grueling grind from Thursday-Saturday. Finding enough time to handicap those games is tough, especially with the NFL week kicking off on Thursday and running on Sunday and Monday. Handicapping each and every game is impossible, but the handful of games that you do decide to handicap will stretch your patience and focus to the limit.
The point of this article is to help you differentiate college football from the NFL. If you were to bet an NFL game like a college game or vice-versa, your bankroll would be up in flames before you know it. At the very basic level, there are five key differences between the sport. Let's look at each one.
Spreads
Betting on the point spread is the most popular way to bet both NFL and college football. However, only an experienced bettor will be able to tell you why certain spreads mean something completely different between the two leagues. Let's start with the 14-point spread. In the NFL, the spread is rarely set at anything higher than 14 points. If there is a big mismatch between teams, the sportsbook will generally open the line at 14 points. In college, a massive mismatch will see spreads into the high 20's and low 30-point range. On some occasions, college spreads can reach upwards up 40 depending on the teams involved.
If you see an NFL team with a spread of -14 or higher, they are a massive favorite. However, if you see a team like Alabama as 14-point favorites, they are not quite as big a favorite as you would think. The top schools in college football will routinely cover 20-30-point lines.
Talent Gaps vs Parity
In the NFL, the difference between the best teams and worst teams can seem large. However, it's not as big as many people make it out to be. Because there are only 32 teams in the NFL, each of them have their fair share of talent. Each team employs some of the best football players in the world, and you can expect them to give it their all on a weekly basis. The unpredictability in the NFL is far less than in college football because we are dealing with men versus a group of 18-22 year olds.
If you look at a college game between Alabama and some mid-major cupcake, a blowout is almost assured because of the discrepancy in talent. Starting from the coaches right down to the kickers, Alabama has the superior athletes and will almost always win by 30+ points. It's just how the college landscape was built. It's easier to assume an outcome in college than it is in the pros.

Totals
NFL and College Totals are about as similar as cats and dogs. In the NFL, totals usually reside in the high 30's-50-point range. This is because the talent on both sides of the ball is better (especially on defense). An expected "high-scoring" NFL game would have a total around 48-52. Taking the "over" there would be a huge risk. However, a 52-point total would be considered relatively low in the college ranks. Some teams like Texas Tech or Western Kentucky are just notorious for playing in games that feature 100+ points. Both teams have high-powered offense but also very poor defense, so they have no reason to slow the game down and not score a boatload of points. Furthermore, running up the score in college is more common than the NFL. Teams and programs hold grudges against rival opponents or coaches, so rubbing some salt in the wound is not all that uncommon.
Margin of victory
Margin of victory is another huge difference between college and NFL football. The reason that spreads are so large in the collegiate level is not only because of the huge gap in talent but because teams are reward for huge victories. In the NFL a win is a win no matter how you get it. With the current playoff system in place for College Football, it's not all that uncommon for a team to drop down in the rankings by squeaking by a team they should have beat by 30. Because of this, teams are almost forced to win by as many points as they can in order to earn unofficial "style points" and impress the committee.
Media Coverage and Information Availability
The NFL and College Football are both extremely popular and widely covered through major sports networks. However, the NFL receives significantly more coverage for every team and every game that is played. However, one of the biggest advantages in college football is the lack of media attention certain teams or conferences receive. It's much easier to find the injury report or stats or expert opinion on a game featuring two NFL teams than it is a game featuring two Sun Belt teams.
The readily-available NFL information is great to have, but it is available to everyone, including the sportsbooks. This is why the lines are so tight and why the NFL is much harder to beat. The lack of information in college football can hinder your handicapping, but it can also help you get much better lines to bet on since nobody will be focusing on that game. There are so many obscure games throughout the college football season that can be taken advantage of if you know what you are looking for. There are no such games like that in the NFL.
Doc's Sports is offering $60 worth of member's picks absolutely free - no obligation, no sales people - you don't even have to enter credit card information. You can use this $60 credit any way you please for any handicapper and any sport on Doc's Sports list of expert sports handicappers. Get $60 worth of premium members' picks free .