Key Offseason Storylines for NFL Handicappers
by Trevor Whenham - 2/12/2013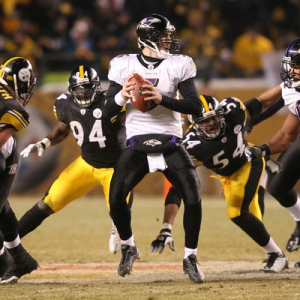 There really is no real time off for bettors who want to be serious about winning in the NFL. It's a long time until we will be able to watch another game, but there is no shortage of things to pay close attention to until then. Coaching shuffles, free agency, the Combine, the draft, mini camps — it never ends. As we head into the very busy offseason, here are five key storylines for bettors on the hunt for value to pay close attention to.
The Ravens
The public loves a defending champ, so they will likely be all over the Ravens. It is far from certain, though, that the Ravens will be in any position to defend their title. There is a whole lot of change ahead, and we still don't know what it will look like. The team sits over the salary cap for next year right now, and they still have big pieces to deal with — Dannell Ellerbe and Paul Kruger are big free agents looking to get paid, Ed Reed may or may not stay with the team, and, of course, Joe Flacco is a free agent due for a massive payday — quite possibly as the highest paid player in the league. They also have to replace Ray Lewis — hardly an easy thing given his emotional role on the squad. Anquan Boldin could be a casualty of it all despite being a reliable receiver with solid chemistry with Flacco, too. There is a chance that the Ravens could decide to blow it all up and get things back into sound financial shape over the long term. There is even a scenario that can be painted in which they don't ante up for Flacco because of how much of the salary cap he would eat up. We'll have to pay very close attention to how they proceed so that our expectations for next year aren't inflated.
The Eagles
The Eagles made the biggest splash of the coaching hunt when they landed Chip Kelly. After so many years of Andy Reid, the changes for the franchise are going to be significant. Bettors will have to pay very close attention to what changes Kelly makes and what we can expect early on. The public will be very optimistic about the team because of their talent and their new, flashy coach. But will it be justified? Kelly has already shown that he is willing to take a risk — he has gone against widely-held expectations and kept Michael Vick around for at least one year. There is no team that the public has a chance to be more wrong about early in the upcoming season than the Eagles.
The QB Shuffle
As in any year, there is a whole lot of quarterback movement on the horizon. The star of the show is going to be Alex Smith — as long as Flacco works out a deal with the Ravens, that is. The Cardinals absolutely need a new QB. So do the Chiefs. The Bills and Browns will be looking to upgrade. Jacksonville has questions. Minnesota has decisions to make. Oakland could, too. With a weaker draft class than we have seen in a few years, there isn't a lot of relief to be had, so guys like Matt Flynn will be in demand as well. Not every team is going to be able to get what they want, so it's going to be even more important than usual for bettors to pay close attention to what happens and what it means.
A flood of tackles
Normally offensive tackles are in major demand in free agency and the draft. Demand outstrips supply, so bettors can gain a lot from looking at where these crucial players go and which teams upgrade their lines. This year, though, teams can afford to be far more patient than normal because there is a whole lot of available talent. Guys like Jake Long, Andre Smith, Brandon Albert, Ryan Clady, Sebastian Vollmer, and Sam Baker are among the players who could hit the open market. The draft class is reasonably deep and talented, topped by potential first overall pick Luke Joeckel of Texas A&M. There will be guys with serious skills who will be on the market for much longer than they think and who will be paid less than expected when they do sign, so it will take more effort than normal to accurately evaluate this important segment of the player market this year.
Cardinals and Jaguars
These two organizations face much bigger challenges right now than any other. They have both made aggressive changes to their front offices and coaching staff. They are coming off horrible years and have to make serious overhauls of their talent. Both have big questions at quarterback — with the Cardinals in much worse shape there. Neither team is going to be elite next year by any means, but there is a chance for value from both. If either team can perform better than the very low expectations the public will have for them, then they could deliver very strong value early in the season.
Read more articles by Trevor Whenham