2013 NFL Draft: Players That Will Make Immediate Impact
by Trevor Whenham - 2/11/2013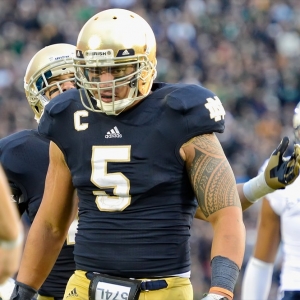 Now that the Super Bowl is behind us, it is time to turn our attention to the NFL Draft. It is a bit of a different draft this year because there quite possibly won't be a quarterback taken in the Top 10 picks, and there isn't a QB certain to be a star this year. In recent years we have been spoiled by the rookie classes of QBs, but now we need to look deeper for real impact in this draft. For bettors the draft is a very interesting time. We have to assess what impact players are going to have on their new teams in the short term. As significantly, though, we also need to look at what the public will likely expect from highly-drafted players. When the public perception and the likely impact differ, betting value can be created. Here are four players that will likely be drafted in the first round of the draft that could have the biggest betting impact:
Star Lotulelei, DT, Utah
Lotulelei is seen as the top player in the draft by several people paid to figure such things out. He also has a decent chance of going first overall — it will almost certainly be a lineman of some sort, and if it is a defensive player it will be Lotulelei. He's a walking mountain and is almost impossible to contain consistently with just one player. It's obvious what kind of impact that can have. If you double team him then there is an opportunity created somewhere else on the field. If you don't then your pocket is going to collapse. He's got an NFL-ready body, and from all accounts is more than physically and mentally mature enough to step up to the highest level and compete on Day 1. He's a total beast. He's not going to pile up the gaudy stats of a pure pass rusher, though, so more casual fans aren't going to understand the impact he can have as well as they should. If he lands in the right spot then he can make the defense around him dramatically better in a hurry. He's definitely a player to watch.
Luke Joeckel, OT, Texas A&M
A left tackle has a big impact, and thanks to "The Blind Side" and everything else people know it well. This is a strong year for tackles, and Joeckel is likely the cream of the crop. As such, he has a good shot at being the top pick. He's very good — and the success of Johnny Manziel as a freshman is good proof of that. He started at left tackle as a freshman, so he's obviously a natural. Whoever picks him could have their most important lineman for the next decade. There are a couple of reasons to temper the enthusiasm surrounding Joeckel, though. For one, a top tackle doesn't necessarily mean a top team — as Jake Long and Joe Thomas have long proved. Second, there are a shocking number of very good tackles available as free agents and a reasonably deep class in the draft. That means that teams can be more calculating with the position than normal, and Joeckel isn't as certain to land in an instant impact spot as a result.
Manti Te'o, LB, Notre Dame
Needless to say, Te'o has had a tumultuous offseason. He was a near lock to be a Top-10 pick, but then he had to go get himself a fake dead girlfriend. Combine the poor way he dealt with the situation with his horrible play in the National Championship Game, and you have major questions. He's sure to be under the spotlight more than any other rookie when his season starts. Can he handle it? The jury is out. What is certain, though, is that the public will pay more attention to him, and to his impact, than is warranted for any rookie linebacker. He recently tied with Lance Armstrong in a poll naming the most hated athlete, so the response from the public won't be positive, either. There is no player likely to be misinterpreted by the public more than Te'o.
Zach Ertz, TE, Stanford
We have seen the rise of the tight end in the NFL over the last several years, and that trend is only going to become more significant in the next few years. Ertz is the most offensively ready tight end in the league. He can block adequately, but his value is that he is huge, fast, and able to catch anything thrown even somewhat close to him. It is easier for a rookie to be a factor at tight end than wide receiver and easier for teams to protect the position and make a player valuable immediately. In a class that is really light on offensive skill position players at the top end, Ertz has the biggest chance of any such player to have a strong immediate impact.
Read more articles by Trevor Whenham