An NFL Handicapper's Look at Black Monday
by Trevor Whenham - 1/2/2013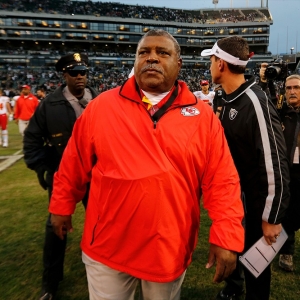 I don't necessarily think all of the dust has settled yet, but already we have seen seven NFL coaches lose their jobs since the end of the regular season on Sunday night. Most weren't particularly shocking — though Lovie Smith was definitely more surprising than most. In fact, it was really more notable that some people managed to keep their jobs — Rex Ryan, Mike Mularkey, and Kansas City GM Scott Pioli chief among them.
As I write we don't yet know who will be filling any of the empty seats — though the Andy Reid to Arizona rumors have plenty of momentum and make sense. While we can't look at what the future holds, we can, as bettors, take a look at what has happened already and what it means for the teams involved:
Chicago Bears, Lovie Smith
I wasn't expecting Smith to get let go after a 10-6 season that fell just short of the playoffs, but I endorse the move. Last year the team stumbled badly after a strong start, but the injury of Jay Cutler was at least an excuse. This year they stumbled even worse after a 7-1 start, and Cutler was healthy. This team has lacked a killer instinct under Smith, and he has not proven capable of motivating a decent collection of talent sufficiently. Smith was unlikely to really struggle, but mediocrity seemed the ongoing prescription, and that isn't going to be good enough in the NFC North. Despite the shock this was a strong move. With a good hire this team could be poised to take a big step forward.
Buffalo Bills, Chan Gailey
This was a no-brainer. The defense was an absolute disaster, the offense was only marginally better, and the team wasted a whole lot of talent and momentum this year. They likely need a new QB, but this could be a surprisingly strong position for someone to land in. Gailey looked lousy at Georgia Tech, and he was lousy at Dallas the last time he was an NFL head coach, so I never really figured out why the Bills thought the hire was a good idea in the first place. I'm not at all sad to see him go.
Cleveland Browns, Pat Shurmur
I feel bad for Shurmur because he had no chance. He didn't have a lot to work with, yet his team worked hard all year and was far better than it should have been. With the ownership change this year, though, a change was inevitable because Shurmur hadn't done enough to make him flashy enough to stay. I'd have liked to see him stay, and the next coach will benefit from the work he has done, but I have had plenty of time to come to terms with the move. Cleveland has a chance to make a big splash with this next hire, and the team really needs it.
Arizona Cardinals, Ken Whisenhunt
The team had totally tuned Whisenhunt out for at least the last three-quarters of the season, the offensive line was completely incompetent, and Whisenhunt did an all-time poor job of managing his quarterbacks. Whisenhunt had to go, and no one around this team should be sorry to see it happen. With a very good defense on board, though, a new coach could be very happy here — especially if he can figure out the QB thing and the o-line can be strengthened. With a good choice and some luck, this team is poised to make a huge step forward next year.
San Diego Chargers, Norv Turner
I would have fired Turner two years ago. I definitely would have fired him last year. Needless to say, I have no problem with this move this year. My concern is that Turner has done so much damage to this team — especially mentally — that it could take a long time to straighten them out. I don't remember the last time a team with this much talent played with so little heart or effort, but that's the magic of Turner. His departure — and that of A.J. Smith, who was a major enabler for Turner — was well beyond due, but patience will be required for this turnaround.
Kansas City Chiefs, Romeo Crennel
You clearly and obviously had to fire Crennel. The season was as disastrous as any in NFL history. Absolutely nothing went right. It would have been a problem no matter what, but given that this team was viewed as a very legitimate playoff contender before the season, landing the first overall pick is totally unforgivable. Things were so bad this year, and the QB situation is so dire, that it's hard to have a meaningful opinion of what will come next until we see how things turn out.
Philadelphia Eagles, Andy Reid
It's hard not to respect Reid and what he has done, but after 14 years everyone needed a change. He had had a very tough couple of years personally, and a change of scenery can chase away the ghosts and refresh him. His message was getting stale with some players, and the organization could use some fresh perspectives as well. This is one of those dream breakups that should eventually leave both sides better off than they were before it happened. There are some cap issues in Philly, but this is still perhaps the most attractive of the available jobs at this point.