NFL Power Rankings - Week 13
by Robert Ferringo - 11/26/2013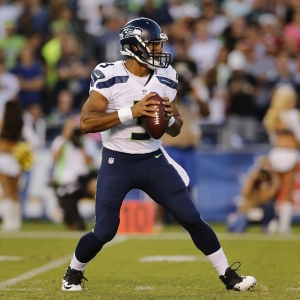 Every week we keep waiting for some teams to separate themselves from the pack in the NFL Playoff picture. But every week it seems like all things do is get more muddled.
Over half of the teams in the NFL are still in the playoff hunt, and 22 of 32 teams are either at or within one game of .500. Parity rules. But this is also the time of the year when those overlooked teams on the bottom rungs of the NFL hierarchy can be moneymakers for bold bettors.
Be wary of big underdogs during the holiday season. Some teams, like Atlanta, are mailing it in. But other teams are more than willing to play for pride and for a chance to spoil the season of a division rival. Others, like Oakland this Thursday, will max out simply because they get a rare national stage on which to ply their trade.
(Also, here's wishing you a Happy Thanksgiving from myself and the rest of Doc's Sports!)
Here are Doc's Sports Week 13 NFL Power Rankings:
1. Seattle Seahawks (10-1) – The Seahawks have gone 13-0 at home with an average win by nearly 18 points over the last two years. Yet, by a 2-to-1 margin, the public is grabbing the points with the Saints for this Monday night. May have something to do with Seattle's shaky performances in home wins against Tampa Bay and Tennessee.
2. New Orleans Saints (9-2) – The Saints value is essentially nil right now. They are just 2-4 ATS in their last six games and 1-4 ATS on the road. However, the Saints have always been a feisty underdog under Sean Payton and are 20-9 ATS in their last 29 games against teams with a winning record. The winner of this game has the inside track to home-field advantage in the playoffs.
3. Denver Broncos (9-2) – I'm not going to crucify the Broncos for losing on the road in overtime – in a game that could've gone either way – to another team in the Top 5. But their defensive issues are getting worse, not better, and the secondary looks lost without Champ Bailey and Dominique Rodgers-Cromartie. Add in the Rahim Moore injury, and the Denver secondary is horrendous. The Broncos have won three straight and seven of 10 against the Chiefs, and Denver is 6-3 ATS in the last nine meetings.
4. New England Patriots (8-3) – That Denver game was nearly a carbon copy of the Patriots Sunday night game against San Francisco last year. I say "nearly" because the Patriots were actually able to come all the way back and beat the Broncos. I wouldn't expect much mercy from New England this week. The Patriots know that last week's win has put them in the conversation for home-field advantage in the AFC. They still have ground to make up, and Bill Belichick will have this group focused on its trip down to Texas to take on the sad-sack Texans.
5. Kansas City Chiefs (9-2) – Not only did the Chiefs lose Justin Houston (dislocated elbow) and Tamba Hali (sprained ankle), but their mascot was also injured in a zip line accident on Sunday. Just a tough day all around. As I have repeatedly pointed out, I was driving the bandwagon on the Chiefs (and Cardinals) this year. But I feel I know this team well enough to know that they won't beat Denver this week. Kansas City's injuries are crippling, and I just didn't think that the Chiefs were all that competitive in Denver two weeks ago. It is really just a bad matchup for Kansas City, and I expect Denver to earn the sweep.
6. San Francisco 49ers (7-4) – San Francisco is getting healthy, and they are getting a little nasty. But while everyone was impressed with the Niners thrashing Washington on Monday night, I was a little concerned about how easily the Redskins ran the ball against the 49ers front seven. Washington averaged less than four yards per carry, but they moved the pile on a lot of drives even though they were playing from behind. Also, San Fran has to be wary of looking past St. Louis this week and toward a revenge game with Seattle.
7. Carolina (8-3) – I am still stunned that Miami wasn't double-teaming Steve Smith – the one real wideout Carolina has – on fourth-and-10 with two minutes left in that game. Carolina has been skating lately, winning/stealing games from San Fran, New England and Miami the last three weeks by a total of nine points. Do they care enough to lay the wood to Tampa Bay (again) this weekend with a crucial game against New Orleans on deck?
8. Cincinnati Bengals (7-4) – Apparently the public has abandoned the Bengals. Cincinnati is garnering just 33 percent of the early action this week at San Diego. They originally opened as a 1.5-point favorite, but the combination of sharp money and public money has swung the line to San Diego -1.5. The Bengals traveled out West to take on San Diego last December. They needed a late touchdown run by Andy Dalton to steal a 20-13 road win. The Bengals are 3-0 ATS in the last three meetings.
10. Arizona Cardinals (7-4) – Who knew that the Cardinals would be this good? Me. Yes, I knew it, which is why I released an 8-Unit NFL Futures Play on Arizona to go "over" 5.5 wins. I also predicted that they would be in the playoff hunt in December, and here we are. But now the public is on the bandwagon, with nearly 70 percent of the action this week coming in on Arizona. But the Cards' last four wins have come against Houston, Atlanta, Jacksonville and Indy, and three were at home. Let's not start etching the Lombardi just yet.
9. Detroit Lions (6-5) – I am disgusted that I have the Lions this high in my rankings. But who do I drop them below? Detroit is a missed Bears two-point conversion and a last-second touchdown away from a five-game losing streak. The Lions are just 2-5 ATS in their last seven games and, like I have been trying to tell people all season, these guys are still one of the most overrated teams in the league. They do have a lot of revenge against the vulnerable Packers though, as the Lions are just 1-6 ATS in their last seven home games against Green Bay.
11. Philadelphia Eagles (6-5) – Better late than never. The Eagles needed that bye week to rest and regroup. I will be interested to see what new wrinkles, if any, Chip Kelly has added to the offense. I am also curious how this attack is going to function in the cold weather when players are moving more slowly. The Eagles are 1-11-1 ATS in their last 13 home games and 1-7-1 ATS when laying points at home.
12. Chicago Bears (6-5) – I have no idea how Chris Conte is in the NFL, much less starting. Chicago's safeties (Major Wright is the other one) are the worst in the league, and there are no options on the bench to go to. Add in overmatched Shea McClellan, and the Bears have three just horrible, almost-worst-in-the-league-at-their-position guys starting on defense. Chicago is 2-8-1 ATS this year, 5-16-1 ATS in its last 22 overall, and 3-14 ATS in its last 17 conference games.
13. Indianapolis Colts (7-4) – It took longer than I thought, but the Colts and Andrew Luck are slowly being exposed. Without Reggie Wayne and a consistent running game, Luck is being forced to carry this offense. The problem is that he's not good enough, and his poor decision-making and ball security is creeping out. T.Y. Hilton missed some time in the Arizona game. If he were to get hurt, I would blindly bet against Indianapolis the rest of the year because he is truly the only weapon on the Colts offense right now.
14. Green Bay Packers (5-5-1) – The Packers are 0-3-1 straight up and 0-4 ATS without Aaron Rodgers. They were also lucky to get that tie last week; they trailed woeful Minnesota 23-13 in the fourth quarter at Lambeau last week. Green Bay is 5-0 SU and ATS in their last five meetings with Detroit. But that was with Rodgers.
15. Baltimore Ravens (5-6) – The weather looks like it may be wretched in Baltimore on Thursday. The temperature will be around freezing, with rain and winds of up to 23 miles per hour. That benefits the Ravens since they are much better on both the offensive and defensive lines. Some books are already moving off the 3.0 in this game, which is extremely surprising. If you want to play the Ravens, I'd wait until just before kickoff since the difference between 2.5 and 3.0 is huge in a series decided by exactly a field goal in nine of the last 11 meetings.
16. Miami Dolphins (6-5) – I have loved Miami's aggressiveness throwing the ball down the field in recent weeks. And all this team has done since the Incognito-Martin controversy is go 3-1 ATS. They are actually catching most of the betting action this week against the Jets. But I am interested to see how this warm weather, pass-happy team handles the cold and the wind up in New Jersey this weekend.
17. Pittsburgh Steelers (5-6) – It is as if everyone forgot about the Steelers. But Pittsburgh has won three straight – all in convincing fashion – to get themselves back in the AFC hunt. Pittsburgh has been sharp offensively over the last month, averaging over 28 points per game. In a quirk, there have been more points scored in the second game of the Steelers-Ravens series in five of the past six years. Despite the weather, we may see some points on Thursday.
18. San Diego (5-6) – It may have been a bit of a Pyrrhic victory for the Chargers last week in Arrowhead. Ryan Matthews, Eddie Royal and D.J. Fluker all left the game late with injuries. Be sure to check their statuses – which hasn't been updated – before deciding which side to come down on in the Chargers big game with Cincinnati.
19. Dallas Cowboys (6-5) – I love how people are bringing up Tony Romo's fourth-quarter stats from the past few seasons and pointing to his 11 "comeback wins". That's cute. But anyone that has actually watched Dallas the past several years know that it is almost comical the ways Romo and Co. have found to choke games away. Again: I'm not nearly as impressed by a win over the floundering Giants as apparently everyone else is. Dallas won four straight Thanksgiving games from 2006-09 by an average of 25 points per game. Since then they have lost two of three.
20. New York Giants (4-7) – This game with the Redskins is going to be an ugly affair. Truly, my best advice to any gambler out there would be to stay far, far away from this one. There is no way in hell I would throw my money in the middle of these losers. The Giants have dropped five straight ATS to the Redskins, all as a favorite. And don't get too wrapped up in the fact that the Giants were playing a "meaningful" game last week. This team was 0-6 not long ago and is substandard in just about every facet.
21. Tennessee Titans (5-6) – Michael Griffin has been suspended for this week's game at Indianapolis because of repeated violations of the league's safety rules. That is a tremendous loss for the Titans in their biggest game of the year. The Titans are 0-4 ATS in their last four games against the Colts and never seem to play well in Indy. But Tennessee had Indy beat in the first meeting, somehow blowing a 17-6 halftime lead at home. They know they can beat the Colts this week.
22. St. Louis Rams (5-6) – I have to say, I've really liked what I've seen from the Rams over the last month. Jeff Fisher has reverted back to playing smash-mouth football, and the Rams are running the ball as well as any team in the NFL right now. The Rams really outplayed Seattle and had numerous chances to take down the Titans. They are that close to being on a 6-1 SU run. As it is, St. Louis is 5-2 ATS in its last seven, and the Rams have revenge for a bludgeoning that they took at the hands of the 49ers back on Sept. 26. St Louis is 5-2 ATS in its last seven games against the 49ers.
23. New York Jets (5-6) – Like some cheesy serial killer in some low-budget flasher flick, do the Jets have one last scare left in them over the final month of the season? With three of the next four at home, against the Dolphins, Raiders and Browns, this could be a sneaky ATS team. The Jets have dominated Miami over the past 15 years, going 20-8-1 ATS in the last 29 meetings. However, New York is just 3-9-1 ATS in its last 13 home games against the Fish.
24. Oakland Raiders (4-7) – What to make of this team? They aren't terrible enough to blindly bet against. We have done that for the better part of the past decade. But they aren't good enough to trust, either. The Raiders and Cowboys have actually played in the preseason each of the past two years, so they are moderately familiar with one another's personnel. The scores of those two games were 3-0 (last year) and 19-17 (this August). This game is probably Oakland's Super Bowl, and I would expect a max effort from Oakland. But if they can't find a way to move the ball in the air, they don't really stand a chance.
25. Buffalo Bills (4-6) – I think the bye week will help E.J. Manuel get back a little of what he lost when he missed time with injury earlier in the year. I also think that having an extra week of prep time will help the Bills get mentally ready to play in Toronto. They are just 1-4 in their last five trips north, including a 50-17 maiming at the hands of Seattle last year. But those games were just shoehorned into the regular schedule, and I know Bills players have hated having this "neutral site/home" game here in the past.
26. Cleveland Browns (4-7) – Cleveland looked like a broken, busted team by the fourth quarter against the Steelers last week. Brandon Weeden gets the start this week against Jacksonville. But no one in that Cleveland locker room has any confidence in him, and everyone in the organization knows he's awful. Weeden just misses too many easy checkdown throws, and he locks into Josh Gordon. He is too easy to defend against. The Browns are 13-7-1 ATS when bouncing back from a loss, but I'm not sure about laying big points with Weeden.
27. Washington Redskins (3-7) – Everyone is stunned by RGIII's fall from grace. Everyone except us. Because I've been saying in this space all season long that he is terrible and that this team is pathetic. It is interesting to me that both Washington and Houston, two teams that utilize Shanahan-inspired systems, are both flailing so badly with such anomalous yards per point figures on offense and defense.
28. Tampa Bay Buccaneers (3-8) – I have no idea how Greg Schiano kept his job after that Thursday night debacle against Carolina on Oct. 24. But he did, and he's been doing a hell of a job since. The Bucs are on a 4-0 ATS run, and they would have won all four games outright if they had held at Seattle. Remember: this team gave away games in September to the Jets, Saints and Cardinals. They are quite literally five plays away from being 7-4 right now and are not as bad as they seem. They aren't good – not by any stretch. But things have settled down a bit, and the Bucs look like a team that wants to battle to the finish, similar to what we've seen out of Carolina the past two years.
29. Minnesota Vikings (2-8-1) – The home team is 16-6 ATS in the last 22 meetings between the Vikings and the Bears. Minnesota has a touch of revenge against Chicago for a brutal last-second loss earlier in the season. The Vikings should be able to run the ball at will against Chicago's soft front seven. And it is a major red flag when a 2-8 team is favored over a 6-5 team battling for the playoffs.
30. Houston Texans (2-9) – It is nearly impossible to have the league's No. 1 defense and a Top 10 total offense and be as bad as the Texans are right now. But that is what happens when you take the collective Loserdom of Wade Phillips and Gary Kubiak and you mix it together. Their defensive YPP of 11.0 and offensive YPP of 20.1 almost look made up to me. They are so far outside the Bell Curve that Houston will be primed for a huge bounce back next year.
31. Atlanta Falcons (2-9) – The Falcons are absolutely mailing in this last month of the season. They are going to give a lot of snaps to their rookies and young players, and the Atlanta brass is going to be evaluating players over these last few weeks. The Falcons took a good shot at the Saints in last Thursday's primetime rivalry game. They could not care less about a trip to Toronto this week with a trip to Lambeau on deck. Atlanta has lost five straight and eight of nine, and only one of those last five L's has been by less than double-digits.
32. Jacksonville Jaguars (2-9) – The Jaguars are a juggernaut! They have won two of three games SU and ATS since getting their asses beat – on and off the field – over in London. This offense is still averaging just 283 yards and 12.9 points per game this year. Were it not for nine defensive points (a TD and a safety) and a ridiculous 7.4 yards per point game against Tennessee, the Jaguars would've been held to 20 or fewer points in each of their first 11 games.

Throughout the season I will have my NFL Power Rankings every Tuesday.
At Doc's Sports our handicappers are obsessed with football and passionate about finding you winners. Want proof? We'll show you what we mean by giving you $60 worth of our member's picks absolutely free. No obligation. No strings. Click here to get started right now.
Read more articles by Robert Ferringo