2013 NFL Team, Player Exotics Odds and Predictions
by Alan Matthews - 9/4/2013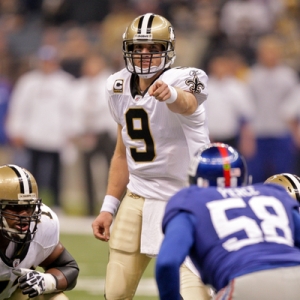 Easily the most interesting time to bet the NFL is on the eve of the season because the books come up with all these very unique exotic bets. You won't see a ton of these during the year because the books obviously are going to be pretty busy during the week and don't have time for the research for the out-of-the-box bets. That said, I will bring you stories when they happen -- Bovada, for example, often releases weekly specials that are different from normal props.
With that said, let's look at some exotics courtesy of Bovada and Sportsbook.ag.
--Will any quarterback throw for 5,000 yard this season: "yes" -200, "no" +150. I think you are betting on just two players here: the Saints' Drew Brees and the Lions' Matthew Stafford. Brees is the only player to top 5,000 yards in multiple seasons, highlighted by his NFL-record 5,476 in 2011. Stafford (5,038) and Tom Brady (5,235) also topped the magic mark that season. As much as Brees and Stafford will throw, I think no is the better option here. I realize Brees has Coach Sean Payton back and that Stafford set an NFL record for attempts last year. However, if either misses just one game, the number won't be reached. Plus, I think the Lions run a bit more with Reggie Bush on board.
--Will any player rush for 2,000 yards this season: no -500, yes +300. Minnesota's Adrian Peterson became the seventh player to top 2K last season, coming up just short of Eric Dickerson's 1984 record. No player has ever had multiple 2,000-yard seasons. Dickerson followed his record year with 1,234, although he missed two games. In 1986 he rushed for 1,821 in 16 games. Peterson has targeted 2,500 yards, but that's never going to happen. This is a huge no.
--Will any player have 2,000 yards receiving this season: no -700, yes +400. Huge no here too. If it was ever going to happen, it would have been last year when the Lions' Calvin Johnson finished with 1,964 yards. He was targeted a whopping 205 times by Stafford. You aren't going to win by throwing to one guy that much, as good as "Megatron" is. Defenses can block off that part of the field.
--Will any quarterback rush for at least 1,000 yards: no -300, yes +200. Again, you are betting on two players here: San Francisco's Colin Kaepernick and Washington's Robert Griffin III (maybe Cam Newton, but I don't think so). No way RG3 runs as much off the second major knee surgery of his career. And unless the Niners want Kaepernick killed, he won't run enough to approach 1,000 yards either. I don't think we ever see a QB do this in the NFL again.
--Will any quarterback throw for more than 50 touchdowns? Yes-only at +500. I do think Brady's record total of 50 will be broken some day, with Brees the likeliest choice. But, man, that's a little more than three TDs per game. No.
--Will any receiver catch 20 TD passes or any running back rush for 20 scores? Yes-only at +550 and +700, respectively. These seem more doable than the 50-TD prop. The record for TD receptions is 23 by Moss in Brady's record TD year. Jerry Rice (22, 1987) is the only other player to top 20. LaDainian Tomlinson holds the rushing mark with 28 scores in 2006, his MVP year. Including that one, 11 times a back has scored at least 20. Arian Foster led the league with 15 a year ago. I might roll the dice on this one. Guys like Foster, Peterson, Marshawn Lynch and Stevan Ridley should get all the goal-line carries. One of them can do this.
--Will any team go 16-0 (yes +1500, no -3000) or 0-16 (no -5000, yes +2000): I actually think the 0-16 is more likely. There is no super team in the league this year that will run the table. Every top contender has some big flaw. However, could I see the Jets, Raiders or Jaguars not winning a game? I could. Throw a few bucks on this one.
--Will either the 49ers or Seahawks win the NFC: no -225, yes +180. I'm a bit surprised at the line on this one. I would jump on this prop, even though I do think both are slightly overrated. But I would argue only Green Bay has a shot in the NFC, maybe New Orleans (not a big Atlanta guy). Take yes. That an NFC South team wins the NFC is +260 with no at -340 (no unless New Orleans gets home-field advantage). That either the 49ers or Seahawks wins the Super Bowl is +375, with no at -550. I'd take yes there, too.
--Many would argue that the NFC East is the marquee division in football just on big-name value alone. Oddsmakers aren't confident the Redskins, Cowboys, Giants or Eagles will do much. That an NFC East team wins the conference is +375, with no at -550. The Super Bowl: no -1150, yes +700. Take no on both.
--Finally, I do think there's some value on the AFC North props: that the Browns, Bengals, Ravens or Steelers win the AFC is +350 with no at -450; the Super Bowl is +900 with no at -1400. With potentially good teams in Baltimore, Cincinnati and Pittsburgh, I'd roll the dice here. Not predicting it, but it's a pretty good return for a small investment when you get three contenders at one price.
Doc's NFL handicapping team is confident that a great year is ahead of them. How confident? So much that they are giving away their picks. New clients can claim $60 worth of free picks just by clicking here. No hassle. No obligation. Just great picks.
Read more articles by Alan Matthews