NFL Week 11 Special Betting Props with Odds and Predictions
by Alan Matthews - 11/14/2013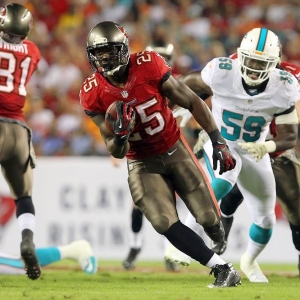 On the one Bovada NFL special that was determined in Week 10, hopefully you followed my advice. That was on Eagles quarterback Nick Foles "over/under" two touchdown passes against Green Bay, and I strongly leaned over at +120. He had three and still hasn't thrown an interception this season with 16 touchdown passes. The site this week has an over/under of how many more TD passes he will throw before his first pick, with a total of 2.5 (over -130, under even). I tend to lean under here because he might throw a Hail Mary at the end of the first half or something against the Redskins on Sunday that's picked off.
By far my favorite special this week, a rather clever one, involves the whole Richie Incognito/Jonathan Martin mess in Miami. It asks who will be a member of the Miami Dolphins in Week 1of next season: Coach Joe Philbin only (+300), GM Jeff Ireland only (+200), both (+700) or neither (even).
Dolphins owner Stephen Ross has been pretty vocal in this situation and planned to meet with Martin this week before the NFL asked him not to while it was investigating. He also organized a five-man advisory council of Tony Dungy, Don Shula, Dan Marino, Jason Taylor and Curtis Martin to determine what sort of locker room nonsense is OK. That sounds ridiculous, frankly, but the owner is trying to save a little face for his embarrassed franchise. Is Shula really in touch with what today's athletes are doing?
Anyway, on to that prop. It seems like Ireland is a goner. He reportedly said that Martin should punch Incognito if he had an issue with the guy. This is football, wouldn't you say that? It's not like it was a punter going up against a linebacker. These guys are similarly sized. Plus, Ross has reason on the field to dump Ireland with the Fins having lost five of six, including at winless Tampa Bay on Monday. Also, big free-agent receiver Mike Wallace has been a bust. I do think Philbin stays. He took full responsibility for all this, and if you watched "Hard Knocks" when Miami was featured, the head coach really is not involved in the locker-room stuff. He's more like a CEO. Might he have known something? Perhaps. That's why you delegate. So I'd bet on Ireland only.
Probably my second-favorite prop every week other than which coach will be fired is which team will stink the most. I've gone into total wins previously on the Bucs and Jaguars, who each got victory No. 1 in Week 11. Bovada also offers a prop on which team gets the No. 1 overall pick in the 2014 draft: Jacksonville (-200), Tampa Bay (+200), Minnesota (+1000) or any other team (+500). I've said before I thought the Bucs might win three games and the Jaguars one. I don't think the Titans took Jacksonville very seriously last week, and the loss of starting QB Jake Locker didn't help. Assuming the Jags lose at home this week to Arizona, and I think they do, I only see one more realistic win. The Bucs should win at least two more, including Sunday at home against Atlanta. The two-win Vikings are interesting. They will lose this week at Seattle. Then they finish: at Green Bay (I would think loss even with the Pack minus Aaron Rodgers), vs. Chicago (50-50 depending on Jay Cutler's health), at Baltimore (loss), vs. Philly (loss), at Cincinnati (loss), vs. Detroit (loss). Just think if Adrian Peterson were to get hurt this week. I might roll the dice on the Vikings at the price. The tiebreaker would be which team "lost" to the easier schedule. That would be the Jags.
Perhaps my favorite prop so far this season, in terms of confidence, is whether Seattle's Percy Harvin scores a touchdown this week in his presumed season debut against his former team, the Vikings. "No" is -200 and "yes" is +160. Bet the farm on no. I'm sure Harvin is itching to go and stick it to his former teammates, but the Seahawks are going to keep him very limited. They are going to win the game regardless and need the injury-prone Harvin more later in the season -- Seattle is also on a bye next week. Afterward, the Hawks face the Saints and 49ers. That's Harvin time.
How many yards will the Saints put up at home against San Francisco this week: over/under 410.5, with both at -115. New Orleans put up a season-high 625 yards on Sunday night against an atrocious Dallas defense. The 49ers defense is much better than that, allowing 316.8 yards per game. It also has been tremendous of late, even in Sunday's loss to Carolina. Just for a slight bit of comparison, the Saints put up 319 yards in a home game against a pretty good Arizona defense in Week 3. The Niners' worst road effort was 368 yards allowed at Tennessee, a game they still won pretty handily. I'd lean under here -- expect Drew Brees to throw for around 300 but the running game to do nothing.
Lastly, how many home wins will the Eagles have this season: over/under 2.5, with the under a -140 favorite and over at even. Philly has lost 10 straight at home, with its last win Week 4 of 2012 against the Giants. It is a favorite this week against Washington and has home games left against Arizona (after a bye week), Detroit and Chicago. The Eagles should be favored in all unless both Foles and Michael Vick are injured. Take over. I think you win this after the current three-game homestand.
Doc's Sports has been successfully handicapping the NFL for years – more than four decades in the business – and wants to give new clients a chance to try our service for free. Click here for the hassle-free sign up and get $60 in free NFL picks today.
Read more articles by Alan Matthews