2014 Dallas Cowboys Opponents and Schedule Highlights
by Aaron Smith - 4/1/2014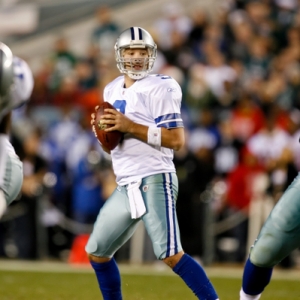 The NFC East was as wide-open as you'll ever see last year, and the Dallas Cowboys had a shot to win it all the way up until their final game, but they came up just short. Dallas has come up just short tons of times in the last few years, and their large fan base is starting to grow a bit frustrated.
Dallas has now gone 8-8 in three straight seasons. Expectations are always high for the Cowboys, and 8-8 simply isn't going to cut it. Jerry Jones is the face of the franchise as the owner, and that might not necessarily be a good thing. Tony Romo is quick to get blamed when things go wrong, but there are much larger problems here than just the starting quarterback.
Let's take a look at the Cowboys opponents during the 2014 season. The NFL will release schedule dates later in April, but we do know who the Cowboys will have to play. We'll start with the team's eight road games and finish with their eight home games.
2014 Dallas Cowboys Opponents: Road Schedule
At Philadelphia: The Cowboys won at Philadelphia last year, but they were unable to win the key season finale, and the Eagles won the NFC East because of that game. Turnovers haunted Dallas down the stretch last year, and it was their three turnovers the season finale that allowed Philadelphia to clinch the division.
At New York Giants: The Cowboys took care of business both times against the Giants in 2013. Since 2003, the Giants are 55-40 against the spread following a win, so the Cowboys should hope for a Giants loss the week before they play them. It seems the Giants are a momentum-based team. After a loss, the Giants are just 37-41-2 ATS.
At Washington: The Cowboys won 24-23 at Washington toward the end of last season. Kirk Cousins was the starter for the Redskins in that one. Washington will likely be better this season, and the Redskins always fight hard against the Cowboys.
At St. Louis: Jeff Fisher is a proven coach who had the Rams playing very well at home last year. St. Louis was 5-3 ATS at home last year. Jeff Fisher is 40-27 ATS in his last 67 games as an underdog. The Cowboys might be a small favorite here, but it's definitely a tricky spot for Dallas.
At Seattle: What can you say about this one? Having to play against the Super Bowl Champs is tough enough, and playing in Seattle is virtually impossible. There is no better home team in the NFL than the Seattle Seahawks. Seattle is 25-10 ATS as a home favorite since 2007. They are 20-4 ATS in their last 24 September home games, so an early-season game in Seattle is the worst-case scenario.
At Jacksonville (London): Dallas will technically be the road team in this London showdown, but this is truly a neutral-site game. Jacksonville may be the weakest opponent on the Cowboys schedule this year, but playing in a different country is unique, and the Cowboys will have to be ready to go.
At Tennessee: The Titans are 21-10 ATS in their last 31 nonconference home games. On the other hand, Tennessee is just 8-15-1 ATS in their last 24 home games overall in the past three years.
At Chicago: Soldier Field is a tough place to play, but the Bears haven't taken advantage of that in the past couple years. The Bears are just 4-11-1 ATS in their last 16 home games. Dallas is 9-6 ATS in their last 15 as a road underdog.
2014 Dallas Cowboys Opponents: Home Schedule
Philadelphia: Philadelphia will likely be the team to beat in the NFC East again this year, and if Dallas is going to have a chance of getting to the playoffs they'll need to win this game at home. Philadelphia is 18-9 ATS in their last 27 games as a road underdog.
New York Giants: The Cowboys vs. Giants matchup is often a prime time game, and sometimes it's a Monday Night affair. Tony Romo is just 1-8 ATS in his last nine "Monday Night Football" starts. This is always a highly-competitive game.
Washington: Dallas dominated Washington 31-16 at home last year largely because of their special teams play. The Redskins have yet to figure out Dwayne Harris, and he torched them in the contest at Dallas last year.
Arizona: Arizona finished 10-6 last year and was one of the bigger surprises in the league. The Cardinals defense is scary good, and they are still very young. Arizona is 10-5-1 ATS in their last 16 road games.
San Francisco: The Cowboys and the 49ers squared off in three straight NFC Championship Games from 1992 through 1994. Dallas won two of those three games, and they have won the last three matchups between these teams. San Francisco is a proven commodity now, though, and they should be favored here.
Houston: Normally seeing a team that went 2-14 last year on your schedule would be a great thing, but the Texans have tons more talent than an average 2-14 team. They are a candidate for a major bounce-back season in 2014. There's nothing easy about this game.
Indianapolis: Here's another division winner from 2013. Dallas has to be glad to host this game instead of playing on the road. Andrew Luck is 13-4 ATS in 17 home games in his career. He is 9-9 ATS in his 18 road starts.
New Orleans: The Cowboys will look for some revenge after last year's ugly loss at New Orleans. New Orleans absolutely demolished Dallas last year in the Superdome. The Saints rolled up a record-breaking 40 first downs in that game. Can the Cowboys slow down this Saints offense?
Want free sports betting picks? Doc's Sports has you covered - get $60 worth of picks free from any of Doc's Sports expert handicappers. Click here for free picks (new clients only).
Read more articles by Aaron Smith