NFL Handicapping: Grading the Rookie Quarterbacks
by Trevor Whenham - 10/14/2014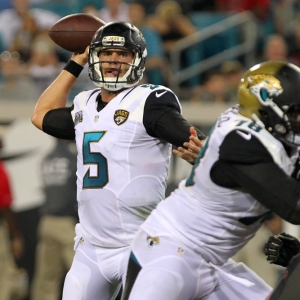 There were 14 quarterbacks selected in the 2014 NFL Draft. Their careers will likely range from spectacular to forgotten -- indeed, some have already been forgotten and they only barely started. We are far enough into the season that some rookie quarterbacks have had a significant impact, and others could soon. It's a good time to grade the 14 quarterbacks in terms of what they have done and their likely betting usefulness going forward:
Blake Bortles, Jacksonville Jaguars: Coming into the season the theory was that this was going to be a redshirt year for Bortles, but it took Bortles until just the third game of the year to come in for meaningful minutes and the fourth to start. There are positives -- he has completed nearly 68 percent of his passes, and his yards-per-attempt of 7.02 is on the right side of respectable. He has seven picks and just four touchdowns, though, and is in charge of one of the more inept offenses in the league. The team around him is far from good, so it isn't his fault by any means that the team is just 1-3 ATS with him in charge. The team has been far worse than expected, and even if Bortles continues to play fine it's hard to see a marked improvement this year. Grade: B.
Teddy Bridgewater, Minnesota Vikings: Bridgewater's most impressive effort may have been his worst statistically. The Vikings were beaten by the Lions 17-3, and Bridgewater threw three picks. His offensive line was truly offensive, though -- he was sacked eight times and was running for his life on almost every snap. Despite that, and playing on a bad ankle, he still completed 62 percent of his passes and connected with eight different receivers. The guy has game. He has played three games, and he competed at least 60 percent of passes each time. He has not thrown a TD pass, but he hasn't had a pick outside of the Detroit game, either. Considering he plays in an offense built around a now-absent Adrian Peterson, he has been solid -- and if and when his team improves he could be dangerous. Grade: B+.
Derek Carr, Oakland Raiders: Carr is the most experienced rookie in the league after having played in all five Oakland games. He also plays on the worst team and has already had to deal with his first coaching change. Given the stunning lack of talent around him, it's hard not to be impressed with what he has done. He was particularly good against San Diego with four touchdown passes, and he almost pulled off what would have been a monumental upset. The biggest compliment you can pay Carr is that despite how bad his team is, he has them at 3-2 ATS. That should hardly be possible. The biggest thing he has going for him is that his line is protecting him reasonably well -- he has attempted 167 passes and has been sacked only three times. It's a good thing, too, because he is far from inspiring under pressure. Grade: A-.
Incomplete Information
Johnny Manziel, Cleveland Browns: Who could have imagined this working out this way? The Browns are the darlings of the league. They are playing tough, solid football, and QB Brian Hoyer is the biggest reason. Manziel has had two meaningless appearances, and there is no reason to expect him to get more than that in the short term. Predicting the short-term future of the highest-profile rookie isn't easy to do -- though it's tough to be positive.
Logan Thomas, Arizona Cardinals: Thomas appeared just once -- on Oct. 5 against the Broncos. He had a huge 81-yard touchdown pass, but that was his only completion in eight tries. With Carson Palmer really fighting injuries and Drew Stanton banged up, we could see Thomas again, but it seems unlikely right now that he would pass either if they could play. He likely has a future in the league, but not now.
Zach Mettenberger, Tennessee Titans: Mettenberger has appeared once, completing 2-of-5 passes and throwing a pick. Jake Locker is struggling badly, and Charlie Whitehurst is not a real solution, so it is odd -- and somewhat concerning -- that we haven't seen Mettenberger in a meaningful way yet. If we don't see him soon then things really get concerning.
Jimmy Garoppolo, New England Patriots: Garoppolo has appeared twice. The most recent was a kneel-down in a blowout win. The first, though, was impressive. He completed 6-of-7 passes for 70 yards and a score -- albeit against the bottom of the barrel of Kansas City defensive options because the game was so far out of hand by that time. Tom Brady is alive, and he's playing great lately, so we aren't going to see Garoppolo more than we have seen any of the other New England backups not named Matt Cassel in recent years.
Tom Savage, Houston Texans: We haven't even really seen Ryan Mallett play for the Texans yet, and it's not like Ryan Fitzpatrick is burning up the league. Savage isn't likely to have a real role this year barring injuries.
Aaron Murray, Kansas City Chiefs: Murray is the third quarterback for the Chiefs, but he has no stats and spends most of his time on Sundays sitting on the inactive list. With a solid starter and one of the better backups in the league ahead of him, it's doubtful he'll see real time.
Totally Irrelevant
A.J. McCarron, Cincinnati Bengals: He landed on the injured list to start the season. He could be eligible next week, so the Bengals -- who don't need immediate QB help -- have to decide what to do with him. It's doubtful we will see him play this year.
David Fales, Chicago Bears; Keith Wenning, Baltimore Ravens; Garrett Gilbert, St Louis Rams: All three were released by their teams during training camp and wound up on the practice squad after not being claimed off of waivers. It is highly unlikely that any of the three will be active this year.
Tajh Boyd, New York Jets: This one is odd. The Jets are a mess at QB, and it couldn't have come as a surprise to them -- at least not if they were being honest with themselves. He was released outright, though, and is now playing in something called the Fall Experimental Football League.
New to Doc's Sports? We'd like to offer you $60 of free, no obligation picks. Try us out. See why experience matters, and why we have been around for so long while others have come and gone. Click here to sign up today. Also, get three handicappers for the price of one when you sign up for a full-season football package! Click Here for details.
Read more articles by Trevor Whenham