NFL Power Rankings Week 14
by Robert Ferringo - 12/2/2014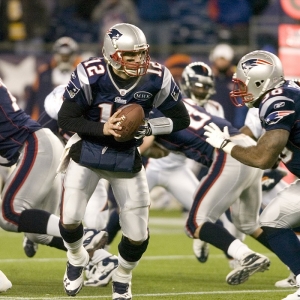 It is time for the stretch run in the NFL, and now that we're in to December we start to get some pre-playoff playoff games. Here are two very basic tips to consider when handicapping December games:
1. Find the teams that are going to mail it in.
I know that the NFL is always touting its parity as a major league strength. But just take a look at these power rankings. Take a look at the top eight teams and the bottom eight teams and tell me that they are even close. Besides an obvious talent gap - particularly at the all-important quarterback position - there are also a host of teams (Jets, Giants, Raiders) that know their coaches are going to be fired. The inmates are running the asylum in those locker rooms, and with nothing to play for but draft positioning I expect little to no effort from those groups through this month.
Free $60 in Member NFL Picks No Obligation Click Here
2. Best against teams in Must-Win Situations.
I know this one seems a little counterintuitive. Teams that absolutely NEED to win a certain game would appear to have a motivational advantage. But that is so rarely the case when teams get into those must-win games to keep their playoff hopes alive. The oddsmakers adjust the lines to compensate for the motivational edge as well as for the fact that the public always buys into the "must-win" angle. Also, all of the pressure mounts on teams that have to win in order to extend their seasons, while their opponents can take it free and easy. Finally, good teams don't put themselves in must-win situations. Shaky teams do. And shaky teams can't be trusted to come through in pressure situations.
Here is Doc's Sports NFL Power Rankings for Week 14:
1. New England Patriots (9-3) - Bill Belichick has won five of his last six games against Phil Rivers, and the Patriots have held the Chargers to an average of just 19.7 points per game in those meetings. That said, the favorite is just 3-6 ATS the last nine times these teams have gotten together since 2001. Also, the Patriots - shockingly - have only been favored in five of their last 10 games. They are just 2-3 ATS in those five contests, so they are not an automatic play this week against a dangerous San Diego team.
2. Green Bay Packers (9-3) - Since the bye week the Packers have held four straight opponents - including high-powered offenses from Chicago, Philadelphia and New England - to 21 points or less. Green Bay has gone 3-1 ATS in those games, and they are 7-2 ATS in their last nine games.
3. Denver Broncos (8-3) - I don't think that anything is going to rattle Peyton Manning at this point. But I am interested to how he matches up with Buffalo's defense this week. The Bills front four is balling out and will get pressure on Manning similar to what St. Louis and New England did in Denver's last two losses. The Broncos are 11-4 ATS in their last 15 games as a favorite of nine points or more. And two of those losses were in games in which they were favored by 16.5 points and 26.5 points.
4. Philadelphia Eagles (9-3) - The Chip Kelly-to-Florida rumors absolutely have the opportunity to be a distraction for this team. The Eagles are a very young team that is solely dependent on Kelly and his system for strength. So if his focus is not razor sharp, that will have a ripple effect through a locker room that is already very fragile with Mark Sanchez under center. You can bet Sanchez has a three-INT game left in his bag this season, and I think the Eagles could be susceptible to a letdown this week after their dominating performance in Dallas on Thanksgiving.
5. Seattle Seahawks (8-4) - One of the most underrated free agent signings this offseason was Kevin Williams going to Seattle. He has filled in for the injured Brandon Mebane and has been a beast on the defensive line. Seattle hasn't lost by more than one score since Week 2, and I thought it was incredibly telling that the Eagles weren't even installed as a token three-point favorite over the visiting Seahawks this week. Fox moved the kickoff for this one to 4 p.m., so Seattle also dodges the negative of having to travel east for a 10 a.m. PST start.
6. Indianapolis Colts (8-4) - If the Colts want me to take them seriously, they could start by coming to play on the road this week. Their last three wins have come against the Redskins (3-9), the Jaguars (2-10) and the Giants (3-9). They have just two wins in three years on the road against teams with a winning record. Their defense has been garbage outdoors this year, posting just a 14.0 defensive yards per point, and this is their first time outside since Nov. 3. So this week will be Andrew Luck's first foray into any kind of weather. Fortunately for him, it will be in the mid-40s in Cleveland on Sunday.
7. Dallas Cowboys (8-4) - I know there is some panic starting to set in down in Arlington. And it should. This team isn't nearly as good as its 6-1 start suggested. And their only wins over their last six games have come against the Giants (twice) and Jaguars. But with games against the Bears and Redskins left on the schedule, I think Dallas is a lock to get to 10 wins. They have revenge for three straight losses to the Bears since 2010, including blowout losses the past two seasons, and Dallas should move to a perfect 6-0 SU on the road this season.
8. San Francisco 49ers (7-5) - It is baffling to me why everyone is piling on this team and Jim Harbaugh. They have been racked by injuries, especially on defense, yet they are still 7-5 with a great chance to get to 10 wins. I don't think they will be looking past Oakland this week and ahead to their rematch with Seattle. The Niners know that any slip would be a death knell for this season, and I expect them to wreck their Bay Area rivals. San Fran is just 3-7 against the total in its last 10 games, and they have topped 17 points just one time in the last six games, and that came against the No. 31 defense in the league.
9. San Diego Chargers (8-4) - I don't care what the numbers say: there's no way in hell that's a Top 10 defense. The Chargers are ranked No. 8 in total defense and No. 7 against the pass. One problem: they have one of the worst secondaries in the NFL. Kick out a six-point effort against the Raiders, and San Diego has been lit up for an average of 30 points per game in their last six games.
10. Kansas City Chiefs (7-5) - How the hell do you play 12 games and not throw a touchdown pass to a wide receiver? How is that possible? The Chiefs have come crashing down after back-to-back divisional losses, and they have been outgained in five straight games. The defense isn't the same without Eric Berry, and if you really start to pick apart the schedule they probably shouldn't have beaten the Jets or the Bills last month. I think it is going to be a stretch for this team to make it back to the postseason, and they should be bet accordingly.
11. Arizona Cardinals (9-3) - Arizona deserves a better ranking, but this time of year it is all about momentum. And the Cardinals have negative momentum. Everyone knows Drew Stanton isn't good enough to get this team to a Super Bowl. But right now we have to wonder if he is good enough to win two more games for this team. The Cardinals are 5-0 ATS in their last five home games, and the home team is 5-0 ATS in the Chiefs series. Arizona is 7-3 ATS after a loss, and they desperately need Larry Fitzgerald to get healthy.
12. Cincinnati Bengals (8-3-1) - I have no idea what the hell Marvin Lewis was doing last week. Reverses? Flea flickers? Onside kicks? The Bengals could've smashed it down Tampa Bay's throat and won by 20. Instead they tried to get cute and blew the cover for their backers. That onsisde kick call after they scored to go up 14-10 and had control of the game was one of the worst coaching decisions I've seen this year. The Bengals are just 1-4 ATS after a win, but they are 12-4 ATS in their last 16 home games.
13. Detroit Lions (8-4) - I think we're going to find out more about this Lions team this week than we did in their dominating win over Chicago on Thanksgiving. The Lions have constantly played down to their level of competition over the last few seasons. That's been a staple of the Matt Stafford Era in Detroit. This week is a chance to flex their muscles against a completely overmatched opponent. And this is just their third game this season against what I would consider a terrible team (the Jets and Giants were the other two). The Lions close with three divisional opponents after taking on the Bucs. But they start that stretch with the Vikings, so I doubt they are looking ahead this week.
14. Miami Dolphins (7-5) - After losing so many heartbreaking games the past two seasons, the Dolphins kind of deserved to have that one go their way on Monday night. I am still curious why it took the Fins defense so long to adjust to the fact that the Jets weren't going to throw the ball. Miami's only three losses in the past two months have come against Green Bay (by 3), Detroit (by 4) and Denver (by 3) and two of those games were on the road. Overall their metrics haven't been great - particularly on offense, where they are still very sketchy - but this team is better than a lot of people realize.
15. Pittsburgh Steelers (7-5) - The Steelers are 13-3 ATS in their last 16 trips to Cincinnati, and they are 6-2 ATS in their last eight against the Bengals. They definitely own the Bengals. But unless the Steelers can figure out how to stop people, there is no way I can feel comfortable backing them on the road. The Steelers are 0-3 ATS in their last three road games, and all of those ATS losses (and two straight up losses) have come against teams with losing records.
16. Baltimore Ravens (7-5) - I have been saying it all season long: the entire AFC North is frauds. The entire division. Every single one of those teams. The only reason these teams have winning records SU is because they have crossed over with the AFC South and the NFC South - by FAR the two worst divisions in football. I can't wait to bet against whoever emerges from this division in the opening rounds of the playoffs. Keep an eye on Baltimore's injury report this week. They could be without Torrey Smith and Marlon Brown this week. Miami's Brett Grimes is good enough to go toe-to-toe with Steve Smith. And if that's the case, I don't know how they'll be able to move the ball in the air.
17. New Orleans Saints (5-7) - Are the Saints going to lose four straight home games? No. So they seem like a play this week against the Panthers. They won the first meeting 28-10 in Charlotte and beat the Panthers 31-13 in the Superdome last year. But the Saints are just 3-3 in their last six against Carolina, and the issues between Sean Payton and Rob Ryan continues to boil over. The karma in this locker room has to be atrocious. And while the Saints can point the finger at their No. 32-ranked defense, the real killer for this team has been turnovers.
18. Houston Texans (6-6) - Where did that come from Fitzy? Ryan Fitzpatrick went bonkers on Sunday, and one of the biggest reasons is that Houston has finally started to force the ball to DeAndre Hopkins. He needs at least eight targets every week. This group is just No. 14 in total offense and No. 27 in total defense. But they have a track record of playing well in December, which they did often under Gary Kubiak, despite a 2-5 December ATS mark lately. I wouldn't want to face these guys down the stretch, and they are 5-2 ATS in their last seven road games.
19. Buffalo Bills (7-5) - I know that the Bills final score was a misleading one. But I still can't figure out in which direction. The Bills were garbage for the first 30 minutes of that game. But they were able to take advantage of some key turnovers to turn that one into a rout. They won't have that benefit against Manning this week. Kyle Orton is making a return trip to one of the various places he was a starting quarterback, and I'm sure he'll be received warmly. But the Bills are just 10-25 ATS after a win, 7-18 ATS after a win against the spread, and 1-4 ATS after a win by more than two touchdowns.
20. St. Louis Rams (5-7) - I'm trying not to be reactionary to a few good weeks of football. But if you look at St. Louis' schedule and results and then look at Pittsburgh's schedule and results I think you could make the case that the Rams would be doing more than the Steelers if their slates were flipped. The Rams are 5-2 ATS in their last seven games, and they have a great chance to close this season winning three of four games.
21. Cleveland Browns (7-5) - Please, please, please, please, please, please, please, please start Johnny Manziel. Please. I'm begging. This team is probably the biggest fraud in the league. Bring in the rookie to face this December schedule, and the ATM machine should open right up betting against this group. The Browns have only two home games left, and they are this week and next week. So if they are going to make a move to Juan Football, now is the time. Don't think Mike Pettine: just do it.
22. Chicago Bears (5-7) - Here is all you need to know about Chicago's season: when they scored to go ahead 14-3 in Detroit I did not for one second have the slightest tinge of worry that my bet on the Lions (-7) was in jeopardy. The fact that they thought rookie Kyle Fuller could guard Calvin Johnson is ridiculous. It is absolutely ridiculous. Now they'll throw him out there against Dez Bryant. I don't expect the results to be much different. If you are worried about Chicago's home-field advantage, don't. The fans are so sick of this team they are just waiting to turn on them once the Cowboys get ahead on Thursday. And I fully expect a stronger Cowboys presence in Soldier Field than I do a strong Bears contingent.
23. Minnesota Vikings (5-7) - He won't win it, but Mike Zimmer better get some votes for Coach of the Year. Despite a rookie quarterback, injuries, and the Adrian Peterson situation, this first-year coach has willed this team to five wins. They are 5-1 ATS in their last six games, and this team is showing improvement every week.
24. Atlanta Falcons (5-7) - There is no way that the Falcons secondary is going to be able to slow down Aaron Rodgers on Monday night, and there's a good chance the Falcons' No. 32 ranked defense gets hit for 35 or more points. I will give Mike Smith's D some credit: they've allowed less than 23 points in four of their past five games, and their defensive yards per point has improved by almost five YPP in their last four games compared to their opening eight. That's a big reason the Birds are just 2-6 against the total in their last eight games.
25. New York Giants (3-9) - Talk about delusional: the Giants just lost to the Jaguars - the JAGUARS - and yet they are not only favored on the road this week, but 85 percent of the early betting action is coming in on this team. Wow. The Giants are 1-6 ATS in their last seven games overall and 0-4 ATS in their last four road games. I know people wouldn't expect the Giants to mail it in under Tom Coughlin. But do any of these guys really want to listen to him screaming at them and being a hard-ass when their season is so clearly over?
26. Carolina Panthers (3-8-1) - Two blocked kicks returned for touchdowns? Really? The Panthers are 11-2 ATS in their last 13 games in New Orleans, and the road team in the Saints series is 19-7 ATS. Carolina has been awful, and six of their last eight losses have been by at least 10 points. But look at their schedule. The Panthers have faced a brutal slate to this point, and they will likely embrace the opportunity to play spoiler in the South race. And, frankly, Carolina is still mathematically in the race for the South title. If they beat the Saints and the Falcons lose to Green Bay on Monday then Panthers are just a game back.
27. New York Jets (2-10) - It would not surprise me at all if Rex Ryan turned around and threw the ball 60 times this week after running it 47 (to just 13 passes) on Monday night. The Jets are done, and the rats are fleeing this sinking ship. Outside of the Patriots game in Foxboro - because they always get geeked up to play New England - the Jets have lost by 35, 14 and 31 points on the road.
28. Tennessee Titans (2-10) - The Titans are now 1-4 ATS in their last five games and 2-8 ATS in their last 10. They are 5-15 ATS in their last 20 games overall. I have not been able to wrap my mind around how bad this team is because it seemingly defies logic when you look at their roster. I still don't know why people are piling on the Giants this week, and this looks like an easy game to just throw off the card and completely ignore.
29. Washington Redskins (3-9) - I don't want to keep saying, "I told you so" about Robert Griffin and Colt McCoy. But I told you so. If I were a bottom-tier team I would be falling over myself to get Colt McCoy to be my starting quarterback. If he were on St. Louis this year, the Rams would be a 10-win team. The Redskins are 15-35 ATS against teams with a losing record, and they are 5-23 ATS at home against teams with a losing road record. Washington doesn't play down to its competition; they are just beneath almost all the competition.
30. Tampa Bay Buccaneers (2-10) - There is just no way that the Bucs should've covered the spread last week against the Bengals. Lovie Smith is familiar with Detroit's personnel, and that could give the Bucs an edge in game planning this week. But Tampa Bay is just 2-10 ATS in its last 12 conference games, and they are just 7-20 ATS in their last 27 games in December. They are also going up against a Lions team that has revenge for a 24-21 loss in Detroit last year, and the Bucs are just 2-8 ATS in the last 10 meetings in this series.
31. Jacksonville Jaguars (2-10) - The Jaguars threw together a three-game winning streak last season between Thanksgiving and Christmas. Could they do it again? They swept Houston last season and host the Texans this week. If you ignore that three-game winning streak, since 2010 the Jaguars have followed their last nine wins with losses by 14, 13, 16, 17, 27, 4, 10, 29, and 10 points. Including that winning streak they are just 2-10 after earning a victory. The Jaguars are just 17-36 ATS in their last 54 home games.
32. Oakland Raiders (1-11) - This is a trend that I think we'll see in the last month of the year: Oakland is completely quitting on this season because the Raiders know the coaching staff and management is going to be gone at the end of the season. It is the Substitute Teacher Theory. Oakland held it together just long enough not to be one of the worst teams of all-time. But the fact is that they are one of the worst teams of all time, and they have no motivation to hold it together the rest of this season.
Robert Ferringo is a lead writer for Doc's Sport and he has exploded for $9,100 in football profit over the last 10 weeks. Robert has produced more cash for his football clients than any handicapper in the country the past two years ($16,800 profit) and is coming off another winning overall month. Robert now has 11of 13 winning football months and an incredible 34 of 48 winning football months over the last five years. He is going to build on that sensational resume again this week.
Read more articles by Robert Ferringo
---
Most Recent NFL power rankings Articles